Chestnut-crowned Antpitta
It is found in Colombia, Ecuador, Peru, and Venezuela.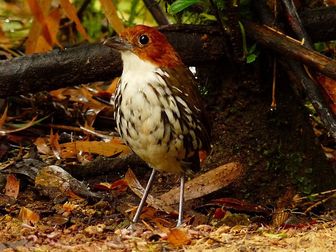 Picture of the Chestnut-crowned Antpitta has been licensed under a Creative Commons
Attribution-Share Alike
.
Original source
: Chestnut-crowned Antpitta (Grallaria ruficapilla)Uploaded by Snowmanradio
Author
: Julian Londono from Manizales, Colombia
The Chestnut-crowned Antpitta is classified as Least Concern. Does not qualify for a more at risk category. Widespread and abundant taxa are included in this category.

The Chestnut-crowned Antpitta (Grallaria ruficapilla) is a species of bird in the Formicariidae family. It is found in Colombia, Ecuador, Peru, and Venezuela. Its natural habitats are subtropical or tropical moist montane forests and heavily degraded former forest. References - * BirdLife International 2004. Grallaria ruficapilla. 2006 IUCN Red List of Threatened Species. Downloaded on 26 July 2007. This Formicariidae-related article is a stub. More
View all pictures of Chestnut-crowned Antpitta View all pictures of Chestnut-crowned Antpitta show section External Links (0) We currently have no external links for this species. More
Results for: chestnut-crowned antpittaTranslations 1 - 30 of 356 English English Finnish Finnish chestnut-crowned antpitta ruskopääluura, Grallaria ruficapilla chestnut antpitta kastanjaluura, Grallaria blakei chestnut-naped antpitta kastanjaniskaluura, Grallaria nuchalis rufous-crowned antpitta rosvomuura, Pittasoma rufopileatum slate-crowned antpitta liuskelakkiluuranen, Grallaricula nana black-crowned antpitta suomuvatsamuura, Pittasoma michleri chestnut-crowned babbler More
Chestnut-crowned Antpitta at San Isidro lodge MASKED FLOWERPIERCER Masked Flowerpiercer at Yanacocha CLUB-WINGED MANAKIN Club-winged Manakin displaying at Milpe Cinereous Harrier male at Antisana volcano Antisana volcano Rufous-banded Owl at San Isidro VELVET-PURPLE CORONET Velvet-purple Coronet at Mindo Loma SAN ISIDRO OWL 'San Isidro' More