Beautiful Firetail
At 10 to 13 cm long and weighing 14 g the Beautiful Firetail is a small plump bird, slightly smaller than the Diamond Firetail. Its plumage is mostly olive-brown. The white chest has a fine pattern of dark lines. The head has a black mask with pale blue rings around the eyes and a thick red beak. Its rump is a deep red, its legs and feet are creamy pink. The wings and tail are short and rounded. Juvenile birds are less colourful with a smaller face mask and a blackish beak.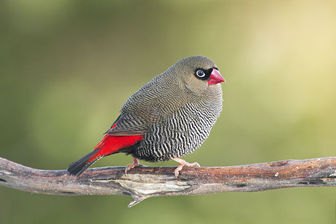 Picture of the Beautiful Firetail has been licensed under a Creative Commons
Attribution-Share Alike
.
Original source
: JJ Harrison (http://www.noodlesnacks.com/)
Author
: JJ Harrison (http://www.noodlesnacks.com/)
The Beautiful Firetail is classified as Least Concern. Does not qualify for a more at risk category. Widespread and abundant taxa are included in this category.

When breeding, Beautiful Firetails search for food in pairs. They scuttle around on the ground and are sometimes mistaken for mice as they rustle through the undergrowth. Alternative Name/s Firetail Finch or Tasmanian Finch Identification The Beautiful Firetail is a small thick-set finch with an olive-brown body and a white breast with dark fine barring. The head has a black mask with pale blue eye ring and fairly thick, red bill. More
Beautiful Firetail at nest. Beautiful Firetail at nest. Photo: Purnell Collection © Australian Museum Distribution map of Stagonopleura bella Distribution map of Stagonopleura bella Map © Birds Australia Birdata Did you know? When breeding, Beautiful Firetails search for food in pairs. They scuttle around on the ground and are sometimes mistaken for mice as they rustle through the undergrowth. More
The Beautiful Firetail (Stagonopleura bella) is a common species of estrildid finch found in Australia. It has an estimated global extent of occurrence of 1,000,000 km². The species inhabits temperate shrubland habitats in Australia. The status of the species is evaluated as Least Concern. More
this may well be one major reason that the Beautiful firetail has never become established in our aviaries. Maybe the habit of those with the birds "in the old times" persevering with colony breeding is also another factor. Currently I believe that a breeder needs only to hold the top category license from their state to hold them in their aviaries - maybe not in Western Australia I suspect. More
Although the the Beautiful firetail finch can successfully be bred in a mixed species finch aviary, they are best housed in a well planted aviary of their own as one pair per aviary. They like to inhabit dense vegetation. Numbers in captivity are low so eliminating all possible negative influences on these birds will no doubt help in the raising of more successful clutches. A planted aviary of about 2000mm x 1000mm x 2100mm high ( 6 x 3. More
For the purposes of our bird news services, Beautiful Firetail is classed as Ungraded: species that are unlikely to appear as wild birds in Britain or Ireland hide section Most recent photos of Beautiful Firetail (3) Royal National Park, New South Wales, Australia Royal National Park, New South Wales, Australia06/03/2010 Royal National Park, New South Wales, Australia 06/03/2010 Royal National Park, New South Wales, Australia Royal National Park, New South Wales, Australia01/01/2010 Royal National Park, New South Wales, More
Beautiful Firetails and the others :( :( had 'killer views' of Striated Fieldwrens). Then visited the falls and home along the Nerriga road and Tarago. Posted 3 weeks ago. ( permalink ) view profile scoobaDog✤ Pro User says: I like the heavy contrast. Really makes this little bugger jump out at you. The eyes really stand out with the ring and black patch. Like everyone else, I'm eager to see you Emu Wrens :o) Posted 3 weeks ago. More
The Beautiful Firetail (Stagonopleura bella) is an uncommon, granivorous finch from coastal south-eastern Australia, with a distribution extending from mid-coastal New South Wales to south-eastern South Australia, including Tasmania. This paper presents a quantitative assessment of habitat use by the Beautiful Firetail based on data collected from 30 paired riparian and non-riparian sites in the foothill forests of the Victorian Highlands, Australia. The Beautiful Firetail occurred in two of the three forest blocks surveyed and was found almost exclusively at riparian sites. More
The Beautiful Firetail is endemic in Southeastern Australia. Its distribution range extends from Newcastle to Kangaroo Island, however, the bird is most prolific in Tasmania and off-shore islands. It lives in coastal heathland, forests and shrubbery, never far from water. The Beautiful Firetail is considered a resident bird, keeping close to home. Behaviour - The Beautiful Firetail mainly feeds on grass seed and Casuarina and Melaleuca seeds. More