Javan Munia
They are known to feed on algae.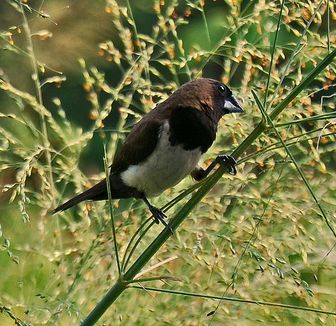 Picture of the Javan Munia has been licensed under a
GFDL
Original source
: Own work
Author
: W.A. Djatmiko (Wie146)
Permission
: GNU Free Documentation License
The Javan Munia is classified as Least Concern. Does not qualify for a more at risk category. Widespread and abundant taxa are included in this category.

The Javan Munia Lonchura leucogastroides is a species of estrildid finch found in Indonesia, Malaysia and Singapore. It is found in subtropical/ tropical dry shrubland and grassland habitat. The status of the species is evaluated as Least Concern. They are known to feed on algae. References - 1. ^ BirdLife Species Factsheet 2. ^ Darjono; Dewi M Prawiradilaga & Sudaryanti. 1989. More
The Javan Munia is closely related to other mannikins and the Bengalese finch and will hybridize with these species. Ideal for a mixed species collection, as colony or as a single pair in a cage. They like a well planted aviary but this is not essential. Shrubs, tall growing grasses and potted bamboo are ideal. More
The Javan Munia was introduced to Singapore in the early 1920s and has prospered here, becoming the most abundant Munia in Singapore. Like other Munias, Javan Munias eat grass seeds. Their ability to eat the seeds of short grasses may be one of the reasons for their success in urban Singapore where they forage in park lawns and open scrub. But they also take seeds from taller grasses. More
The Javan Munia is a small, seed-eating bird found in Sungei Buloh Nature Park. It was introduced to Singapore from Indonesia in the early 19205. Often considered a pest by farmers, these birds are caught and sold in large numbers when they congregate in flocks during rice harvesting time. These birds are sometimes bought up by Buddhist devotees and released on Vesak Day. The Javan Munia can be found in all kinds of cultivated areas and natural grassy patches in Singapore. More