Black-bellied Firefinch
It is found in Benin, Burkina Faso, Cameroon, Central African Republic, Chad, The Democratic Republic of the Congo, Côte d'Ivoire, Ghana, Guinea, Kenya, Liberia, Nigeria, Senegal, Sierra Leone, Sudan, Togo and Uganda. The status of the species is evaluated as Least Concern.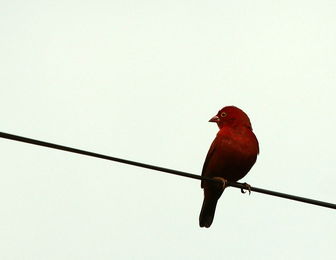 Picture of the Black-bellied Firefinch has been licensed under a Creative Commons
Attribution-Share Alike
.
Original source
: Mickey Samuni-Blank
Author
: Mickey Samuni-Blank
The Black-bellied Firefinch is classified as Least Concern. Does not qualify for a more at risk category. Widespread and abundant taxa are included in this category.

The Black-bellied Firefinch (Lagonosticta rara) is a common species of estrildid finch found in Africa. It has an estimated global extent of occurrence of 2,300,000 km². It is found in Benin, Burkina Faso, Cameroon, Central African Republic, Chad, The Democratic Republic of the Congo, Côte d'Ivoire, Ghana, Guinea, Kenya, Liberia, Nigeria, Senegal, Sierra Leone, Sudan, Togo and Uganda. The status of the species is evaluated as Least Concern. More
importantly, if the mimicked black-bellied firefinch song was played, the males showed no interest, perceiving no threat. "In indigobirds sympatric speciation is definitely plausible," Sorenson says, "and we have just about all the pieces of the puzzle." Such behavioral reproductive isolation may eventually lead to enough genetic changes over time to turn the races into recognizably different species, but the evolution of a new species is not immediate. "You might have to come back in 20,000 years or so," Sorenson says. More
The Black-bellied Firefinch was first bred in Britain by Sir Richard Cotterel, in 1961, but like so many other early successes with a variety of species, breeders did not take advantage. The temperature for this species should never be allowed to fall much lower than 20 deg C (68 F.), otherwise it becomes noticeably less active and quickly succumbs to the cold. Individuals vary as to aggression and therefore a careful watch needs to be had if it is housed in a mixed collection. More