Common Cactus-Finch
The Common Cactus-finch is a species of bird in the Darwin's finch group of the tanager family Thraupidae. It is endemic to the Galapagos Islands, where found on most islands, with the notable exception of Fernandina, Española, Genovesa, Darwin and Wolf. Most of these islands are inhabited by its close relative, the Large Cactus-finch.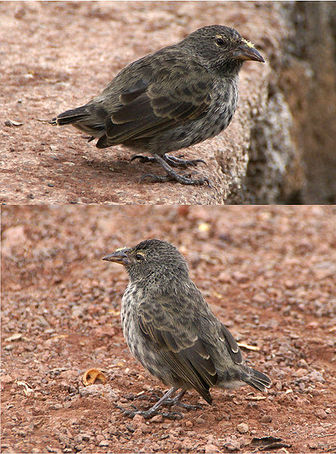 Picture of the Common Cactus-Finch has been licensed under a Creative Commons
Attribution-Share Alike
.
Original source
: originally posted to Flickr as cactus ground finch Santa Cruz
Author
: putneymarkPermission(Reusing this file)This image, which was originally posted to Flickr.com, was uploaded to Commons using Flickr upload bot on 17:40, 11 September 2009 (UTC) by Attis1979 (talk). On that date it was licensed under the license below. This file is licensed under the Creative Commons Attribution-Share Alike 2.0 Generic license.You are free:to share – to copy, distribute and transmit the work
The Common Cactus-Finch is classified as Least Concern. Does not qualify for a more at risk category. Widespread and abundant taxa are included in this category.

The Common Cactus-finch (Geospiza scandens) is a species of bird in the Darwin's finch group of the tanager family Thraupidae. It is endemic to the Galapagos Islands, where found on most islands, with the notable exception of Fernandina, Española, Genovesa, Darwin and Wolf. Most of these islands are inhabited by its close relative, the Large Cactus-finch. Its natural habitats are dry scrubland and woodland. It is usually closely associated with the cactus Opuntia. More
Common cactus-finch perched on cactus Common cactus-finch perched on cactusPrint factsheet Facts - Also known as: Cactus finch, cactus ground finch Kingdom Animalia Phylum Chordata Class Aves Order Passeriformes Family Emberizidae Genus Geospiza (1) More
the island's common cactus-finch population has fluctuated in response to changes in the prevalent food source following climatic events (10) (11) (12). - Like much of the Galapagos' endemic fauna and flora, Darwin's finches are under threat from habitat destruction, introduced diseases, and invasive predatory species such as rats and cats (13). More
* Common Cactus-Finch - this page has two pictures of the Common Cactus-Finch. * Common Cactus Finch by MSN Encarta. (contains a excellent photo of the species). Copyright 2005 Finchworld, Inc. More
The Common Cactus-Finch (Geospiza scandens) is one of the famous "Darwin Finches" endemic to the Galapagos Islands. On a visit to Santa Cruz Island in the Galapagos in July, 2007 I was only able to get this single image of a Common Cactus-Finch as it investigated a potential nesting site. The shot was taken with a Canon EOS 1D Mark III and EF 100-400mm F/4.5-5.6 L IS lens. More