Little bunting
This is a small bunting at 12-13.5 cm in length. It has a heavily streaked brown back and white underparts with fine dark streaking. With its chestnut face and white malar stripe, it resembles a small female Reed Bunting, but has black crown stripes, a white eye-ring, and a fine dark border to the rear of its chestnut cheeks. Sexes are similar.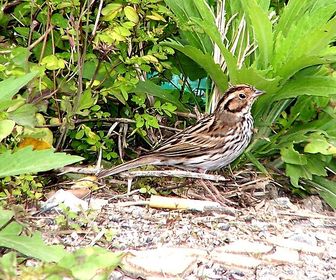 Picture of the Little bunting has been licensed under a Creative Commons
Attribution-Share Alike
.
Original source
: Charles Lam
Author
: Charles Lam, Flickr UserPermission(Reusing this file) This file is licensed under the Creative Commons Attribution-Share Alike 2.0 Generic license.You are free:to share – to copy, distribute and transmit the work
The Little bunting is classified as Least Concern. Does not qualify for a more at risk category. Widespread and abundant taxa are included in this category.

The LITTLE BUNTING is an exceptional fall vagrant to California from Siberia. Indeed, I judge it the best bird ever found in southern California. As of this writing there is only one record; the one shown here that was present 21-24 Oct 1991 on Pt. Loma. Full details and better photos were published by McCaskie, Guy (1993). A Little Bunting reaches California.West. Birds 24: 95-97. My personal California records are listed below: 23 Oct 1991 Pt. More
Little Bunting (Emberiza pusilla), not the Rustic Bunting, has chestnut cheek patches and that a Rustic Bunting should be noticeably larger than the Chipping Sparrows. We kept the bunting under observation for about half an hour, during which time I noted field marks and Webster took photographs. Once back in my office I contacted Kimball L. Garrett at the Los Angeles County Museum of Natural History and discussed the identification of the bunting with him. More
The Little Bunting, Emberiza pusilla, is a passerine bird. It belongs to the bunting and American sparrow family (Emberizidae), a group separated by most modern authors from the true finches (Fringillidae). Description - This is a small bunting at 12-13.5 cm in length. It has a heavily streaked brown back and white underparts with fine dark streaking. More
* The Little Bunting was first described by Peter Simon Pallas, a German zoologist and botanist, in 1776. * It is one of the few buntings which doesn't acquire strikingly bright colours, even in the breeding season. * A group of buntings are collectively known as a "decoration", "mural", and "sacrifice" of buntings. More
The Little Bunting breeds across the taiga of the far northeast of Europe and northern Asia. It is migratory, wintering in the subtropics in northern India, southern China and the northern parts of southeast Asia. The birds remain in their winter quarters for quite long; specimens were taken in Yunnan in late March. It is a rare vagrant to western Europe. More
Little Bunting; however, there is always some yellow in the eyebrow, as well as at least a hint of a white stripe on the crown. More
Little BuntingThe Little Bunting, Emberiza pusilla, is a passerine bird in the bunting family Emberizidae, a group now separated by most modern authors from the finches, Fringillidae. Distribution / Breeding: It breeds across the taiga of the far northeast of Europe and northern Asia. It is migratory, wintering in the subtropics in northern India, southern China and the northern parts of southeast Asia. It is a rare wanderer to western Europe. More
Little Bunting determination Similar species Emberizidae Black-Faced Bunting | Black-Headed Bunting | Chestnut Bunting | Cinereous Bunting | Cirl Bunting | Corn Bunting | Cretzschmars Bunting | Dark-Eyed Junco | Fox Sparrow | House Bunting | Lapland Longspur | Little Bunting | Ortolan Bunting | Pallass Bunting | Pine Bunting | Red-headed Bunting | Reed More
Our stylish little bunting bag converts into a romper for a longer wear time. The bodice has soft gathers with snaps down the center front. The cuffs have folds over mitts to protect little hands. The bottom opening is an elastic casing. 100% cotton knit in our sweet adora print. Machine wash, tumble dry. More
The Little Bunting is one of the few buntings which doesn't acquire strikingly bright colours - even in the breeding season. Summer-plumaged males can be recognised by their rusty-coloured cheeks and neat black head and face markings. This pattern is more subdued in females and immatures in which other features, such as the white eye-ring and narrow grey bill, become important field marks. More
"This is a wonderful little bunting bag, perfect for travelling in the car or to use just when the weather starts getting cold. More
Dave Powell and I found this Little Bunting (A first record for Mexico) while on a vagrant run to "The Point" 8 October 2008 at San Jose de Castro, Baja California Sur between 12:00pm and 2:00pm local time. This photo shows the prominent eyering and ear covert mark Note the lateral crown stripe and white in the tail This photo helps illustrate the gray back, pale wing bar, brown wings and pink legs. More
Little Bunting records in the Western Isles Very rare visitor (less than 5 records) Source: Outer Hebrides Bird Report (2001) The chart below shows how abundant the Little Bunting is during a month or when you are more likely to see it. More
This Little Bunting is just one example of over 900 WhatBird.com illustrations available for licensing. All illustrations are hand drawn and provided in Photoshop 300 dpi, layered, 2400 x 3000 pixels, 24 bit color format. See below for available formats for this product. For custom or non standard uses of our of our illustrations go to this link and fill out the form at this link: http://www.whatbird.com/illustrationlicensing/ A representative will contact you within 48 hours. More