Black-throated Sparrow
The Black-throated Sparrow reaches a length of about 4.5-5.5 inches, and is pale gray above, with a distinctive black and white head pattern.Immature are similar but lacks a black throat. Its call is high and bell-like, and its song is a fairly simple, mechanical tinkling. It feeds primarily on insects and seeds, and travels in small groups, though larger groups may accumulate around sources of water in the desert.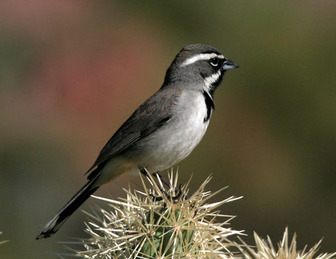 Picture of the Black-throated Sparrow has been licensed under a Creative Commons
Attribution-Share Alike
.
Original source
: Photograph taken by Patrick Coin
Author
: Patrick Coin (Patrick Coin)Permission(Reusing this file)cc-by-sa-2.5
The Black-throated Sparrow is classified as Least Concern. Does not qualify for a more at risk category. Widespread and abundant taxa are included in this category.

The Black-throated Sparrow (Amphispiza bilineata) is a small sparrow primarily found in the southwestern United States and Mexico. It is sometimes referred to as the Desert Sparrow, due to its preferred habitat of arid desert hillsides and scrub. This name usually refers to the Desert Sparrow of Africa and Asia. The Black-throated Sparrow reaches a length of about 4.5-5.5 inches, and is pale gray above, with a distinctive black and white head pattern.Immature are similar but lacks a black throat. More
BLACK-THROATED SPARROWS IN SOUTH-CENTRAL ARIZONA. The University of Arizona, United States, Arizona. * Tuckfield RC. Ph.D. (1985). ECOLOGICAL INFLUENCES ON THE GEOGRAPHIC PATTERNS OF SONG VARIATION IN TWO DESERT SPARROWS (BLACK-THROATED, SHIFT, SAGE, CHARACTER). Indiana University, United States, Indiana. * Zimmer KJ. Ph.D. (1993). More
The Black-throated Sparrow is a small bird native to the southwestern United States and Mexico. Its habitat in the United States includes northeastern California, southwestern Wyoming, and southeastern Colorado. Those which live further north may migrate short distances to the desert regions of the southern United States during winter months. This species is also known as the Desert Sparrow, as it prefers arid and dry desert hillsides and shrubs for breeding and nesting. They are foragers, and typically eat insects and seeds. More
cope with life in the desert, the Black-throated Sparrow is considered to be better adapted to this type of ecosystem than any other seed-eating bird in North America. State of the Birds > Common Birds in Decline > Black-throated Sparrow #12 Common Bird in DeclineBlack-throated Sparrow(Amphispiza bilineata) French Name: Bruant More
Kaufman, the black-throated sparrow is a permanent resident. It feeds on seeds, insects, and new shoots. More
The striking Black-throated Sparrow is a denizen of open deserts of the western United States and Mexico. More
* Black-throated Sparrow Information and Photos - South Dakota Birds and Birding * Black-throated Sparrow Species Account - Cornell Lab of Ornithology This entry is from Wikipedia, the leading user-contributed encyclopedia. More
The Black-throated Sparrow reaches a length of about 4.5-5.5 inches, and is pale gray above, with a distinctive black and white head pattern. Its call is high and bell-like, and its song is a fairly simple, mechanical tinkling. It feeds primarily on insects and seeds, and travels in small groups, though larger groups may accumulate around sources of water in the desert. Copyright: Wikipedia. This article is licensed under the GNU Free Documentation License. It uses material from Wikipedia. More
North American RangeThe Black-throated Sparrow is a small, gray sparrow that has a distinctive black throat, with a bold white stripe above its eye and another down its cheek. Adults are not streaked. The black tail is outlined in white except at the tips of the middle tail feathers. Juveniles, who retain this plumage into October, lack the black throat of adults and are lightly streaked. More
Bent Life History for the Black-throated Sparrow - the common name and sub-species reflect the nomenclature in use at the time the description was written. TEXAS BLACK-THROATED SPARROW AMPHISPIZA BILINEATA BILINEATA (Cassin) Contributed by RICHARD C. BANKS HABITS This is a common bird in the open country of central and southern Texas. More
Black-throated Sparrow is a species of the Southwest and intermountain deserts. Although still relatively common, it has shown steady long-term declines across its range and in New Mexico. More
Black-throated Sparrow Black-throated Sunbird Black-throated Trogon Black-whiskered Vireo Black-winged Cuckoo-shrike Black-winged Flycatcher-shrike Black-winged Kite Black-winged Snowfinch Black-winged Stilt Blackbird Blackburnian Warbler Blackpoll Warbler Blacksmith Lapwing Blood Pheasant Blue Bonnet Blue Chaffinch Blue Grosbeak Blue Nuthatch Blue petrel Blue Rock Thrush Blue Tit Blue-and-gold Macaw Blue-and-white Mockingbird Blue-billed Curassow Blue-crowned Motmot Blue-crowned Parakeet Blue-eyed Cockatoo Blue-footed Booby Blue-fronted Amazon Blue-fronted Redstart Blue-headed Vireo Blue-headed Wood Dove Blue-hooded Euphonia Blue-naped Mousebird Blue-winged Goose Blue-winged Macaw Blue-winged More