Le conte's sparrow
Adults have streaked dark and light brown upperparts with a light brown breast and white belly with fine streaks on the side. They have a large flat head with a light crown stripe on a dark crown, an orange face with a grey cheek patch. The large bill is dark and they have a short tail.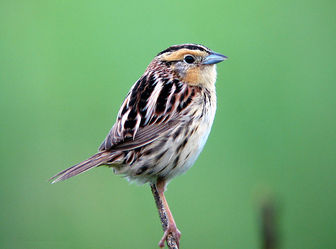 Picture of the Le conte's sparrow has been licensed under a
GFDL
Original source
: Own work
Author
: Laura Erickson
Permission
: GNU Free Documentation License
The Le conte's sparrow is classified as Least Concern. Does not qualify for a more at risk category. Widespread and abundant taxa are included in this category.

Links to Additional Le Conte's Sparrow Information * All About Birds Species Account (Cornell Lab of Ornithology) * Wisconsin All-Bird Conservation Plan Other Links Related to Birds * All Bird Plan * Important Bird Areas * Managing Habitat for Grassland Birds * All About Birds (Cornell Lab of Ornithology) * Wisconsin Colonial Waterbird Survey More
The Le Conte's Sparrow, Ammodramus leconteii, is a small sparrow. Adults have streaked dark and light brown upperparts with a light brown breast and white belly with fine streaks on the side. They have a large flat head with a light crown stripe on a dark crown, an orange face with a grey cheek patch. The large bill is dark and they have a short tail. Their breeding habitat is moist grassland across central Canada to Quebec and central northern United States. More
Le Conte's Sparrow: Feeds primarily on insects, seeds, and spiders. Walks and runs on the ground while foraging. Readily Eats Safflower, Apple Slices, Suet, Millet, Peanut Kernels, Fruit Vocalization Le Conte's Sparrow: Weak, insect-like song, a series of "buzz" sounds. Call note is a thin "tsip." Similar Species Le Conte's Sparrow: Sharp-tailed Sparrow lacks crown stripe and brown streaks on gray nape. . More
Le Conte's Sparrow-Unlike its normal habit of diving deep into vegetation this Le Conte's perched up for about 30 seconds. A head on shot of the LeConte's. More
Le Conte's Sparrow - Ammodramus leconteiiThe Le Conte's Sparrow is often a difficult bird to observe, as it is normally found in the dense vegetation around the edges of marshes or in damp fields. It also normally forages near the ground below the vegetation, and when disturbed, is more likely to run away or fly low through the vegetation for a short distance. They are one of the smallest sparrows found in South Dakota. More
Le Conte's Sparrows may be mysterious birds to some, but in actuality, they seem to be pretty easy to find around here in the fall as they migrate through. They also don't seem as hesitant to make themselves seen as most of the literature suggests. Click on the thumbnail for high-resolution photos. Click here for the species description page for the Le Conte's Sparrow. More
Feeding: The Le Conte's Sparrow forages on or near the ground, often under dense vegetation. While the bulk of its diet is seeds, especially in summer, it also consumes insects, spiders and arthropods. Relatively little is known regarding the specifics of it diet. Reproduction: Due to this species' elusiveness, the details of its nesting habits are not well known. Nests are extremely difficult to find, so most of what is known is based on only a handful of observations. More
* Although the Le Conte's Sparrow was first discovered in 1790, the first nest was not found until nearly 100 years later. * Few have ever been banded. Of the 355 banded between 1967 and 1984, none were ever recovered. * This sparrow is almost impossible to flush, as it prefers running along the ground to flying. More
the Le Conte's Sparrow is difficult to see because of its secretive nature. On the breeding grounds it usually sings from concealed perches and in the winter it rarely remains in the open for more than a second. More
* Le Conte's Sparrow Information and Photos - South Dakota Birds and Birding * Le Conte's Sparrow Species Account - Cornell Lab of Ornithology * Le Conte's Sparrow - Ammodramus leconteii - USGS Patuxent Bird Identification InfoCenter Further reading - Book * Lowther, P. E.. (2005). Le Conte's Sparrow (Ammodramus leconteii). More
The Le Conte's Sparrow, Ammodramus leconteii, is a small sparrow. John James Audubon named this bird after a friend, Doctor Le Conte. It is generally believed that he meant John Lawrence Le Conte, although some feel that he was referring to another John Le Conte, also a doctor, and John Lawrence's cousin. Description: Adults have streaked dark and light brown upperparts with a light brown breast and white belly with fine streaks on the side. More
Le Conte's SparrowLe Conte's Sparrow I had not been to Glacial Park in a while and made up my mind yesterday that it was high time I went back. So, not very early this morning I headed there with no particular goal in mind other than to see what I could see. I had not gone far when I was attracted by a mixed flock of White-crowned and Song Sparrows. While attempting to photograph them, I noticed a smaller, almost orange sparrow. More
Le Conte's Sparrow, adult perched on grass More
Le Conte's Sparrows can be very secretive and quiet, however, at times they'll perch about knee high to have a look around. Digiscoped Carteret Co., NC 14 Jan 2007 Le Conte's Sparrow (Ammodramus leconteii) Fine streaks on buffy breast and heavily streaked sides & flanks. Digiscoped Carteret Co. More
The Le Conte's Sparrow (Ammodramus leconteii) breeds in wet grassy meadows and fields across a large portion of the northern Great Plains. It winters in the southeastern United States west to east Texas. The two photos at left of a wintering bird were taken at Brazoria N.W.R., Brazoria Co., Texas in December, 1991, with a hand-held Canon T-90 and a FD 400 mm F 4.5 lens with a 1.4X extender (mounted on a BushHawk shoulder mount) on Kodachrome 64. A Fresnel flash was also used. More
Le Conte's Sparrow - Photo Copyright Ward Cameron 2003 - Click to view a larger image Le Conte's Sparrow - Photo Copyright Ward Cameron 2003 - Click to view a larger image Le Conte's Sparrow - Photo Copyright Ward Cameron 2003 - Click to view a larger image Le Conte's Sparrow - Photo Copyright Ward Cameron 2003 - Click to view a larger image Click on an image (if available) to see a larger version Site Directory = MountainNature Home More
As we journey across the field, Le Conte's Sparrows jump up in front of us and then dive quickly into the vegetation a few yards away, never to be seen again. Throughout the field, we can hear numerous male Le Conte's Sparrows singing from within the vegetation. We treasure mornings like this: cool temperatures, a clear sky, no wind, and lots of Le Conte's Sparrows. More
The Le Conte's Sparrow is often a difficult bird to... More