Narrow-billed Woodcreeper
The Narrow-billed Woodcreeper is a species of bird in the Dendrocolaptinae subfamily. It is found in Argentina, Bolivia, Brazil, Paraguay, Suriname, and Uruguay. Its natural habitats are subtropical or tropical dry forests and dry savanna. As all members of its subfamily, it is a creeping bird which lives on small arthropods and vertebrates it catches under the bark of trees. The woodcreeper nests in cavities, both natural and bird-made. It lays two to three white eggs, brooded jointly by the pair.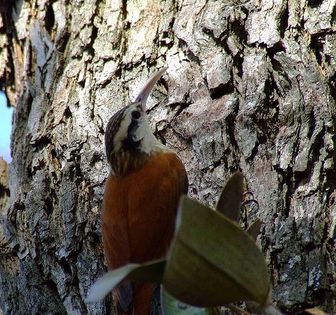 Picture of the Narrow-billed Woodcreeper has been licensed under a Creative Commons
Attribution
.
Original source
: Rodrigo Jesus Melo
Author
: Rodrigo Jesus Melo
The Narrow-billed Woodcreeper is classified as Least Concern. Does not qualify for a more at risk category. Widespread and abundant taxa are included in this category.

The Narrow-billed Woodcreeper (Lepidocolaptes angustirostris) is a species of bird in the Dendrocolaptinae subfamily. It is found in Argentina, Bolivia, Brazil, Paraguay, Suriname, and Uruguay. Its natural habitats are subtropical or tropical dry forests and dry savanna. As all members of its subfamily, it is a creeping bird which lives on small arthropods and vertebrates it catches under the bark of trees. The woodcreeper nests in cavities, both natural and bird-(e.g. woodpecker)made. More
The Narrow-billed Woodcreeper is a resident of deciduous forest and savanna from northeastern Brazil south to central Argentina. A medium sized woodcreeper with a slender decurved bill, the Narrow-billed Woodcreeper has a blackish-brown crown, a bold white supercilium, rufous-brown upperparts, and buffy white underparts with faint brown streaking. There are eight recognized subspecies, each of which varies slightly in the tone of color on the upper parts and the amount of streaking below. More
Narrow-billed Woodcreeper, Lepidocolaptes angustirostris Dendrocolaptidae (WOODCREEPERS) Narrow-billed Woodcreeper, Lepidocolaptes angustirostris This photo was taken in: Brazil The photo was taken by: Tom Stephenson , Brazil reports Birdwatching trip reports from Brazil Birdwatching trip reports from around the world Identification Notes: Submit Identification notes for this photo here More
Narrow-billed Woodcreeper - Lepidocolaptes angustirostris Narrow-billed Woodcreeper Lepidocolaptes angustirostris praedatus c. 5 km east of El Tunal, Salta province, Argentina. Occurs widely in lighter woodland in eastern South America. There is significant racial variation; compare the two photos here. (S5) Narrow-billed Woodcreeper - Lepidocolaptes angustirostris Narrow-billed Woodcreeper Lepidocolaptes angustirostris bahiae Jeremoaba-Canudos road, Bahia state, Brazil. More
NARROW-BILLED WOODCREEPER Lepidocolaptes angustirostris Like other woodcreepers, the Narrow-billed lives a woodpeckerish lifestyle, climbing trunks and probing for food amongst the crevices of the bark. Unlike woodpeckers which have a highly-specialised foot design with two toes pointing forwards and two toes pointing backwards (zygodactyl), the woodcreepers have a "normally-shaped" foot (anisodactyl) with three toes forward and one back. More
Narrow-billed Woodcreeper - Lepidocolaptes angustirostris Grimpar à bec étroit = Grimpar à bec étroit The Birds of South America: The Suboscine Passerines Gallery : © Jean-Michel Fenerole Order : Passériformes Family : Furnariidae Species : Narrow-billed Woodcreeper Reference: jefe24028 Other pictures Date taken : 2006 Aug Geographic data Country : Argentina (ar) Region : Provincia de Corrientes More
Narrow-billed Woodcreeper Lepidocolaptes angustirostris = * Home Expand Log in Menu item Register Menu item Log out Menu item Change login details Menu item Why register? Expand UK & Ireland Menu item Birding sites More
This Narrow-billed Woodcreeper was seen on an Angico tree in a small village close to Reserva Ecol More
Narrow-billed WoodcreeperBirds in Suriname = - Narrow-billed Woodcreeper Photo of a Narrow-billed Woodcreeper, made by John Mittermeier in the Sipaliwini savanna in Suriname in 2007. Each small square indicates the observation of at least one (group) of these birds, the medium ones at least 4 observations on different days and the largest ones 10 or more. More
Narrow-billed Woodcreeper Lepidocolaptes angustirostris = Described by: Vieillot (1818) Alternate common name(s): None known by website authors Old scientific name(s): None known by website authors Photographs Serra das Araras, Brazil - Aug 23, 2007 More
The Narrow-billed Woodcreeper, for instance, occurs in open country and has predominantly white underparts. Other examples of dendrocolaptids with relatively pale plumage are the Scimitar-billed Woodcreeper, the Moustached Woodcreeper, and some subspecies of the Red-billed Scythebill that inhabit predominantly open or semi-open landscapes. Limited data, for a few species, suggest that woodcreepers undergo a single, annual moult that lasts from four to six months. More
Narrow-billed Woodcreeper Lepidocolaptes angustirostris = Argentina - Aug, 2006 More