Pied Currawong
Within its range, the Pied Currawong is generally sedentary, although populations at higher altitudes relocate to lower areas during the cooler months. It is omnivorous, with a diet that includes a wide variety of berries and seeds, invertebrates, bird eggs and juvenile birds. It is a predator which has adapted well to urbanization and can be found in parks and gardens as well as rural woodland. The habitat includes all kinds of forested areas, although mature forests are preferred for breeding. Roosting, nesting and the bulk of foraging take place in trees, in contrast with the ground foraging behaviour of its relative the Australian Magpie.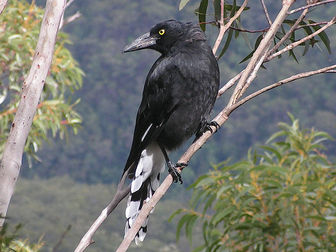 Picture of the Pied Currawong has been licensed under a
GFDL
Original source
: Own work
Author
: D. Gordon E. Robertson
Permission
: GNU Free Documentation License
The Pied Currawong is classified as Least Concern. Does not qualify for a more at risk category. Widespread and abundant taxa are included in this category.

The Pied Currawong (Strepera graculina) is a medium-sized black passerine bird native to eastern Australia and Lord Howe Island. One of three currawong species in the genus Strepera, it is closely related to the butcherbirds and Australian Magpie of the family Artamidae. Six subspecies are recognised. It is a robust crow-like bird averaging around 48 cm (19 in) in length, black or sooty grey-black in plumage with white undertail and wing patches, yellow irises, and a heavy bill. More
* Birds In Backyards - Birds Behaving Badly - Pied Currawong Site on pest status of Pied Currawong Retrieved from "http://en.wikipedia. More
Pied Currawongs are known for their distinctive, loud and ringing calls which can be far-reaching throughout their territories. More
breeding, pied currawongs congregate in loose foraging flocks of up to a hundred or so at other times; southeast populations move out of mountain ranges to lower altitudes and more northerly regions in early autumn (late March to early April) and return in early spring (September) to breed. Foraging flocks work through all strata of their habitat, running over the ground, bounding about foliage, and flying from tree to tree in slow, loping undulations broken by floppy wing beats. More
The Pied Currawong was first described by English ornithologist George Shaw in 1790 as Coracias strepera, although Strepera was adopted as a generic name. Its specific names were derived from the Latin strepera "noisy", and graculina, resembling a Jackdaw, though Grackles of the genus Gracula are members of the Sturnidae. Its closest relative is the Black Currawong (S. fuliginosa) of Tasmania, which has sometimes been considered a subspecies. More
Pied Currawong is a large black and white bird. Adult male has black plumage overall, except white patches on under tail, on tips and bases of tail feathers, and also small white patch near wing tips (mainly visible in flight). Head is black. Powerful, long bill is black. Eyes are yellow. Legs and feet are blackish. PROTECTION / THREATS / STATUS: Pied Currawong's populations have increased with changes in the habitat by human developments. More
Pied Currawong Size: 41-51cm Habitat: Located down the Eastern side of Australia, this Currawong inhabits woodlands, farmlands and suburbia. Feeds on insects, carrion, berries and nestlings. Notes: Black bird with white patch on wings and tail, yellow eyes. Breeds Spring-Mid Summer. For more information on Pied Currawong see references. Images have been uploaded in low resolution for storage efficiency, ( they do not reflect the true image quality). Original images are high quality photographic files. More
The Pied Currawong is one of the most commonly seen and heard birds in the areas where it lives. It is sometimes mistaken for the Australian Magpie, which is closely related (it is in the same family and subfamily) .However the Currawong is larger, has less white markings on it, and it does not attack people. It also has a yellow eye while the Magpie has a red eye. More
The population of Pied Currawongs, Strepera graculina, on the east coast of Australia is believed to have increased dramatically with the creation of this favourable habitat by humans. Pied Currawongs are voracious nest predators with a strong negative influence on smaller birds in some areas. Wide-ranging diet Pied Currawongs have a broad diet, eating insects, fruit and vertebrates, ranging from tiny skinks to adult Spotted Turtledoves. More
This is an image of a Pied currawong; in the report 'Managing Bird Damage to Fruit and Other Horticultural Crops'. Photo: H. Pollock. This is an image of areas of Australia where the Pied currawong is found. In the report 'Managing Bird Damage to Fruit and Other Horticultural Crops'. More
Aspects of the topic pied currawong are discussed in the following places at Britannica. Assorted References * vocalization (in currawong (bird)) ...on fruit, insects, small animals, and other birds' eggs and young: they may be a nuisance in orchards and hen yards. The pied currawong, or chillawong (Strepera graculina) makes rolling sounds; the gray currawong (S. More
The Pied Currawong, Strepera graculina is a common omnivorous songbird of eastern Australia. Its specific name is derived from the Latin graculina, resembling a Jackdaw, though Grackles of the genus Gracula are members of the Sturnidae. Though crow-like in appearance and habits, it is only distantly related to true crows, instead it belongs to the family Artamidae, together with the closely related Australian Magpie and the butcherbirds. Like all these birds, it has adapted very well to urbanization. More
Pied Currawong by Francis Duggan Search: Home Poets Poems Lyrics Quotations Music Forum Member Area Poetry E-Books Francis Duggan Poems Comments More Info Stats > Share | Pied Currawong User Rating: - /10 (0 votes) 0 Print friendly version More
THE pied currawong has increased in abundance rather than decreased, and the species has been implicated in the decline of other native bush birds.Facing extinction: the birds of southern Australia's agricultural ... by EcosThe regurgitated pellets of pied currawongs for example, have been found to contain up to 23 olive seeds.Olives spreading. More
Pied Currawong, the Grey Currawong spends more time foraging on the ground. It builds nests high in trees, which has limited the study of its breeding habits. Unlike its more common relative, it has adapted poorly to human impact and has declined in much of its range. The habitat includes all kinds of forested areas as well as scrubland in dryer parts of the country. More
* A Pied Currawong in a bush Royal Botanical Gardens, Sydney, New South Wales, Australia Rainer Mönke 25 December 1992 51 weeks ago 2. More
A pied currawong sitting in the gum trees early in the day with quite a bit of backlight as the sun comes up over the trees. These birds are quite large and look a bit like a large crow except they have white tufts. The Pied Currawong (Strepera graculina) is a medium-sized black passerine bird native to eastern Australia and Lord Howe Island. It is closely related to the butcherbirds and Australian Magpie of the family Artamidae. Six subspecies are recognised. More
Pied Currawongs are omnivorous and opportunistic - picnic time, Carnarvon Gorge Pied Currawongs are omnivorous and opportunistic - picnic time, Carnarvon Gorge Currawongs are medium-sized passerine birds of the family Artamidae native to Australasia. There are either three or four species (depending on whether the Australian Magpie is counted as a currawong or not). The common name comes from the call of the familiar Pied Currawong of eastern Australia and is onomatopoeic. More
Island Currawong or Lord Howe Pied Currawong, is a large and mainly black passerine bird in the Artamidae family. It is endemic to Lord Howe Island in the Tasman Sea, part of New South Wales, Australia, and is a threatened subspecies of the Pied Currawong. More
Pied Currawongs are known for their distinctive, loud and ringing calls which can be far-reaching throughout their territories. Identification The Pied Currawong is a large, mostly black bird, with a bright yellow eye. Small patches of white are confined to the under tail, the tips and bases of the tail feathers and a small patch towards the tip of each wing (visible in flight). The bill is large and black and the legs are dark grey-black. More
The Pied Currawong can be found along the eastern seaboard ranging up to 400km's inland from Cape York Peninsula in Queensland and down to the Grampians in Victoria. It is a nomadic bird often forming large flocks and moving great distances in autumn and winter. Birds in the north, particularly coastal Queensland are more sedentary. The Currawongs habitat is diverse and ranges from coastal to alpine including areas of woodlands, forests, scrubland, farms and gardens. More
Pied Currawong common nomad in forest, woodland urban and rural areas. / Shooting Info , / Nikon D700 / Nikon 70mm- 200mm @ 105 mm / Iso 3200 / AP f4 / Exposure 1/ 4000sec. More
Pied Currawong (Strepera graculina) in a peppercorn tree, Swifts Creek Victoria. Author: http://en.wikipedia.org/wiki/User:Fir0002 Permission is granted to copy, distribute and/or modify this document under the terms of the GNU Free Documentation License, Version 1.2 or any later version published by the Free Software Foundation; with no Invariant Sections, no Front-Cover Texts, and no Back-Cover Texts. A copy of the license is included in the section entitled "GNU Free Documentation License". More