Chestnut-crowned Becard
It is found in the Amazon Basin of Brazil, Colombia, Peru, Ecuador, and Bolivia and regions of Venezuela; also southeastern regions of South America including Brazil, Paraguay, and very northeastern Argentina. Its natural habitats are subtropical or tropical moist lowland forests, subtropical or tropical moist montane forests, and heavily degraded former forest.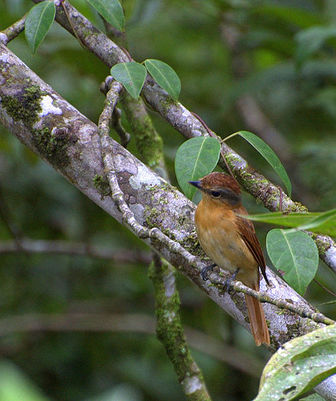 Picture of the Chestnut-crowned Becard has been licensed under a Creative Commons
Attribution-Share Alike
.
Original source
: Dario Sanches from SÃO PAULO, BRASIL
Author
: Dario Sanches from SÃO PAULO, BRASIL
The Chestnut-crowned Becard is classified as Least Concern. Does not qualify for a more at risk category. Widespread and abundant taxa are included in this category.

The Chestnut-crowned Becard (Pachyramphus castaneus) is a species of bird in the Tityridae family. It has traditionally been placed in Cotingidae or Tyrannidae, but evidence strongly suggest it is better placed in Tityridae, where now placed by SACC. It is found in the Amazon Basin of Brazil, Colombia, Peru, Ecuador, and Bolivia and regions of Venezuela; also southeastern regions of South America including Brazil, Paraguay, and very northeastern Argentina. More
The Chestnut-crowned Becard was fairly common in Itatiaia, where these individuals were seen. The Chestnut-crowned Becard is mostly rufous, with a greyish band running behind the eyes round the back of the head and greyish lores. The cap is a deeper chestnut colour, the bill is dark. My individuals had greyish or light patches near the base of the back and wings (see below). They often seemed to duck down, keeping a low profile. More photos... More
The Chestnut-crowned Becard has two major ranges in South America, the Amazon Basin, mostly the south and center-west, and the cerrado-region of Brazil. The Cerrado range is in southeastern South America and also covers large areas of coastal Brazil; the range goes from southern Northeast Region, Brazil to the Southeast region, and includes the eastern Center-West region. From northeast to southeast, the range extends about 2600 km. More
Chestnut-crowned Becard - Photo copyright Simon WoolleyChestnut-crowned Becard Photo copyright Simon Woolley White-winged Becard - Photo copyright Alec EarnshawWhite-winged BecardPhoto copyright Alec Earnshaw Grey-collared Becard Black-and-white Becard Black-capped Becard Glossy-backed Becard Cinereous Becard - Photo copyright Pascal DuboisCinereous BecardPhoto copyright Pascal Dubois ... More
Chestnut-crowned Becard videos on the Internet Bird Collection Chestnut-crowned Becard photo gallery VIREO Photo-High Res Graphic: Pachyramphus castaneus-Medium Res; Article www.eln.gov.br—Birds of Brazil-"Familia Tyrannidae" Photo-Medium Res; Article ib.usp.br—"Tityridae" Photo-High Res; Article simonknightphotography.co.uk Didn't find what you were looking for. Need more information for your travel research or homework? Ask your questions at the forum about Birds of Argentina or help others to find answers. More