Ceylon Blue Magpie
This is a species of a dense wet evergreen temperate rain forest. It is declining due to loss of this habitat. Sri Lanka Blue Magpie is usually found in small groups of up to six or seven birds. It is largely carnivorous, eating small frogs, lizards, insects and other invertebrates, but will eat fruit.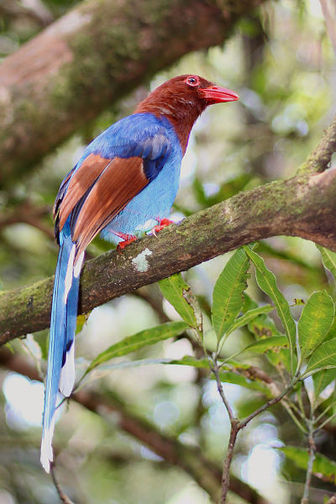 Picture of the Ceylon Blue Magpie has been licensed under a Creative Commons
Attribution-Share Alike
.
Original source
: Thimindu
Author
: Thimindu
The Ceylon Blue Magpie is classified as Vulnerable (VU), considered to be facing a high risk of extinction in the wild.

Sri Lanka Magpie, Ceylon Blue Magpie, Ceylon Magpie, Blue Magpie Bird Family : Corvini - Jays, magpies, treepies, ground-jays, groundpecker, nutcrackers, choughs, jackdaws, crows, rook & ravens Bird Group : PASSERIFORMES Red Data Status : Vulnerable More
Laughing Thrush, Ceylon Blue Magpie, White Headed Starling, Ceylon Hill Mynha, Legge's Flowerpecker. Easily approachable roads in to the jungle provide easy access to the forest. This important forest is a Man and Biosphere Forest reserve and it is considered as a World Heritage Site. Ceylon Hotels Corporation, All Rights Reserved 2007. More
Ceylon Blue Magpie, Ceylon White-headed Starling, Ceylon Hill Munia, Ceylon Hill Myna, Malabar Trogon, Black Bulbul, Indian Scimitar Babbler, Greater Racket-tailed Drongo, Green Imperial Pigeon, Velvet-fronted Nuthatch and Yellow-browned Bulbul. Topographically Sri Lanka is divided into three morphological areas Topographically. and Sinharaja Rain Forest belongs to the middle range uplands by elevation range. More
wood pidgeon, Ceylon blue magpie, Ceylon hill munia, Orange-billed warbler, Dusky blue flycatcher, Pied bush-chat and Grey tit. The outstanding natural feature on the plains has to be the world's end. the plains come to a very sudden stop, the vertical drop is 700m long. the best time to see this is at daybreak when the sun is rising and there is no mist on the mountains. It is a truly magnificent sight, one not to be missed. More