Yellow-billed magpie
However, the Korean subspecies of the European Magpie is more distantly related to all other forms judging from the molecular evidence, and thus, either the North American forms are maintained as specifically distinct and the Korean subspecies are also elevated to species status, or all magpies are considered to be subspecies of a single species, Pica pica.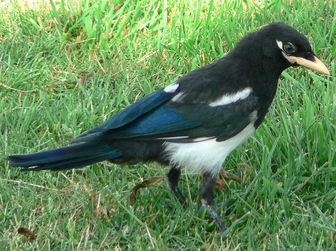 Picture of the Yellow-billed magpie has been licensed under a
GFDL
Original source
: Pica nuttalliDescription: Yellow-billed Magpie (Pica nuttalli)Viewpoint location: Southbound rest stop 2 miles south of Turlock, California State Route 99Lat/Long: 37°27′51″N 120°49′37″W / 37.4643°N 120.8270°W / 37.4643; -120.8270 (WGS84/NAD83)Maps and aerial photosTopographic map from TopoZoneAerial image from TerraServer-USASurrounding area map from Google MapsViewpoint elevation: 100 feetView direction: N/ADate and time: 2006.05.10 10:56:37 PDTCamera: Panasonic Lumix DMC FZ5Photographer: Walter Siegmund©2006 Walter Siegmund
Permission
: GNU Free Documentation License
The Yellow-billed magpie is classified as Least Concern. Does not qualify for a more at risk category. Widespread and abundant taxa are included in this category.

Black-billed Magpie Pica pica, the striking Yellow-billed Magpie is exclusive and endemic to California, west of Sierra Nevada. Its range includes Sacramento and San Joaquin valley floors and foothills, and valleys of Coast Ranges from San Francisco Bay south to Santa Barbara County, though habitat loss and exposure to poison from ground squirrel control efforts have led to population declines over parts of its historical range . More
Yellow-billed Magpie that need increased protection. Volunteers are crucial to the success of programs that monitor the long-term status of wintering populations of Yellow-billed Magpie and other bird species. Audubon's Christmas Bird Count (CBC) is one of the longest-running citizen-science monitoring programs in the world and has helped to follow changes in the numbers and distribution of Yellow-billed Magpie. To learn more about the CBC and how you can participate, visit: http://www.audubon. More
The Yellow-billed Magpie is one of California's most striking birds. Popular among birders and compelling among conservationists, the bird is a true endemic that lives only in California's Central Valley and coastal ranges in oak savannah woodlands and other similar habitats. The Yellow-billed Magpie's range includes the Sacramento and San Joaquin valley floors and foothills, and valleys of Coast Ranges from San Francisco Bay south to Santa Barbara County. More
The Yellow-Billed Magpie (Pica nuttalli) live only in the Central Valley of California. Because of its rarity some birders travel from around the country just to see our special magpie. The highly social birds prefer to build nests high up in trees, normally oaks. Magpies are not picky about their diets, eating earthworms, insects, eggs and young from other bird's nests, and road kill. Around Davis and Central California magpies take full advantage of the fresh fruits, grains and berries grown by farmers. More
The Yellow-billed Magpie, Pica nuttalli, is a large bird in the crow family found only in California. It inhabits the Central Valley and the adjacent chaparral foothills and mountains. Apart from its having a yellow bill and a yellow streak around the eye, it is virtually identical to the Black-billed Magpie (Pica hudsonia) found in much of the rest of North America. mtDNA sequence analysis (Lee et al. More
The Yellow-billed Magpie has a fairly large range reaching up to generally 83,000 square kilometers. This bird can be found in its native United States where it appears in forests, pastureland, arable regions and even rural garden. The global population of this species is estimated to be around 180,000 individual birds. Currently, it is not believed that the population trends for this species will soon approach the minimum levels that could suggest a potential decline in population. More
Endemic to California, the Yellow-billed Magpie is found primarily in the Central Valley but also in the southern Coast Ranges and foothills of the Sierra Nevada. Some authorities regard it as a subspecies of the Black-billed Magpie, to which it is similar in volaizations and social behavior. The bird is resident in open oak woodland within its range and individuals are very sedentary, with nonbreeding flocks generally staying only a few kilometers from the breeding area. It nests high in trees, predominantly oaks. More
that the Yellow-billed Magpie's ancestors became isolated in California quite soon after the ancestral magpies colonized North America (which probably happened some 3-4 mya) due to early ice ages and the ongoing uplift of the Sierra Nevada, but that during interglacials there occurred some gene flow between the Yellow- and Black-billed magpies until reproductive isolation was fully achieved in the Pleistocene. More
Yellow-billed magpie exploring plumbing in Dell Valle Regional Park.Ron Sullivan Yellow-billed magpie exploring plumbing in Dell Valle Regional Park. No, this is not turning into the Magpie Column. But I just got wind of disturbing news about these birds that needs to reach a wider audience. The July issue of The Auk, published by the American Ornithologists' Union, has an article entitled "Early Impact of West Nile Virus on the Yellow-billed Magpie (Pica nuttalli. More
The Yellow-billed magpie is a large and beautiful bird. Its long black tail is iridescent and its wing feathers are shades of blue, green and white. The characteristic that makes them so special is their yellow beak. There is a similar and more wide spread species with a black bill. The yellow billed magpie is found only in California. They are highly intelligent. Once I was out for a walk and I heard one singing in a pine tree. More
If you live in Yellow-billed Magpie habitat, you can help us better understand their biology, assess risks to their persistance, and monitor their populations by counting them as you walk or ride your bike in California's Great Central Valley and parts of the central Coast Ranges. Their populations may be at risk from disease threats including West Nile Virus and loss of habitat. Find out more about Yellow-billed Magpies and how you can help. More
We need Yellow-billed Magpie feathers to be collected for DNA analysis. Good sites to collect include the ground under roost sites and nests, particularly during the period when birds molt their feathers (after breeding, during late spring and summer). On your first visit to a roost, clear the ground of old feathers, so that your next collection will be feathers shed within a few days (fresher DNA). Please do not enter private property to collect feathers. More
A colony of Yellow-billed Magpies lives communally year round, feeding, socializing and collectively mobbing predators. This magpie has found in vacant city lots and weedy storage yards a substitute for habitats it lost to intensive agriculture. It has become a city bird but keeps away from places where people gather. The Yellow-billed Magpie is a slightly smaller version of the Black-billed Magpie but has a yellow bill and a bare yellow area of skin behind its eye. More
Yellow-billed Magpie named Audubon California's 2009 Bird of the Year The Yellow-billed Magpie's range is limited to the Central Valley and Central Coast Ranges of California. This California endemic has suffered dramatic mortality from West Nile virus (WNV). In the past several years thousands of dead magpies have been reported to California Department of Health Services WNV Dead Bird Surveillance Program. More
Yellow-billed Magpie named Audubon California's 2009 Bird of the Year = audubonca 47 vidéos S'abonnerModifier l'abonnement Chargement… 665 vues 665 vues audubonca — 15 décembre 2009 — The Yellow-billed Magpie has been named Audubon California's 2009 Bird of the Year. audubonca — 15 décembre 2009 — The Yellow-billed Magpie has been named Audubon California's 2009 Bird of the Year. More