Grey Jay
Although the Gray Jay can fluff up its dense plumage and give the impression of large size, it is actually one of the smallest jays in the world, males weighing about 76 grams and females only about 68 grams . Both sexes typically have light gray underparts, medium-gray upperparts, and a partial black cap on the back of an otherwise white head. Birds on the Pacific coast of Washington and Oregon states have more extensive black on the head and noticeably darker backs with conspicuous white streaks. Individuals from the southern Rockies have black caps that fail to reach forward as far as the eye, giving that race a noticeably more white-headed appearance. Juvenile plumage is sooty gray all over, though slightly darker on the head.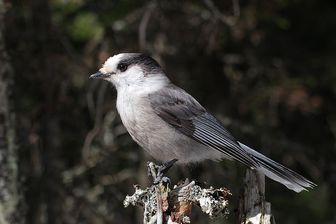 Picture of the Grey Jay has been licensed under a
GFDL
Original source
: Own work
Author
: Cephas
Permission
: GNU Free Documentation License
The Grey Jay is classified as Least Concern. Does not qualify for a more at risk category. Widespread and abundant taxa are included in this category.

Grey jay, perched on branch, looking down.JPG Gray Jays Manning Park BC Canada 28Jan2007.jpg Perisoreus canadensis hatchling.jpg Perisoreus canadensis 000.jpg Whiskey Jack North Of Pickle Lake (Ontario, Canada) Small. More
WireTaken primarily from the Grey Jay / Crow vein system, this structure has now been trenched for over 175 meters.North American Gem Inc. Announces Assays Received from Bonaparte ... More
Grey Jay - Perisoreus canadensis Mésangeai du Canada = Mésangeai du Canada Gallery : © Rachel Bilodeau Site web : Photos Nature Rachelita Order : Passériformes Family : Corvidae Species : Grey Jay Reference: rabi39648 Other pictures Date taken : 2007 Sep Geographic data Country : Canada (ca) Region : Québec Place : Mont-Tremblant More
The noun GREY JAY has 1 sense: 1. a jay of northern North America with black-capped head and no crest; noted for boldness in thievery Familiarity information: GREY JAY used as a noun is very rare. More
Distribution - The Grey Jay (Canada Jay - Whiskey Jack) is resident from Alaska east across Canada in coniferous forests. Also know as the Camp Robber, this playful rascal is a frequent visitor to campsites and summer cottages, and can be easily fed by hand or bird feedding station once you become acquainted. Biology - Being omnivorous, the Grey Jay feeds on meat, fruit, insects and various vegetable substances. More
A little grey jay bird taking a short rest in Alberta in Canada. - Grey Jay Bird in Alberta, Canada. picture of Picture Of A Grey Jay Bird Alberta Photo of a cute litte grey jay bird looking curious in Alberta, Canada. More
The Grey Jay population has dropped by 50 percent in the last 25 years because of global warming, according to U.S. researchers. The grey jay isn't shy around people. Also known as the Whiskey Jack, or the Gorby, the small grey bird will steal food from camp sites and even from people's hands. But researchers say the bird's fearlessness isn't protecting it against a new danger: global warming. More
Grey Jay has grey upperparts, sometimes with bluish sheen, and long tail. Wings are short and rounded. Underparts are whitish. It has white collar, but it lacks crest. Face, forehead, chin and throat are white. Crown and nape are blackish. Downy parts of plumage are silky and fluffy. Some feathers size 50 to 65 millimetres in length, providing protection against the cold. Black bill is short. Eyes are black. Legs and feet are black. More
Grey Jay ~ Perisoreus canadensis by Beve Brown-Clark Perisoreus canadensis is 11.5 inches (29 cm) long and has a wingspan of 18 inches (45 cm). Normal adult weight is 2.5 ounces (70 grams). More
grey jaygrey jay - a jay of northern North America with black-capped head and no crest; noted for boldness in thieverycamp robber, Canada jay, gray jay, Perisoreus canadensis, whisker jackjay - crested largely blue birdgenus Perisoreus, Perisoreus - Canada jaysPerisoreus canadensis capitalis, Rocky Mountain jay - a Canada jay with a white head; widely distributed from Montana to Arizona How to thank TFD for its existence? Tell a friend about us, add a link to this page, add the site to iGoogle, or More