Plush-crested Jay
This is an elegant medium sized bird, dark plumaged with a cream-yellow breast; the bulky tail is also cream colored, top and underneath, for the lower half.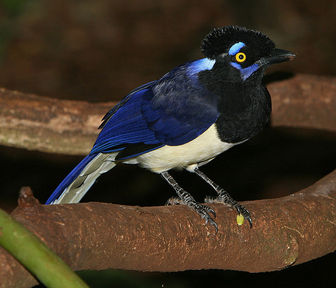 Picture of the Plush-crested Jay has been licensed under a
GFDL
Original source
: Own work
Author
: http://www.birdphotos.comPermission(Reusing this file)See below. Credit should be visible on same page as photo.
Permission
: GNU Free Documentation License
The Plush-crested Jay is classified as Least Concern. Does not qualify for a more at risk category. Widespread and abundant taxa are included in this category.

The Plush-crested Jay (Cyanocorax chrysops) is a jay of the Corvidae family, which includes the crows and their many allies. It is found in central-southern South America in southwestern Brazil, Bolivia, Paraguay, Uruguay, and northeastern Argentina, including southern regions of the Amazon Basin river systems, bordering the Pantanal. This is an elegant medium sized bird, dark plumaged with a cream-yellow breast; the bulky tail is also cream colored, top and underneath, for the lower half. More
this one of the Plush-crested Jay, which I have uploaded to commons. How do I best go about this? http://commons.wikimedia.org/w/index.php?title=Image:Cyanocorax_chrysops_001_1280.jpg —Preceding unsigned comment added by 200.82.65.49 (talk) 03:09, 3 April 2008 (UTC) First, I suggest you create an account and upload your images under that account. More
For the purposes of our bird news services, Plush-crested Jay is classed as Common: common species, including species that are certain or probable escapees from captivity when occurring in the British Isles. (Note that rarity levels are currently applied nationally and may not reflect local variations in abundance. More
tail of the Plush-crested Jay are deep blue in color, and its tail is broadly tipped white. DISTRIBUTION and HABITAT: This particular bird can be found in many parts of South America. In northern Argentina, it is found in Salta, Tucuman, also possibly in La Rioja eastward to Formosa, Chaco to Misiones, and Corrientes to Entre Rios. It can also be seen in Paraguay and Uruguay. More
Plush-crested Jay videos on the Internet Bird Collection Stamps with RangeMap Plush-crested Jay photo gallery VIREO Photo-High Res; Article mangoverde Photo-Medium Res; Article pantanalbirds—"Birds of the Pantanal" Photo-High Res; Article tropicalbirding–Argentina Didn't find what you were looking for. Need more information for your travel research or homework? Ask your questions at the forum about Birds of Argentina or help others to find answers. More
Plush-crested jays are noisy social birds that often call without purpose. They can also imitate other birds' calls. These birds are curious and readily approach humans, sometimes even stealing small objects from them. When food is plentiful, the jays often hide extra food and store it for a time when food may be scarce. Did You Know? - These jays cooperate at the nesting site: last year's offspring help the adults care for new chicks. More