Black-throated Magpie-Jay
This species is 58.5 to 76.5 cm long, more than half of which is the tail. The upperparts are blue with white tips to the tail feathers; the underparts are white. The bill, legs, head, and conspicuous crest are black except for a pale blue crescent over the eyes and a patch under the eye. In juveniles, the crest has a white tip and the patch below the eye is smaller and darker blue than in adults. In most birds, the throat and chest are also black, but some in the southern part of the range have various amounts of white there.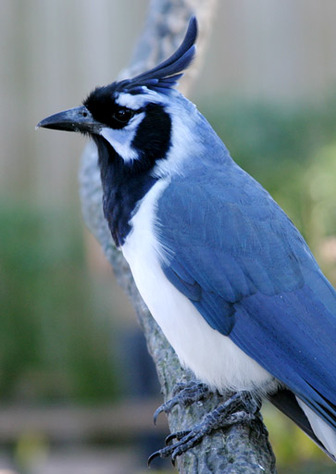 Picture of the Black-throated Magpie-Jay has been licensed under a Creative Commons
Attribution-Share Alike
.
Original source
: Photograph taken by Patrick Coin
Author
: Patrick Coin (Patrick Coin)Permission(Reusing this file)cc-by-sa-2.5
The Black-throated Magpie-Jay is classified as Least Concern. Does not qualify for a more at risk category. Widespread and abundant taxa are included in this category.

The Black-throated Magpie-Jay (Calocitta colliei) is a strikingly long-tailed jay of northwestern Mexico. Contents - * 1 Description * 2 Range and habitat * 3 Behavior * 4 References * 5 External links Description - This species is 58.5 to 76. More
This is a Black-throated Magpie-Jay, a bird that breeds commonly within 9 hours' drive of the US border (and can be seen as escaped cagebirds in southern California). The identification is not much of a challenge, so let's vary the question: What other species does this dramatic bird share its tropical deciduous forest habitat with? What other birds are lurking just beyond the edges of the photo? The question is important. More
Black-throated magpie-jayedit this page = From Turtledove The Black-throated Magpie-Jay (Calocitta colliei) is a strikingly long-tailed jay of northwestern Mexico. This species occurs in pairs or small groups in woodland, except for humid woodland, and partially open areas on the Pacific Slope of Mexico from southern Sonora south to Jalisco and northwestern Colima, for a total of 160,000 km2. As of 1993 there was some evidence of a population decline. More
The Black-throated Magpie-jay is a long-tailed jay occurring in northwestern Mexico. It can often be found in pairs or small groups. Physical Description The Black-throated Magpie-jay is usually between 23 and 30 inches long, with its tail accounting for more than half the length. On average, it weighs 225 – 251 g. The upperparts of this magpie-jay are blue with white tips to the tail feathers. The underparts are white. More