Mexican Jay
The Mexican Jay, Aphelocoma ultramarina, formerly known as the Gray-breasted Jay, is a New World jay native to the Sierra Madre Oriental, Sierra Madre Occidental, and Transvolcanic Belt of Mexico. It reaches north to eastern Arizona, western New Mexico and western Texas in the United States. Its preferred habitat is montane pine-oak forest.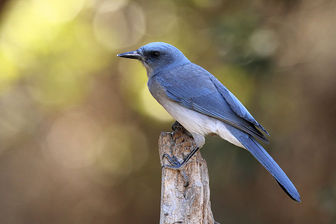 Picture of the Mexican Jay has been licensed under a Creative Commons
Attribution
.
Original source
: Flickr: Mexican Jay (Aphelocoma ultramarina) .... 3 of 3 in set
Author
: Alan VernonPermission(Reusing this file)This image, which was originally posted to Flickr.com, was uploaded to Commons using Flickr upload bot on 01:00, 25 March 2011 (UTC) by Pauk (talk). On that date it was licensed under the license below.This file is licensed under the Creative Commons Attribution 2.0 Generic license.You are free:to share – to copy, distribute and transmit the work
The Mexican Jay is classified as Least Concern. Does not qualify for a more at risk category. Widespread and abundant taxa are included in this category.

The Mexican Jay does not migrate and has little or no dispersal from its natal group, probably being as extreme in this respect as any North American bird. It may live up to 20 years, often in the company of its offspring, parents, siblings, and other relatives on the territory where it was hatched or on an adjacent one. Flocks rely on pine nut and acorn crops to survive the winter. More
In the winter, the Mexican Jay's diet consists mainly of acorns and pine nuts, which are stored in the autumn. However, they are omnivorous in all seasons and their diet includes a wide variety of plant and animal matter, including invertebrates, small amphibians and reptiles, and birds' eggs and nestlings. More
Mexican Jay was soon joined by another and then another, and soon I had a whole flock of Mexican Jays in the trees above me. It wasn't too difficult to guess what they wanted, so we tossed them a few of the Cheetos from our lunch. Mexican Jay (Aphelocoma ultramarina) with a Cheeto Despite their artificial fluorescent orange color, the Mexican Jays recognized the Cheetos as food and eagerly snatched them up. More
Mexican Jay: Ranges from the north in central Arizona, southwestern New Mexico, and west-central Texas through the eastern central mountain chain south to Puebla, Guerrero, and central Veracruz, and west to Jalisco and Colima. Preferred habitats include pine, oak, and juniper woodlands. More
A bird of the Mexican mountains, the Mexican Jay lives in the oak woodlands of western Texas, New Mexico, and Arizona. It lives in social groups that may include multiple breeding pairs, and group members may feed young at multiple nests within the group territory. More
Mexican jays do not seem to follow Gloger's Rule as Mexican jays in arid habitat in southwestern Texas are also some of the bluest. On the other hand, Mexican jays in Arizona - also arid habitat - have a washed-out appearance, in accordance with Gloger's Rule. Southern group Transvolcanic Belt of central Mexico. Juveniles have a pink/pale base to the otherwise black beak into their second year. Adults are larger and longer-tailed but shorter-billed than those in the northern groups. More
Mexican JayMexican Jays = Jay Information ... Jay Photo Gallery The Mexican Jay Aphelocoma ultramarina, also known as the Gray-breasted Jay, is a New World scrub jay native to the Sierra Madre Oriental and Sierra Madre Occidental mountains of Mexico, north to southeast Arizona, southwest New Mexico and westernmost Texas in the United States. Its preferred habitat is montane pine-oak forest in mountains. More
Mexican Jay, Madera Canyon, AZMexican Jay, Madera Canyon, AZ Mexican Jay, Madera Canyon, AZMexican Jay, Madera Canyon, AZ Mexican Jay, Madera Canyon, AZMexican Jay, Madera Canyon, AZ Mexican Jay, Ash Canyon, AZ Home Page Back to Bird Gallery Index More
Mexican Jay is a species of pine-oak woodlands of central and northern Mexico, and the southwestern United States. It is not considered threatened, but its limited distribution and primary dependence on a single habitat type make it a species that should be monitored. More
Mexican jay, Aphelocoma ultramarina, Madera Canyon Recreation Area, Green Valley, Arizona Purchase A Print Of This ImageHow to request, purchase or license this imageAdd To Light Table Mexican jay, Aphelocoma ultramarina, Madera Canyon Recreation Area, Green Valley, Arizona Purchase A Print Of This ImageHow to request, purchase or license this imageAdd To Light Table Mexican jay, Aphelocoma ultramarina, Madera Canyon Recreation Area, Green Valley, Arizona Purchase A Print Of This ImageHow to request, purchase or license this imageAdd To Light Table Mexican jay. More
Western Scrub-Jay | Mexican Jay | Chihuahuan Raven | Common Raven | Fish Crow | Black-billed Magpie | Clark's Nutcracker | Steller's Jay | Northwestern Crow | White-throated Magpie-Jay | Silvery-throated Jay Mexican Jay - Aphelocoma ultramarina Mexican Jay Mexican Jay Mexican Jay Mexican Jay Mexican Jay Mexican Jay Mexican Jay Mexican Jay Mexican Jay Mexican Jay More
The Mexican Jay has blue head, wings and tail, and a white throat. The back is gray blue, and underside is off white. It has long tail with white underside. The bill and legs are black, and eyes are dark brown. Juveniles are dull gray with a pale bill. Size 29cm Environment pine woodland, oak woodland, juniper woodland Food Acorns, pinyon nuts, insects and other arthropods, lizards. More
Mexican Jay - Definition = Mexican Jay Conservation status: Secure MEXJAY. More
"The Mexican Jay, also known as the Gray-breasted Jay, is a highly social species of the mountains of central and northern Mexico. It ranges north into the "sky islands" of Arizona, New Mexico, and western Texas. Resident in pine-oak-juniper woodland, it relies on acorns and pinyon nuts to survive the winter. "This species' social organization, based on defense of permanent territories by groups of 5 to 25 individuals, is one of the most complex known for birds. More