Hooded Pitohui
This species and its two close relatives, the Variable Pitohui and the Brown Pitohui, were the first documented poisonous birds. A neurotoxin called homobatrachotoxin found in the birds' skin and feathers, causes numbness and tingling in those touching the bird.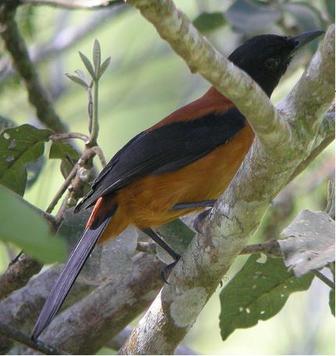 Picture of the Hooded Pitohui has been licensed under a Creative Commons
Attribution-Share Alike
.
Original source
: Hooded_Pitohui.jpg: markaharper1
Author
: Hooded_Pitohui.jpg: markaharper1
The Hooded Pitohui is classified as Least Concern. Does not qualify for a more at risk category. Widespread and abundant taxa are included in this category.

The Hooded Pitohui was the first poisonous bird to be discovered by science—but the native people of Papua New Guinea knew about it far sooner. They call it the "garbage bird" because of its unpleasant smell, and avoid eating it because of the bitter taste and a tendency to make people sick. The Hooded Pitohui has batrachotoxin (BTX) in its dander, and in its skin and feathers, a neurotoxin identical to that used by deadly poison frogs in Colombia, South America. More
The Hooded Pitohui, Pitohui dichrous is a songbird of New Guinea with black and orange plumage. This species and its two close relatives, the Variable Pitohui and the Brown Pitohui, were the first documented poisonous birds. A neurotoxin called homobatrachotoxin found in the birds' skin and feathers, causes numbness and tingling in those touching the bird. The Hooded Pitohui acquires its poison from part of its diet, the Choresine beetles of the Melyridae family. More
The Hooded Pitohui is brightly coloured, with a brick red belly and a jet black head. The Variable Pitohui, as its name implies, exists in many different forms, and twenty subspecies with different plumage patterns have been named. Two of them, however, closely resemble the Hooded Pitohui. More
New Guinea's interior forests to find why hooded pitohuis were poisonous. From the start it was obvious something complex was going on. Hooded pitohuis from some regions of the island were found to be much less poisonous than those from other regions. Tests on three other pitohui species—the rusty (Pitohui ferrugineus), the black (P. nigrescens), and the variable (P. kirhocephalus)—showed that they too were toxic, but not at the levels of the hooded pitohui. More
Of the three, the hooded pitohui is considered the most toxic. Specimens of the birds, including the skin, feathers, striated muscles, and stomach with contents, among others, were collected by Dumbacher and his fellow biologists from the National Institutes of Health in Bethesda, Maryland and the Smithsonian Institution in Washington, D.C. From the specimens, the toxin was set apart from the other substances. It was then identified and was observed to be a homobatrachotoxin. More
* Does the Hooded Pitohui live in Lithuania? * How do the hooded pitohui eat? * How do pitohuis hunt? » More Mentioned in * Whistlers (Pachycephalidae) (zoology) * Variable Pitohui * Pitohui * Hooded Pitohui * Sibley-Monroe checklist 13 * List of Indonesian birds: passerines More
Hooded Pitohui, members of the family Corvidae (crows, ravens, jays, etc.), are beautiful passerines, i.e., songbirds. Their wing, head, and tail feathers are black and their back and belly feathers orange. They have black legs ending in sharp claws and a black beak that is strong and sharp. Male and female birds have the same coloration. More
Some New Guinea tribes people believe that a Hooded Pitohui can be eaten if it is held in the hands and mourned as if it were a dead child. More
The Hooded Pitohui acquires its poison from part of its diet, the Choresine beetle of the Melyridae family. This beetle is also a likely source of the lethal batrachotoxins found in Colombia's poison dart frogs. Description: The Hooded Pitohui is brightly colored, with a brick red or orange belly and a jet black head. More
The Hooded Pitohui (Pitohui dichrous) is indeed a rare bird. Dumbacher et al. from the Smithsonian Institute reported in 1992 that the distinctive orange and black New Guinean bird has a potent neurotoxin in its feathers and skin, which serves as a defense against predators. Such a protective chemical defense is very rare in birds and the Dumbacher paper was the first to identify an avian toxin. Surprisingly the chemical agent, homobatrachotoxin, is an alkaloid found in the skin of poisonous frogs. More
This small colorful bird, like the Hooded Pitohui is poisonous. The Variable Pitohui is a species of bird in the Colluricinclidae family. It is found in Indonesia and Papua New Guinea. Its natural habitat is subtropical or tropical moist lowland forests. The Variable Pitohui, as its name implies, exists in many different forms, and twenty subspecies with different plumage patterns have been named. Two of them, however, closely resemble the Hooded Pitohui. Blue-capped Ifrita (Ifrita kowaldi) (Source: nationalzoo.si.edu/…/images/jdifrita. More