Lazy Cisticola
It is found in Angola, Benin, Botswana, Burkina Faso, Cameroon, Central African Republic, Chad, Democratic Republic of the Congo, Ivory Coast, Ghana, Guinea, Kenya, Liberia, Malawi, Mali, Mauritania, Mozambique, Niger, Nigeria, Rwanda, Sierra Leone, South Africa, Sudan, Swaziland, Tanzania, Togo, Uganda, Zambia, and Zimbabwe. Its natural habitat is subtropical or tropical dry lowland grassland. It is usually associated with rocky wooded terrain with interspersed patchy grass tussocks. Usually at the foot of hills or in adjacent riparian vegetation.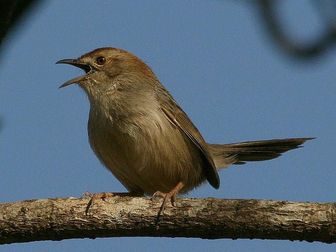 Picture of the Lazy Cisticola has been licensed under a Creative Commons
Attribution-Share Alike
.
Original source
: Alan Manson
Author
: Alan Manson
The Lazy Cisticola is classified as Least Concern. Does not qualify for a more at risk category. Widespread and abundant taxa are included in this category.

Lazy Cisticola, a bird that obviously seriously underwhelmed the nomeclaturists who not content with questioning the species' activity levels also gave it the specific name of aberrans - being called a 'lazy aberrant' would be enough to keep most of us indoors with a bag over our heads, but thankfully this particular individual responded enthusiastically to some pishing and posed quite well before slipping away into the undergrowth (in a normal enough way if you want my opinion)… Lazy More
The Lazy Cisticola or Rock-loving Cisticola (Cisticola aberrans) is a species of bird in the Cisticolidae family. It is found in Angola, Benin, Botswana, Burkina Faso, Cameroon, Central African Republic, Chad, Democratic Republic of the Congo, Ivory Coast, Ghana, Guinea, Kenya, Liberia, Malawi, Mali, Mauritania, Mozambique, Niger, Nigeria, Rwanda, Sierra Leone, South Africa, Sudan, Swaziland, Tanzania, Togo, Uganda, Zambia, and Zimbabwe. Its natural habitat is subtropical or tropical dry lowland grassland. More
Distribution of Lazy cisticola in southern Africa, based on statistical smoothing of the records from first SA Bird Atlas Project (© Animal Demography unit, University of Cape Town; smoothing by Birgit Erni and Francesca Little). Colours range from dark blue (most common) through to yellow (least common). See here for the latest distribution from the SABAP2. Food It mainly eats insects, doing most of its foraging near caves or rock crevices with surrounding vegetation. More
Lazy Cisticola Canon 7D 600mm focal length 1/320 sec exposure F7. More
lazy cisticola kruger national park birds The Lazy Cisticola (Latin name Cisticola aberrans) is described in Roberts Birds of Southern Africa, 7th Edition. This bird has a unique Roberts number of 679 and you will find a full description of this bird on page 826 also a picture of the Lazy Cisticola on page 865. The Lazy Cisticola belongs to the family of birds classified as Cisticolidae. More