Blue-winged Leafbird
The male is green-bodied with a yellow-tinged head, black face and throat. It has a blue moustachial line. The female differs in that it has a greener head and blue throat, and young birds are like the female but without the blue throat patch.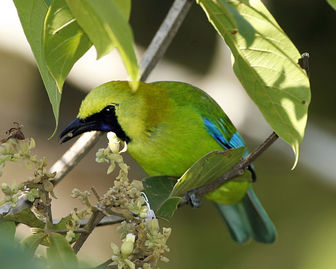 Picture of the Blue-winged Leafbird has been licensed under a Creative Commons
Attribution-Share Alike
.
Original source
: originally posted to Flickr as Blue-winged Leafbird, Chloropsis cochinchinensis moluccensis
Author
: Lip Kee YapPermission(Reusing this file)This image, which was originally posted to Flickr.com, was uploaded to Commons using Flickr upload bot on 20:32, 30 October 2008 (UTC) by Snowmanradio (talk). On that date it was licensed under the license below. This file is licensed under the Creative Commons Attribution-Share Alike 2.0 Generic license.You are free:to share – to copy, distribute and transmit the work
The Blue-winged Leafbird is classified as Least Concern. Does not qualify for a more at risk category. Widespread and abundant taxa are included in this category.

a deswitch photographed a male Blue-winged Leafbird (Chloropsis cochinchinensis) collecting nectar from the mistletoe, Macrosolen cochinchinensis from the Panti forest in neighbouring state of Johor in Malaysia. An earlier post shows a Blue-crowned Hanging Parrot (Loriculus galgulus) collecting nectar and in the process helps in the pollination of this mistletoe. The Blue-winged Leafbird is a generalist, feeding on arthropods, fruits and probably nectar. Here the bird is shown harvesting nectar from a tropical mistletoe plant. More
Blue-winged Leafbird takes on a long-horned grasshopper - Posted by BESG on 30 October 09, Friday Contributed by Jeffery K. Chan & Dr Leong Tzi Ming Jeffery K. Chan documented a series of images showing a female Blue-winged Leafbird (Chloropsis cochinchinensis) eating an adult male Green Katydid (Orthoptera: Tettigoniidae) or long-horned grasshopper. This leafbird regularly catches grasshoppers, including large ones. More
The Blue-winged Leafbird (Chloropsis cochinchinensis) is a species of leafbird found in forest and second growth from far north-eastern India and throughout Southeast Asia as far east as Borneo and as far south as Java. It commonly includes Jerdon's Leafbird (C. jerdoni) from the Indian Subcontinent, and the Bornean Leafbird (C. More
which the Blue-winged Leafbird was named. It builds its nest in a tree, and lays 2-3 eggs. This species eats insects, fruit and nectar. The male is green-bodied with a yellow-tinged head, black face and throat. It has a blue moustachial line. The female differs in that it has a greener head and blue throat, and young birds are like the female but without the blue throat patch. More
Blue-winged Leafbird (Chloropsis cochinchinensis) = French: Verdin à tête jaune German: Blauflügel-Blattvogel Spanish: Verdín Aliazul Other common names: Green Leafbird, Golden-headed/Yellow-headed Leafbird, Gold-mantled Chloropsis Taxonomy: Turdus Cochinchinensis J. F. Gmelin, 1789, Cochinchina; error = Java. Probably forms a superspecies with C. jerdoni, C. kinabaluensis and C. palawanensis; until recently was regarded as conspecific with first two. More
male Blue-Winged Leafbird (Chloropsis cochinchinensis) Posted by madibirder at 8:37 PM Labels: Bukit Tinggi, leafbird 1 comments: Jordan Sitorus said... More
Blue-winged Leafbird Chloropsis cochinchinensis = Described by: Gmelin, J. F. More
Blue-winged Leafbird Chloropsis cochinchinensis moluccensis - Female Blue-winged Leafbird Photographer : More
* Blue-winged Leafbird videos, photos & sounds on the Internet Bird Collection * Media related to Chloropsis cochinchinensis at Wikimedia Commons Search Wikimedia Commons Wikimedia Commons has media related to: Chloropsis cochinchinensis This entry is from Wikipedia, the leading user-contributed encyclopedia. More
Blue-winged Leafbird Chloropsis cochinchinensis = * Home Expand Log in Menu item Register Menu item Log out Menu item Change login details Menu item Why register? Expand UK & Ireland Menu item Birding sites More
Stamps showing Blue-winged Leafbird Chloropsis cochinchinensis Blue-winged Leafbird Chloropsis cochinchinensis Bargain of the day! Blue-winged Leafbird Links will open countrypage in new window - Brazil 10.11. More
Blue-winged Leafbird (Chloropsis cochinchinensis) = Blue-winged Leafbird (Chloropsis cochinchinensis) by mountainpath2001.Male. Near Fraser's Hill, Malaysia. As in other leafbirds, the call of the Blue-winged Leafbird consists of a rich mixture of imitations of the calls of various other species of birds. f/5.6, iso 1600, 1/320. To take full advantage of Flickr, you should use a JavaScript-enabled browser and install the latest version of the Macromedia Flash Player. More
BLUE-WINGED LEAFBIRD * Chloropsis cochinchinensis * 20 cms previous Click here to comment on this image next Site Map Oriental Bird Club Copyright of all images is retained by Vijay Cavale and respective copyright owners. More
Blue-winged Leafbird Chloropsis cochinchinensis = Sime Forest, Singapore - 2004 More
Blue-winged Leafbird - Chloropsis cochinchinensis Verdin à tête jaune = Verdin à tête jaune Gallery : © John Gould Site web : www.oiseaux.net Order : Passériformes Family : Chloropseidae Species : Blue-winged Leafbird Reference: jogo39552 Other pictures Copy forbidden without prior authorization. More