Black-faced Grosbeak
The adult Black-faced Grosbeak is 16.5 cm long, weighs 36 g, and has a heavy, mainly black, bill. It has a black face, yellow head, neck and breast, and olive back, wings and tail. The rump and belly are grey. Immatures are duller and have duskier face markings.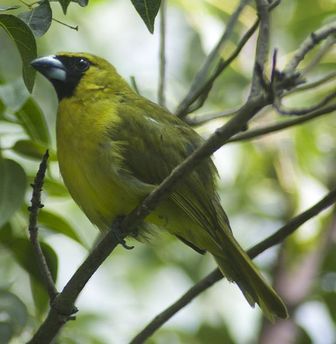 Picture of the Black-faced Grosbeak has been licensed under a Creative Commons
Attribution
.
Original source
: Just chaos
Author
: Just chaos
The Black-faced Grosbeak is classified as Least Concern. Does not qualify for a more at risk category. Widespread and abundant taxa are included in this category.

The Black-faced Grosbeak, Caryothraustes poliogaster, is a large seed-eating bird in the cardinal family, which is a resident breeding species from southeastern Mexico to eastern Panama. The adult Black-faced Grosbeak is 16.5 cm long, weighs 36 g, and has a heavy, mainly black, bill. It has a black face, yellow head, neck and breast, and olive back, wings and tail. The rump and belly are grey. Immatures are duller and have duskier face markings. More
* Video preview image Group of Black-faced Grosbeak feeding in tree. Cockscomb Basin Wildlife Sanctuary (Jaguar Preserve), Stann Creek District, Belize Wayne Hall 8 February 2007 1 year ago 40 sec 4 * Video preview image Brief view of a bird in a tree and flying away. More
The Black-faced Grosbeak forages in shrubs or trees for beetles, caterpillars and other insects, and also eats fruit such as those of Gumbo-limbo (Bursera simaruba), seeds, and nectar taken from flowers or epiphyte bracts. It forms noisy flocks of up to 20 birds, and is often in mixed-species feeding flocks with honeycreepers and other tanagers as well as New World warblers. More
In the past, Black-faced Grosbeak was included in Yellow-green Grosbeak as an additional subspecies. Habitat - Lowlands and foothills from sea level up to around 1000m. Found in the canopy and middle levels of dense rain forest in tall second growth, woodland edges and clearings. Behaviour - Diet The diet includes beetles, caterpillars, other insects, fruit, seeds and nectar. More
I've got a picture of what I think is a Black-faced Grosbeak which can be added to the database so long as the ID can be confirmed.Attached ThumbnailsClick image for larger version Name: Black-faced-Grosbeak-01.jpg Views: 116 Size: 137. More
Black-faced Grosbeak is another species that was known only sporadically from anywhere on the Pacific slope of central Panama until recent years. It is now found with some regularity at and near Cerro Gaital, and can be quite common at Altos del Maria (an area that walks the "line" of the Continental Divide); in September of 2006 I personally observed (and collected audio of) at least two flocks of double-digit size. More
Black-faced Grosbeak scapularis Caryothraustes poliogaster scapularis Distribution: Caribbean lowlands of Nicaragua to Costa Rica and w Panama (Map) Taxon info Pictures On Internet Who X? Dist. References: James F. Clements. More
Black-faced Grosbeak (Caryothraustes poliogaster) by Don Jones. More
Black-faced grosbeaks live in groups of twenty or more, often accompanied by tanagers, honeycreepers and other birds. At the Biod More