Waxwing
Its English name refers to the bright red bead-like tips of the secondary feathers on its wings, which look like drops of sealing wax, while 'Bohemian' refers to its origin from Bohemia . It is larger and greyer than the Cedar Waxwing and has bright yellow tips on its tail feathers and a yellow or white stripe along the wing feathers. Under tail coverts are a deep rust color. Both beak and feet are dark and the brown eyes are set in a narrow black mask underlined with white.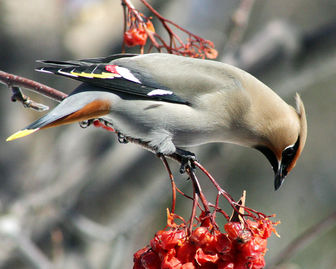 Picture of the Waxwing has been licensed under a Creative Commons
Attribution-Share Alike
.
Original source
: originally posted to Flickr as Cedar Wax Wing
Author
: Randen PedersonPermission(Reusing this file)This image, which was originally posted to Flickr.com, was uploaded to Commons using Flickr upload bot on 22:21, 22 July 2008 (UTC) by Airelle (talk). On that date it was licensed under the license below. This file is licensed under the Creative Commons Attribution-Share Alike 2.0 Generic license.You are free:to share – to copy, distribute and transmit the work
The Waxwing is classified as Least Concern. Does not qualify for a more at risk category. Widespread and abundant taxa are included in this category.

between the Bohemian Waxwing Bombycilla garrulus (which is distributed across the northern hemisphere's boreal zone from Alaska to Siberia) and its more range-restricted American cousin the Cedar Waxwing Bombycilla cedrorum (which breeds from Canada south to California with wanderers making it into Central America). More
Cedar waxwings are common throughout the continental United States, southern Canada and all of Mexico and Central America. Populations on the extreme edges of the birds' range will migrate seasonally, otherwise the birds are nomadic as they pursue food sources. These birds can be found in rural, suburban and urban areas and are more populous where fruit trees can be found. More
The Bohemian Waxwing (Bombycilla garrulus) is a member of the waxwing family of passerines. A sleek bird, 18–21 cm long with a pointed crest, it travels in large, nomadic groups with a strong, direct flight. It breeds in coniferous forests throughout the most northern parts of Europe, Asia and western North America. More
The waxwings form the genus Bombycilla of passerine birds. According to most authorities, this is the only genus placed in the family Bombycillidae. More
The Cedar Waxwing has a large span of more than 7 million square kilometers. The population of the Cedar Waxwing is thought to be at around 15 million individual birds. This bird is native to numerous countries in North America and Central America. In 2000, the Cedar Waxwing was rated as Lower Concern. At the current time, the Cedar Waxwing has a rating of Least Concern due to no evidence of population decline over the past several generations. More
The Bohemian Waxwing has an extremely large range that is estimated at 4,000,000 square kilometers in the Americas alone. It is found globally in most parts of Europe and Asia though is has been found in the United States and Canada. The bird prefers boreal or temperate forest habitats or artificial terrestrial areas. It has an estimated population of 2,800,000 individuals. More
Seattle's Waxwing has successfully combined a myriad influences into a distinctive sound, blending elements of punk, folk, rock, and Southwestern music. With two full-lengths and a host of EPs under their belt, they have emerge... More
We have 2 guests online Waxwing Associates - Pennsylvania Tourism At It's Best Welcome To Your Next Pennsylvania Adventure! PDF Print E-mail Wednesday, 08 October 2008 01:01 Terry By The River PA Tourism Waxwing Associates is my new endeavor after a career in state park service and management. I enjoy being outdoors and educating the public about everything that Pennsylvania has to offer. More
The Bohemian Waxwing is an irregular winter visitor from the far North. It comes primarily to states and provinces along the United States/Canada border, a bit farther southward in the West. More
Meaning #1: large waxwing of northern North America; similar to but larger than the cedar waxwing Synonym: Bombycilla garrulus - Wikipedia: Bohemian Waxwing - Top Home > Library > Miscellaneous > Wikipedia Bohemian Waxwing Conservation status Least Concern (IUCN 3. More
common, or Bohemian, waxwing (Bombycilla garrulus) is 8 in. (20 cm) long and has yellow, white, and red wing markings. It breeds in northern forests of Eurasia and America. The cedar waxwing (B. cedrorum), smaller and less colourful, breeds in Canada and the northern U.S. Flocks of waxwings may invade city parks and gardens in winter, searching for berries. The Japanese waxwing (B. japonica) is restricted to northeastern Asia. For more information on waxwing, visit Britannica.com. More
A treat to find in your binocular viewfield, the Cedar Waxwing is a silky, shiny collection of brown, gray, and lemon-yellow, accented with a subdued crest, rakish black mask, and brilliant-red wax droplets on the wing feathers. In fall these birds gather by the hundreds to eat berries, filling the air with their high, thin, whistles. In summer you're as likely to find them flitting about over rivers in pursuit of flying insects, where they show off dazzling aeronautics for a forest bird. More
The Cedar waxwing, which relies heavily on fruit as a food source, may become drunk and even die from alcohol poisoning after eating fermented fruit in the spring. Sound Calls are very high pitched "bzeee" To listen to the songs of this species click here. Habitat Parks, gardens, forest edges, open woodlands, old fields with shrubs and small trees. More
common, or Bohemian, waxwing (Bombycilla garrulus) is 20 cm (8 inches) long and has yellow and white wing markings in addition to red. It breeds in northern forests of Eurasia and America and every few years irrupts far southward in winter. The cedar waxwing (B. cedrorum), smaller and less colourful, breeds in Canada and the northern United States. Flocks of waxwings may invade city parks and gardens in winter, searching for berries. More
~ Bohemian Waxwings in ALASKA ~ HOME What's New Contact Us Purchase Prints < Back to GALLERY INDEX - Bohemian Waxwing Description There are 3 species of Waxwings: - Japanese Waxwing - Cedar Waxwing - Bohemian Waxwing The Bohemian Waxwing is the largest of the 3, with an average adult size of More
And only one of the two, the cedar waxwing, is wide-ranging. The larger, plumper Bohemian waxwing is seen mainly in the northern states, but a bird of this species may hook up with a cedar waxing flock and appear far outside its usual range. Cedar waxwings live year round in the northern third of the country. Waxwings are easy to identify because they wear a distinctive crest on the head. PLus, they hang around in small flocks. Waxwings' food consists mainly of flying insects. More
* Waxwing Live In Seattle. The 2nd ... Waxwing Live In Seattle. The 2nd ... More
Waxwing Where did the Time go Lyrics are provided for educational and learning purposes only. More
Waxwing Article From Wonka Vision (view more) About Waxwing Seattle's Waxwing have successfully combined a myriad of influences into a distinctive sound, blending elements of punk, folk, rock, and at times even country. With two full-lengths, a collection of 7"s, and an EP under their belt, they have emerged as one of the American Underground's most interesting and dynamic young bands around the turn of the century. More
Cedar WaxwingThe cedar waxwing is brown on top and pale yellow on its belly. It has a crest of feathers on its head and a black mask lined with white on its face. The cedar waxwing has black legs and feet and a short black bill. It has darker gray wings with a short waxy red tip. Its tail has a yellow tip. Cedar Waxwing Some cedar waxwings in the Northeast United States and Southeast Canada have an orange tip on their tails. More
During the breeding season, Bohemian Waxwings tend to nest in colonies in the coniferous forests of western Canada and Alaska. Young birds associate with their parents through their first fall and winter. In early summer, when berries are scarce and the nestlings are being fed, Bohemian Waxwings feed on insects. They are skillful fly catchers and have even been noted to capture such evasive prey as dragonflies. Once berries ripen, however, the primary food for the rest of the year is fruit. More
waxwingwaxwing - brown velvety-plumaged songbirds of the northern hemisphere having crested heads and red waxy wing tipsoscine, oscine bird - passerine bird having specialized vocal apparatusBombycilla, genus bombycilla - waxwingsBombycilla cedrorun, cedar waxwing, cedarbird - widely distributed over temperate North AmericaBohemian waxwing, Bombycilla garrulus - large waxwing of northern North America; similar to but larger than the cedar waxwing Translationswaxwing n → beccofrusone m - waxwing n → beccofrusone m More
Waxwing was Seattle's/Tacoma's and Miami's original metal band of the 80's. We partied and played as hard as we could and had a great time doing it. Below is a very condensed history on the band. We had such interesting and humorous antics/exploits that it would be impossible to tell in such a brief document as this. For information on Snyder and the Badfashion project, Click Here........ More
* The Waxwing 2007 Pinot got a great review from the PinotFile newsletter. Click here to read the full review from Rusty Gaffney's article "New Stars Along the Pinot Trail". * Our wine is available at our favorite Belmont restaurant: Divino Ristorante. Divino is a fantastic Italian restaurant and a darling of the SF Chronicle restaurant reviewers. More
* JiggleSmax il y a 8 mois Waxwings are so elegant looking! Great video, amazing birds, and awesome quality. JiggleSmax il y a 8 mois * torreslou il y a 1 an where was this taken please torreslou il y a 1 an * birdSpottingDotInfo il y a 1 an Good quality video. More