Indian Bushlark
Pale and found mostly in arid areas. Has cheek patch completely bounded by white supercilium and post-auricular border. Crown and upperparts heavily streaked. Pale underparts have large spots on the breast. Differentiable from Jerdon's Bushlark by longer tail, shorter bill and legs. Most wing coverts, tertials and central tail feathers have pale centres. Primary coverts look all brown. Sings from bush tops but does not usually perch on trees or wires. Calls similar to that of Jerdon's but is lower and has longer rattling tremolos. Often falling in pitch.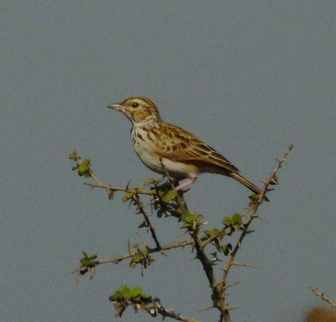 Picture of the Indian Bushlark has been licensed under a Creative Commons
Attribution-Share Alike
.
Original source
: Shyamal
Author
: Shyamal
The Indian Bushlark is classified as Least Concern. Does not qualify for a more at risk category. Widespread and abundant taxa are included in this category.

The Indian Bushlark or Red-winged Bushlark (Mirafra erythroptera) is a species of bushlark found in South Asia. Contents - * 1 Description * 2 See also * 3 External links * 4 References Description - Pale and found mostly in arid areas. Has cheek patch completely bounded by white supercilium and post-auricular border. More
(delhibirdpix) Indian Bushlark Forward | Print | View thread | Show original | Report this message | Find messages by this author Name of species- Mirafra erythroptera Common Name- Indian Bushlark Family- Alaudidae Status- lcr Photo taken on- 14.3.2010 At- Rauf Kheda,Tonk, Rajastan, India Description Dancing mood. Regards,Devendra Bhardwaj Send free SMS to your Friends on Mobile from your Yahoo! Messenger. Download Now! http://messenger.yahoo.com/download. More
The Indian Bushlark is usually identified by the short buff edged tail, the hind claw equal in length to the hind toe, the stout bill and spotted upper breast contrasting with white throat. It also has the brightest rufous on its wing edgings (not really visible in this picture). It is a common but overlooked resident of dry grassland with scrub and dry rocky scrublands. More
For the purposes of our bird news services, Indian Bushlark is classed as Ungraded: species that are unlikely to appear as wild birds in Britain or Ireland hide section Most recent photos of Indian Bushlark (1) Naliya, Gujarat, India Naliya, Gujarat, India10/02/2010 Naliya, Gujarat, India 10/02/2010 View all pictures of Indian Bushlark View all pictures of Indian Bushlark show section External Links (0) We currently have no external links for this species. More
Indian Lark (Mirafra erythroptera), also called Indian Bushlark, is a widespread resident in India. Size: 14 cm. More
Indian Bushlark (Mirafra erythroptera) is a locally common breeding resident in Haryana. This bird is found in dry open scrub areas. Order: PASSERIFORMES Family: Alaudidae Size: 14 cm Haryana Birds Haryana Fauna Haryana North India Birding in India Birds of India Motorcars Asia News Copyright © Haryana Online and haryana-online.com 2000-2009. All rights reserved. More
Indian Bushlark - birds of north India - North India Online - India - PASSERIFORMES north-india. More
The Indian Bushlark or Red-winged Bushlark (Mirafra erythroptera) is a species of bushlark found in South Asia. Description - Pale and found mostly in arid areas. Has cheek patch completely bounded by white supercilium and post-auricular border. Crown and upperparts heavily streaked. Pale underparts have large spots on the breast. Differentiable from Jerdon's Bushlark by longer tail, shorter bill and legs. Most wing coverts, tertials and central tail feathers have pale centres. Primary coverts look all brown. More
Indian Bushlark is closely similar to the partly sympatric Jerdon's Bushlark. Here are some points which differenciates Indian from the Jerdon Bushlark: 1. With experience, it is generally most easily distinguished by shape: its tail is noticeably longer than in Jerdon's, and it can generally be appreciated that its bill and legs are slightly shorter than in Jerdon's. 2. More
The Indian Bushlark or Red-winged Bushlark (Mirafra erythroptera) is a species of bushlark found in South Asia. pets No indian bushlark pets yet! pictures No indian bushlark pictures yet! videos No indian bushlark videos yet! owners No indian bushlark owners yet! blogs No indian bushlark blogs yet! This article is licensed under the GNU Free Documentation License. More