Rufous-winged Bushlark
It is short-tailed and has a strong stout bill. In size it is not as long as the Skylark, measuring about 15 centimeters.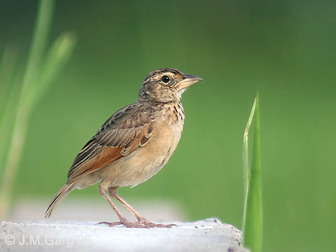 Picture of the Rufous-winged Bushlark has been licensed under a
GFDL
Original source
: J.M.Garg
Author
: J.M.Garg
Permission
: GNU Free Documentation License
The Rufous-winged Bushlark is classified as Least Concern. Does not qualify for a more at risk category. Widespread and abundant taxa are included in this category.

Rufous-winged Bushlark Mirafra affinis (Rufous-winged Lark, Bush Lark) Oriental Skylark Alauda gulgula (Eastern Skylark, Oriental Lark) Family: Nectariniidae Dicaeini Thick-billed Flowerpecker Dicaeum agile Yellow-vented Flowerpecker Dicaeum chrysorrheum Yellow-bellied Flowerpecker Dicaeum melanoxanthum Plain Flowerpecker Dicaeum concolor (Plain-colored Flowerpecker) Fire-breasted Flowerpecker Dicaeum ignipectus (Buff –bellied Flowerpecker Scarlet-backed Flowerpecker Dicaeum cruentatum Nectariniini Ruby-cheeked Sunbird(Rubycheek) Anthreptes singalensis More
The Rufous-winged Bushlark was earlier classified into several races, the Bengal race assamica and the Madras race affinis. These were subsequently split, on the basis of diagnostic song and display characters, into the Jerdon's Bushlark (Mirafra affinis) and assamica in the strict sense. Mirafra (assamica) assamica is dark-streaked grey above, and buff below, with spotting on the breast and behind the eye. The wings are rufous. Jerdon's Bushlark has paler, greyish-brown underparts. More
Broadbill, Blue-naped Pitta, Rufous-winged Bushlark, Plain Martin, Barn Swallow, White Wagtail, Olive-backed Pipit, Large Cuckoo-Shrike, Black-winged Cuckoo-Shrike, Short-billed Minivet, Scarlet Minivet, Bar-winged Flycatcher-Shrike, Red-whiskered, Red-vented Bulbul, White-throated Bulbul, Black Bulbul, Blue-winged Leafbird, Golden-fronted Leafbird, Orange-bellied Leafbird, Common Iora, Blue Whistling-Thrush, Rusty-bellied Shortwing, Lesser Shortwing, Zitting Cisticola, White-browed Shortwing, Swamp Prinia, Chestnut-headed Tesia, Slaty-bellied Tesia, Tickell's Leaf-Warbler, Yellow-browed Warbler, Greenish Warbler, Large-billed Leaf-Warbler, Blyth's Leaf-Warbler, Grey-hooded Warbler, Grey-cheeked Warbler, White-spectacled Warbler, Chestnut-crowned Warbler, Rufous-faced More
Rufous-winged Bushlark R Mirafra affinis Black-crowned Sparrow Lark r Eremopterix nigriceps Ashy-crowned Sparrow Lark R Eremopterix grisea Rufous-tailed Lark R Ammomanes phoenicurus Desert Lark r Ammomanes deserti Greater Hoopoe Lark r Alaemon alaudipes Bimaculated Lark w Melanocorypha bimaculata Tibetan Lark r Melanocorypha maxima More
Rufous-winged Bushlark, AKA Rufous-winged Lark) - Common DZ scrub resident Oriental Skylark - Alauda gulgula - Uncommon open country resident, a single sighting of one bird at the Hambantota salt pans Ashy-crowned Finch (Sparrow) Lark - Eremopterix griseus - Common DZ open country resident, look for it in over-grazed areas Hill Swallow - Hirundo domicola (recent split from Pacific Swallow) - Officially an uncommon resident in open high hill country, but we saw at least fifty on a sunny morning More