Rufous-naped Lark
The Rufous-naped lark's range is very large, with an estimated global Extent of Occurrence of 5,600,000 square km. It is found in the following countries: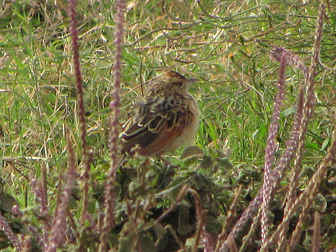 Picture of the Rufous-naped Lark has been licensed under a
GFDL
Original source
: Own work
Author
: D. Gordon E. Robertson
Permission
: GNU Free Documentation License
The Rufous-naped Lark is classified as Least Concern. Does not qualify for a more at risk category. Widespread and abundant taxa are included in this category.

This Rufous-naped Lark was watched over a period of about ten minutes making fluttering 'leaps' - where the rufous bases to the primaries and the rufous coverts were vividly displayed - in between bouts of singing. Photographed from a car in an area of rough grassland in the Midrand near Johannesburg, it remained on this one rock the whole time I was watching it. There were no other Rufous-naped Larks in the immediate vicinity, but the species is common in the area. More
The Rufous-naped Lark (Mirafra africana) is a species of lark in the Alaudidae family. More
Distribution of Rufous-naped lark in southern Africa, based on statistical smoothing of the records from first SA Bird Atlas Project (© Animal Demography unit, University of Cape Town; smoothing by Birgit Erni and Francesca Little). Colours range from dark blue (most common) through to yellow (least common). See here for the latest distribution from the SABAP2. More
For the purposes of our bird news services, Rufous-naped Lark is classed as ungraded: species which are unlikely to appear as wild birds in Britain or Ireland (Note that rarity levels are currently applied nationally and may not reflect local variations in abundance. More
The Rufous-naped Lark is a signature bird of the highveld grasslands in the interior of the country. It has a squeaky call-note and often displays from a prominent perch by jumping a short way up, whilst fluttering its wings. More
The Rufous-naped Lark is one of many plain coloured birds of the open veldt. This species has a heavy build, and shortish legs. The upperparts are brown, with black feather centres giving a streaked effect. The throat is off-white and the feathers on the crown and nape are more rufous than those lower down. It often shows a slight pointed crest. The underparts are buffy-brown, with dark blackish streaking on the breast. More
The bird, a rufous-naped lark (Mirafra africana) was a good film subject which remained seated on a termite mound close to us. It also reminded me of the faux pas I committed recently. In one of my previous daily reports, I mispronounced its name as a 'Rupert' naped lark. My colleagues back in the office are not going to let me forget that clanger. I have already been nicknamed Sir Rupert of Lark. More
This species looks very similar to the Rufous-naped Lark but it is larger and longer-tailed. The red wings are most conspicuous in flight. It perches in shrubs and low trees from which it sings, it also makes typical lark vertical song-flights. Its song is quite complex and includes imitations of other species particularly the Singing Bush Lark and Pink-breasted Lark. The bird pictured above was photographed in Tsavo West National Park in January 2001. More
The Rufous-naped Lark (Latin name Mirafra africana) is described in Roberts Birds of Southern Africa, 7th Edition. This bird has a unique Roberts number of 494 and you will find a full description of this bird on page 862 also a picture of the Rufous-naped Lark on page 928. The Rufous-naped Lark belongs to the family of birds classified as Alaudidae. The map of the Kruger you see on this page shows the areas (coloured orange) where this bird has been identified. More