Chestnut-backed Sparrow-Lark
This lark is a bird of open dry habitats. It nests on the ground and lays one egg. The food is insects and seeds.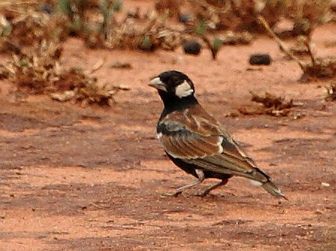 Picture of the Chestnut-backed Sparrow-Lark has been licensed under a Creative Commons
Attribution-Share Alike
.
Original source
: Alan Manson
Author
: Alan Manson
The Chestnut-backed Sparrow-Lark is classified as Least Concern. Does not qualify for a more at risk category. Widespread and abundant taxa are included in this category.

The Chestnut-backed Sparrow-lark, Eremopterix leucotis, is a passerine bird which is a resident breeder in Africa south of the Sahara Desert. This lark is a bird of open dry habitats. It nests on the ground and lays one egg. The food is insects and seeds. This is a small lark at 11 cm. The male is striking, with solid black underparts and head apart from brilliant white patches on the nape and behind the eyes. More
* Chestnut-backed Sparrow-lark, Eremopterix leucotis * Black-crowned Sparrow-lark, Eremopterix nigriceps * Gray-backed Sparrow-lark, Eremopterix verticalis * Chestnut-headed Sparrow-lark, Eremopterix signata * Fischer's Sparrow-lark, Eremopterix leucopareia * Ashy-crowned Sparrow-lark, Eremopterix grisea * Bar-tailed Lark, Ammomanes cincturus * Rufous-tailed Lark, Ammomanes phoenicurus * Desert Lark, Ammomanes deserti * Gray's More
Chestnut-backed Sparrow-lark Eremopterix leucotis IUCN Red List history Year Category 2009 Least Concern 2008 Least Concern 2004 Least Concern 2000 Lower Risk/Least Concern 1994 Lower Risk/Least Concern 1988 Lower Risk/Least Concern Range Estimate More
Stamps showing Chestnut-backed Sparrow-Lark Eremopterix leucotis Chestnut-backed Sparrow-Lark Eremopterix leucotis Distribution map for Chestnut-backed Sparrow-Lark, range 179.018 Chestnut-backed Sparrow-Lark IOC v2.4: 6821 Links will open countrypage in new window - Eritrea 16.03. More
Chestnut-backed Sparrow-Lark Emeropterix leucotis Male Female Pair . More
Chestnut-backed Sparrow-Lark Eremopterix leucotis = South Africa - Feb, 2005 More
Chestnut-backed Sparrow-Lark Eremopterix leucotis = Described by: Stanley (1814) Alternate common name(s): Chestnut-backed Sparrow-lark, Chestnut-backed Finch-lark, White-cheeked Sparrow-lark Old scientific name(s): None known by website authors Photographs The Gambia - Dec, 2002 More