Common Iora
During the breeding season, the male performs an acrobatic courtship display, darting up into the air fluffing up all his feathers, especially those on the pale green rump, then spiralling down to the original perch. Once he lands, he spreads his tail and droops his wings.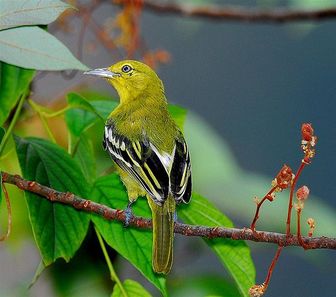 Picture of the Common Iora has been licensed under a Creative Commons
Attribution
.
Original source
: Flickr here
Author
: Flickr user NatureAtYourBackyard . Photo uploaded to commons by user ltshears
The Common Iora is classified as Least Concern. Does not qualify for a more at risk category. Widespread and abundant taxa are included in this category.

"A male Common Iora (Aegithina tiphia) was found sitting on its nest (left top). The nest was built at the fork of some branches around 4m above the ground and covered with spiderweb. When the female returned with food, the male would leave and the chicks could be seen gaping for food (left middle). The food item was fed whole to one chick. "After that, the female looked a while to see if the chick would excrete any faecal matter. More
The Common Iora (Aegithina tiphia) was photographed by Dr. Redzlan Abdul Rahman eating the flowers (above right). Related Posts: * Myna-horse relationship We are used to seeing mynas hovering around grasscutters or... * Common Iora eating praying mantis and caterpillar The Common Iora (Aegithina tiphia) is a yellow-green bird with... More
The Common Iora, Aegithina tiphia, is a resident of southeast Asia including India, Sri Lanka and Indonesia. It is common throughout its range. It eats insects and other invertebrates. The male does an interesting mating dance. Classification: Order: Passeriformes Family: Aegithinidae Genus: Aegithina Species: A. More
Common Iora Aegithina tiphia calling in Hyderabad, India. More
There are several races of the Common Iora that may appear similar to this species: Specimens showing nigrolutea characters collected within the range of Aegithina tiphia may be variants of the latter; such specimens have been obtained from southern Bihar, West Bengal, Khandesh, Tamil Nadu and Mysore. More
The adult Common Iora is about 25cm long. The breeding male has black or greenish upperparts, and bright yellow underparts. The flight feathers are blackish with an obvious white wing bar. Non-breeding males have uniformly greenish upperparts. The females are similar to non-breeding males, but with grey-black wings. There is a good deal of racial variation in the breeding males. A. t. multicolor of Sri Lanka and southern India has a black crown and back, A. t. More
Common IoraCommon Iora* Adult Asian Glossy StarlingAsian Glossy Starling* Copper Smith BarbetCopperSmith Barbet* Magpie RobinOriental MagpieRobin* Javan MynaJavan Myna* Oriental Honey BuzzardOriental Honey Buzzard* House SparrowHouse Sparrow* Gold Wiskered BarbetGold Wiskered Barbet* Pond Heron spPond Heron* More
Common Iora Common Iora (Aegithina tiphia horizoptera) Bookmark and Share Rate: By Tabib >>> at 12:01 AM Labels: Common Iora 7 comments: Phil said... Another superb photo Tabib, just so sharp. Thursday, 11 February 2010 03:25:00 GMT+08:00 rainfield61 said... More
The Common Iora, Aegithina tiphia, is a small passerine bird. This Iora breeds across tropical South Asia from Pakistan, India and Sri Lanka into Indonesia. This common species is found in forest and other well-wooded areas. Two to four greenish white eggs are laid in a small, loose, cup-shaped nest made out of grass and built in a tree. A. t. multicolor- Male in Hyderabad, India. More
I found this Common Iora nesting on Rambutan tree (Nephelium lappaceum), near my house (about 3 meters from my back door). The last time that I saw this species nest was in July 2008. More
The common Iora is a bird about the size of a sparrow. At a distance the Iora looks yellowish. Close up, however, it can be seen that the male has the upper parts, including the wings and tail colored black. It has double white bars across the wings. The underparts of the wings are yellow. Over the winter period, this long breeding plumage is lost and the upper parts are replaced by green. The female is yellowish green above and below. More
A male Common Iora in its newly built nest, clicked from my front balcony. The Iora is a small passerine bird. It breeds across tropical South Asia and is very often seen near my home. This 25 cm bird is in its breeding plumage. The breeding male has black or greenish upperparts, and bright yellow underparts. The flight feathers are blackish with an obvious white wing bar. Non-breeding males have uniformly greenish upperparts. The females are similar to non-breeding males, but with grey-black wings. More
The length of the adult Common Iora is about twenty five centimetres. The breeding male Iora possesses a greenish or black upper part, and the under part is bright yellow in colour. The feathers for flight are blackish with in colour with an obvious white wing bar, while the non-breeding male Ioras possess completely green upperparts. The female Ioras are somewhat close in appearance to the non-breeding male Ioras, but they are only differentiated because of their grey-black wings. More
The Common Iora is quite common in Singapore, but often missed because they hunt high up in the canopy. The smallest in their family, these birds are so successful because of their varied diet. They eat mainly insects. Restless, active hunters, Common Ioras search for insects from leaves in the upper storeys of trees, sometimes even hanging upside down from branches. They may also catch insects on the wing. More
and John Rappole found common ioras (Aegithina tiphia) were regular components in what they designated "woodshrike flocks," otherwise typically consisting of wood-shrikes, fantails, tits, minivets, nuthatches, and woodpeckers. With the wood-shrikes and minivets, ioras are species that most often initiate a relocation of a flock. The members of the genus Chloropsis are well-known nectar-feeders. Leafbirds are highly effective pollinators. Groves of appropriate trees around villages have proved very attractive to leafbirds, making them familiar to people. More
Common Iora is a small bird living high up in the canopy. PROTECTION / THREATS / STATUS: Common Iora is common and widespread. Populations are not threatened. Its range is expanding due to creation of orchards and gardens, and it takes part in pest control in fruit orchards. More
Common Iora Common Iora Common Iora (Aegithina tiphia) Common Iora @ karkala Common Iora male (Aegithina tiphia) from top Locations for recordings with GPS coordinates page 1 Common Iora calls Aegithina tiphia (0:19) David Farrow XC19646 130302, Cambodia Common Iora Call Aegithina tiphia (0:39) Andrew Mascarenhas XC21130 08-10-2007, India More