Brown Thornbill
The Brown Thornbill, Acanthiza pusilla, is a passerine bird usually found in eastern and south-eastern Australia, including Tasmania. It can grow up to 10 cm long, and feeds on insects.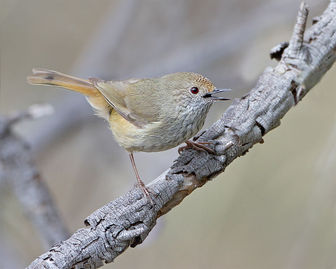 Picture of the Brown Thornbill has been licensed under a Creative Commons
Attribution-Share Alike
.
Original source
: Own work
Author
: JJ Harrison (http://www.noodlesnacks.com/)Camera location
The Brown Thornbill is classified as Least Concern. Does not qualify for a more at risk category. Widespread and abundant taxa are included in this category.

The Brown Thornbill is a small bird, but is one of the medium-sized and more common of the thornbills. It has olive-brown to grey upperparts, with a warm reddish-brown forehead scalloped with paler markings. The rump has a reddish-brown patch, the tail is grey-brown with a black band and a pale tip, and the underparts are off-white, streaked blackish on the chin, throat and chest. The eye is dark red. More
The Brown Thornbill, Acanthiza pusilla, is closely related to the Superb Fairy-wren. But, in contrast, it is a very plain bird. Nonetheless, it is interesting in its own right. It lives in Tasmania and the eastern and southeastern Australia. These birds tend to form flocks that move through the foliage in search of small insects. Their nest is interesting in that it is a complete globe and has one room for raising the young. More
The Brown Thornbill, Acanthiza pusilla, is a passerine bird usually found in eastern and south-eastern Australia, including Tasmania. It can grow up to 10 cm long, and feeds on insects. Gallery - Brownthornbill.jpg References - 1. ^ BirdLife International (2008). Acanthiza pusilla. In: IUCN 2008. IUCN Red List of Threatened Species. Downloaded on 18 February 2009. More
Voice: The Brown Thornbill has a short pleasant warble and often mimics other birds. It will sound a harsh alarm if danger threatens. Food: It forages mostly on the twigs and bark, rather than on the leaves, for scale, aphis and other insects. Range of Brown Thornbill Breeding: They usually live in pairs and maintain permanent territories. Breeding occurs from July to December. The nest is an untidy dome structure with an entrance near the top. More
Brown thornbill in Acacia shrub. Author's comment This bird was flitting from shrub to shrub close to running water. Tall eucalypts were on one side of the creek. 4Average: 4 (3 votes) Your rating: None Voting is for registered members only. Please login or create a new account. More
* Brown thornbill Brown thornbill in Acacia shrub. Tidbinbilla, Australian Capital Territory, Australia Margaret Leggoe 25 January 2010 4 weeks ago ADDED LAST MONTH 4 * A bird in a tree. More
The brown thornbill is found in eastern and south-eastern Australia, including Tasmania. Habitat:Found from the coast to high in the mountains, wet forests and parklands, providing shrubs are present. Feeding: Insects comprise the main diet of this bird. Breeding/Nesting: Breeds from June through December. Builds a domed nest with an entrance near the top. More
Brown ThornbillAlthough it is common and widely distributed in eastern Australia and Tasmania, the Brown Thornbill (Acanthiza pusilla) is not a conspicuous bird and is rarely seen on the ground. On the other hand, it is rather inquisitive and will usually come out if you make squeaking noises. Its plumage varies from warm brown to olive brown above and olive-buff to yellowish-white on the flanks. More
Brown Thornbill, Acanthiza pusilla post at birdsoftheworldonline.com/brown-thornbill-aca nthiza-pusilla. Thanks for a great photo of this interesting bird. Ron Posted 15 months ago. ( permalink ) Would you like to comment? Sign up for a free account, or sign in (if you're already a member). Guest Passes let you share your photos that aren't public. Anyone can see your public photos anytime, whether they're a Flickr member or not. More
It helps identification to know that Brown Thornbills are birds of mid-storey shrubs. They rarely descend to the ground or forage more than three to four metres above the ground. They move constantly through the shrubbery gleaning small insects and spiders from leaves and twigs. They have a surprisingly loud 'chirrup' call which, once learned, is also a good identifier. The similar looking Striated Thornbill has its face and crown heavily streaked with white. More
Brown Thornbill - shows breast pattern with lots of striations. Not to be confused with the Striated Thornbill. More
The Brown Thornbill (Acanthiza pusilla), is a passerine bird usually found in eastern and south-eastern Australia, including Tasmania. It can grow up to 4 inches long, and feeds on insects. More
The Brown Thornbill is a very common bird in the Blue Mountains of NSW. They almost always appear in flocks of several birds up to dozens of them. They are hard to get good photos of since they move around so often so I was stoked when I got these ones. More
a Brown Thornbill travels in search of food remains its home territory for life. Marked birds known to be 11 years old have been re-captured several times, never having moved more than a few hundred metres from where they were first caught. The nest is a domed structure with a side entrance near the top. Three eggs is the normal clutch but often cuckoos and an egg. More
schlerophyl forests, where the brown thornbill is found in the dry forests. They coexist where their ranges meet without interbreeding. They will often be heard in wet forests. The Tasmanian Thornbill has longer legs, a shorter beak and paler underparts than the Brown Thornbill. The undertail coverts are pure white on this bird, wheras the Brown Thornbill has buff coloured under tail coverts. The call is a 'zit zit zit whooorl'. More
Tasmania, the Brown Thornbill is not a conspicuous bird and is rarely seen on the ground. On the other hand, it is rather inquisitive and will usually come out if you make squeaking noises. Its plumage varies from warm brown to olive brown above and olive-buff to yellowish-white on the flanks. All Brown Thornbills have buff scallops on the forehead, a large dark red eye and blackish arrow-streaks on a grey throat/breast. More