Himalayan Snowcock
It is endemic to the Himalayan Mountains of Pakistan, where it breeds at altitudes from 3600–5100 m on bare stony mountains. It nests in a bare ground scrape and lays typically 5-10 eggs, which are incubated only by the female. Both parents raise the young. Its food is seeds and vegetable matter. Himalayan Snowcock fly downslope in the morning and feed as they walk uphill as the day wears on. It forms small flocks when not breeding.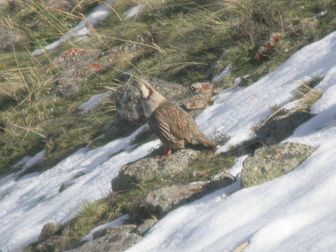 Picture of the Himalayan Snowcock has been licensed under a Creative Commons
Attribution-Share Alike
.
Original source
: Flickr here
Author
: Flickr user Alastair Rae . Photo uploaded to commons by user ltshears
The Himalayan Snowcock is classified as Least Concern. Does not qualify for a more at risk category. Widespread and abundant taxa are included in this category.

The Himalayan Snowcock (Tetraogallus himalayensis) is a snowcock in the pheasant family Phasianidae of the order Galliformes, gallinaceous birds. It is endemic to the Himalayan Mountains of Pakistan, where it breeds at altitudes from 3600–5100 m on bare stony mountains. It nests in a bare ground scrape and lays typically 5-10 eggs, which are incubated only by the female. Both parents raise the young. Its food is seeds and vegetable matter. More
The Himalayan Snowcock has a large range, estimated globally at 1,000,000 to 10,000,000 square kilometers. Native to Afghanistan, India, China, Kyrgyzstan, Nepal, Russian Federation, Pakistan, Kazakhstan, Nepal, Turkmenistan, Uzbekistan, and Tajikistan, this bird prefers rocky areas and temperate grassland ecosystems. The global population of this bird is estimated at 200,000 individuals and does not show signs of decline that would necessitate inclusion on the IUCN Red List. More
The Himalayan Snowcock, successfully introduced to mountains in northern Nevada, provides one of the greatest challenges of any resident bird in North America. Even though they are as large as our largest grouse, the snowcock is nevertheless very skilled at avoiding detection amongst the rocks and cliffs of some of the most rugged and remote mountains in the lower 48 states. To even get a chance to see them requires a considerable physical effort (or a helicopter!). More
Himalayan SnowcockTetraogallus himalayensis Order GALLIFORMES – Family PHASIANIDAE Issue No. 328 Authors: Christensen, Glen C. * Articles * Multimedia * References Courtesy Preview This Introductory article that you are viewing is a courtesy preview of the full life history account of this species. The remaining articles (Distribution, Habitat, Behavior, etc. More
Himalayan Snowcock, one of the lower 48 states' greatest birding adventures, with some of the best northern Utah birding. You'll enjoy Nevada's scenic Ruby Mountains and everything else that's a part of the regular Snowcock Tour, and add the famous Bear River Bird Refuge at the height of the fall shorebird migration, the avian and wildlife riches of Deseret Ranch, the montane forests of the Uinta Mountains, the raw beauty of the Great Salt Lake, and much more. More
galliformes) the Himalayan Snowcock is now quite rarely seen. Breeding Season: Begins late April. Clutch Size: 4 to 6 Incubation Period: 28 days. - Images 1 Photo Credits (l to r): 1, Fran More
The Himalayan Snowcock is a very large, overall gray partridge. It has a face and throat that are white with a brown band below its eye, extending on to neck forming a collar. The upper breast has black streaks, flanks are gray streaked with black and white. The female is similar to males, but lacks tarsal spurs, with more facial buff. The snowcock resides in mountainous areas, up to 17,000 feet. More
Himalayan Snowcock fly downslope in the morning and feed as they walk uphill as the day wears on. It forms small flocks when not breeding. The Himalayan Snowcock (Tetraogallus himalayensis) is a snowcock in the pheasant family Phasianidae of the order Galliformes, gallinaceous birds. More
Himalayan Snowcock: Native of Asia and introduced to the Ruby Mountians in Nevada. Prefers mountains and wooded canyons. Breeding and Nesting Himalayan Snowcock: Seven to eleven brown spotted, brown gray eggs are laid in a nest lined with grass, twigs, and feathers, on the ground or in a pine tree. Incubated by female for 26 to 27 days. More
elusive Himalayan snowcock had a shocking ending Decrease font Decrease fontEnlarge font Enlarge font November 02, 1992 Mountain Passage = A Nevada hunt for the elusive Himalayan snowcock had a shocking ending - Samuel Western View CoverRead All Articles View This Issue Print This PRINT E-mail This EMAIL Most Popular MOST POPULAR SHARE SHARE More
Comments: Himalayan Snowcocks are asian pheasants introduced for hunting. Himalayan Snowcock (Tetraogallus himalayensis) Himalayan Snowcock in typical habitat: a high rocky crag atop the Ruby Mountain Range. More
The Himalayan Snowcock has been introduced successfully into the Ruby Mountains of Nevada, USA. Snowcocks feed on plants and plant seeds. More
Himalayan Snowcocks have been introduced to the Ruby Mountains of northeastern Nevada in the United States where a small sustaining population of approximately 250-500 birds exists. References - * BirdLife International (2004). Tetraogallus himalayensis. 2006 IUCN Red List of Threatened Species. IUCN 2006. Retrieved on 11 May 2006. More
In Nevada, the Himalayan Snowcock is found only at the highest elevations in the Ruby Mountains, southeast of Elko. A hardy bird, the Snowcock lives at elevations around 10,000 feet, and is fond of steep, barren hillsides and boulder-strewn high altitude meadows. They fly down slope in the morning and feed uphill on seeds, grasses, and insects as the day progresses. The rough terrain in which these birds are found makes success difficult for the upland game hunter. More
Himalayan Snowcock (Tetraogallus himalayensis) is a local resident found in upper reaches of Himalayas. Size: 55-70 cm. More
Himalayan Snowcock introductions in the United States I have wanted to see one and the chance to see one in mountains it arrived at under its own power was way too cool to ignore. So I ran, arrived, and got scope on bird. It actually looked much nicer than the pair in the heavily cropped and tweaked picture below do. In my defense (I'm not THAT bad a digiscoper), the picture below will show you the range at which we were trying to get shots. More
Himalayan Snowcocks on the Web http://www.geocities.com/bilnv/himalayan/snowcock.html http://www3.upatsix.com/apws/snowcock.htm http://www.gbwf.org/francolin/hsnow.html http://home.att.net/~dr.billie.taylor/HS98TR. More