Copper Pheasant
The Copper Pheasant is distributed and endemic to the hill and mountain forests of Honshū, Kyūshū and Shikoku islands of Japan. The diet consists mainly of insects, arthropods, roots, leaves and grains.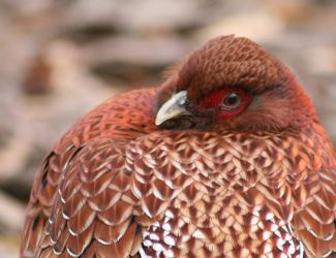 Picture of the Copper Pheasant has been licensed under a Creative Commons
Attribution-Share Alike
.
Original source
: Own work
Author
: Stavenn
The Copper Pheasant is classified as Near Threatened (NT), is close to qualifying for or is likely to qualify for a threatened category in the near future.

The Copper Pheasant is distributed and endemic to the hill and mountain forests of Honshū, Kyūshū and Shikoku islands of Japan. The diet consists mainly of insects, arthropods, roots, leaves and grains. The scientific name commemorates the German scientist Samuel Thomas von Sömmering. Due to ongoing habitat loss, limited range and overhunting in some areas, the Copper Pheasant is evaluated as Near Threatened on the IUCN Red List of Threatened Species. More
Status in Wild: As a species, the Copper Pheasant was once very common, but overhunting has decreased the the population significantly. Listed as Near Threatened by BirdLife International. The Ijima and Pacific races seem to be the most vulnerable of the subspecies due to their limited range. Interesting Facts: Known as the Yamadori in Japan. Species name soemmeringii, in honor of Dr. Samuel Thomas von Soemmering, (1755 More
The Copper Pheasant is a large pheasant, averaging up to 136cm in legnth. The male has a rich copperry chestnut plumage. He has a yellowish bill, brown iris and red facial skin. Only the male has short spur on his grey legs. The female is a brown bird with greyish brown upperparts and buff barred dark brown below. More
The copper pheasant is found on the islands of Honshu, Shikoku and Kyushu in Japan (5). Subspecies: the scintillating copper pheasant (S. s. scintillans) occurs in northern and central Honshu; the Shikoku copper pheasant (S. s. intermedius) in south-western Honshu and Shikoku; the Pacific copper pheasant (S. s. subrufus) in south-eastern Honshu and south-western Shikoku; Soemmering's copper pheasant (S. s. soemmeringii) in northern and central Kyushu; and the Ijima copper pheasant (S. s. ijimae) in south-eastern Kyushu (2) (3). More
Ijima Copper Pheasant Information - COPPER PHEASANTS By Donna Bush, Devon, AB When I was asked to write an article on Copper pheasants, I realized very little had been written about these beautiful birds, and basically all the information portrayed them as savage, extremely difficult to raise species. My experience over the past twenty years has proven just the opposite. More
The Copper Pheasant , known in Japan as Yamadori, is listed as close to being endangered in its natural habitat in Japan. In the aviaries around the country they are said to be making a comeback. This pheasant is considered to be very rare. The color & feather patterns on this bird are remarkable! The Mikado Pheasant is listed as being endangered in its natural habitat. They are making somewhat of a comeback in the aviaries around the country. More
Copper Pheasant has a highly apomorphic coloration with reduced sexual dimorphism, it may well have lost such a trait after it settled Japan. But it might also have evolved only after the Copper Pheasant ancestors had split from those of the species displaying the wing-band today. However that may be, the minor plumage differences of the wing-banded species suggest that their last common ancestor looked almost identical to the living Hume's Pheasant (S. humiae). More
A copper pheasant weathervane is a small touch that will make a big improvement to your home More
In spite of their numbers in Japan, the Copper Pheasant has proved to be the least prolific of the genus in captivity. There are five subspecies; the best known are the Scintillating S. s. scintillans, the Ijima S. s. ijimae, and the Soemmerring's S. s. soemmerringi. They are a handsome bird and the sun shining on a cock Scintillating Copper Pheasant when he is puffed up during the breeding season is spectacular. Avicultural Notes Minimum aviary size 200 sq. ft. More
61 copper pheasant is silent December 6 - December 10 next back to menushapeimage_4_link_0shapeimage_4_link_1shapeimage_4_link_2 More
SKU GD-656PThis hand-crafted Copper Pheasant Weathervane comes in a polished finish and has brass directionals with copper spacer balls pictured. Please refer to Mounting Hardware section for mounting options. 25"L x 32"H x 25"D Click Here to see our full collection of Country Cupolas & Classic Weathervanes ! Finish List Price $579.00 Your Price $359.00 You Save $220. More
beautiful and rare Ijima Copper Pheasant of Japan. The natural colors of this pheasant are stunning. The shiny copper color in the sun light, earthtone of the browns, and how the white color blends in to make the beautiful patterns. The feathers of this feather lei hatband are hand sew onto a hand stitched felt base. This feather lei hatband is 25" long and approximately 1 1/2" wide Sale price 900. More
Copper PheasantsCape Franklin Pheasant Crested Argus Pheasants Crested Firebacks Crested Francolin(Francolinus sephaena) Diard's Firebacks Edward's Pheasants Elliot's Pheasants Golden / Red Golden Pheasant Great Argus Pheasants Green Junglefowl Green Pheasant aka Geen-necked Peafowl, Burmese Peafowl, Java Peafowl Hume's Pheasant, Syrmaticus humiae, also known as Mrs Hume's Pheasant or Bar-tailed Pheasant Ijima Copper More