Bornean Peacock-Pheasant
The Bornean Peacock-pheasant, Polyplectron schleiermacheri is a medium-sized, up to 50cm long, rufous brown and black spotted pheasant with an elongated crest and nape feathers, black below and bare red skin around bluish iris eye. The breast sides are metallic blue-green, bordering the white throat and central upper breast. Its twenty-two tail feathers are decorated with large blue-green ocelli, which may be spread fan-like in display. The female is smaller and duller brown than the male. It has a brown iris and no spurs on its feet.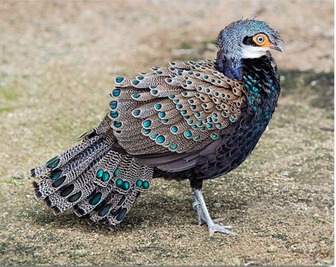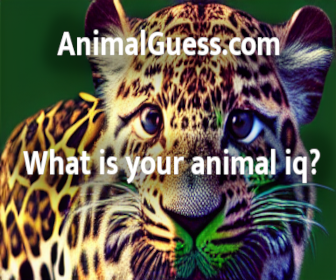 Picture of the Bornean Peacock-Pheasant has been licensed under a Creative Commons
Attribution-Share Alike
.
Original source
: Fowl vet
Author
: Fowl vet
The Bornean Peacock-Pheasant is classified as Endangered (EN), considered to be facing a very high risk of extinction in the wild.

The Bornean Peacock-pheasant, Polyplectron schleiermacheri is a medium-sized, up to 50cm long, rufous brown and black spotted pheasant with an elongated crest and nape feathers, black below and bare red skin around bluish iris eye. The breast sides are metallic blue-green, bordering the white throat and central upper breast. Its twenty-two tail feathers are decorated with large blue-green ocelli, which may be spread fan-like in display. The female is smaller and duller brown than the male. More
Bornean Peacock-pheasant Polyplectron schleiermacheri 2009 IUCN Red List Category (as evaluated by BirdLife International - the official Red List Authority for birds for IUCN): Endangered Justification This elusive species's status is difficult to judge, but recent anecdotal evidence regarding its range and habitat indicates that it has a very small, fragmented and declining population, justifying its classification as Endangered. More
Bornean Peacock-pheasant (Polyplectron schleiermacheri) - Wiki Bornean Peacock-pheasant (Polyplectron schleiermacheri) - Wiki; Image ONLY Email : E-Card | Poster | Web Master Delete Edit Info Admin Description Bornean Peacock-pheasant (Polyplectron schleiermacheri) - Wiki Bornean Peacock-pheasant From Wikipedia, the free encyclopedia Order: Galliformes Family: Phasianidae Synonyms: Polyplectron malacense schleiermacheri Bornean Peacock-Pheasant Polyplectron schleiermacheri. Source: Bird stamps from Indonesia, 1995. More
the Bornean Peacock-pheasant Polyplectron schleiermacheri: a critique of O'Brien et al. (1998a) R. Sözer, I. Setiawan and A. P. Setiadi (2000). Bird Conservation International, Volume 10, Issue 04, December 2000 pp 311-316 http://journals.cambridge. More
Stamps showing Bornean Peacock-Pheasant Polyplectron schleiermacheri Bornean Peacock-Pheasant Polyplectron schleiermacheri Bornean Peacock-Pheasant Polyplectron schleiermacheri Distribution map for Bornean Peacock-Pheasant, range 11.095 Bornean Peacock-Pheasant IOC v2.4: 351 Links will open countrypage in new window - Indonesia 05.11.1995 Flora and fauna day 10v sheet - Indonesia 05.11. More
Bornean Peacock-pheasant (Polyplectron schleiermacheri) by Sander Pieterse & Ben Wielstra. More
Bornean Peacock-Pheasant - Polyplectron schleiermacheri = IUCN Status: Endangered IUCN Species Profile Bornean Peacock-Pheasant, Polyplectron schleiermacheri: Bornean Peacock-Pheasant. (Polyplectron schleiermacheri). ... http://www.gbwf.org/pheasants/borneo01.html Bornean Peacock-Pheasant Images: Bornean Peacock-Pheasant (Polyplectron schleiermacheri) Photo by John Corder ... Bornean Peacock-Pheasant. Bornean Peacock-Pheasant Images gbwf.org © 1997-2004. http://www.rdb.or.id/detailbird. More
Bornean Peacock-Pheasant Polyplectron schleiermacheri = Described by: Br More