Palawan Peacock-Pheasant
The male is the handsomest and most peacock-like member of the genus Polyplectron. It has an erectile crest, a white stripe over the eyes and highly iridescent metallic green and black plumage. The tail feathers are decorated with large blue-green ocelli, which may be spread fanlike in courtship displays. The female is smaller than the male. It has a dark brown plumage with a short crest and is whitish on the throat, cheeks and eyebrows.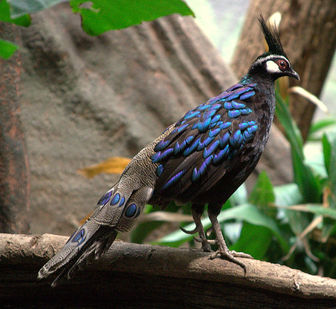 Picture of the Palawan Peacock-Pheasant has been licensed under a
GFDL
Original source
: Own work
Author
: User:Dante AlighieriOther versionsavailable, contact photographer
Permission
: GNU Free Documentation License
The Palawan Peacock-Pheasant is classified as Vulnerable (VU), considered to be facing a high risk of extinction in the wild.

The Palawan Peacock-pheasant, Polyplectron napoleonis, also known as the Napoleon Peacock-pheasant, is a medium-sized (up to 50 cm long) bird in the family Phasianidae. It was long known as Polyplectron emphanum (Dickinson 2001). More
Palawan peacock-pheasant (Polyplectron napoleonis) = Species information - * Facts & Status * Description * Range & Habitat * Biology * Threats & Conservation * Find out more * Glossary & References * All * More
The Palawan peacock-pheasant as an ambassador for Palawan's threatened forests = Field Conservation Latin America Africa South Central Asia Eastern Asia South East Asia Cambodia's Galliformes Palawan peacock-pheasant Green peafowl Green peafowl in Cambodia Orange-neck hill-partridge Species List The main threat to biodiversity in the Philippines comes from a lack More
Palawan Peacock-pheasant Polyplectron napoleonis 2009 IUCN Red List Category (as evaluated by BirdLife International - the official Red List Authority for birds for IUCN): Vulnerable Justification This species qualifies as Vulnerable because it has a small, severely fragmented range and a small population which is undergoing a rapid decline as a result of habitat destruction, hunting and trade. More
Palawan peacock-pheasant (Polyplectron napoleonis) = - Also known as: Napoleon's peacock-pheasant Synonyms: Polyplectron emphanum Spanish: Espolonero De Palawan, Faisán Real De Palaguán Kingdom Animalia Phylum Chordata Class Aves Order Galliformes Family More
Endemic to the Philippines, the Palawan Peacock-pheasant is found in the humid forests of Palawan Island in the southern part of the Philippine archipelago. The female usually lays up to two eggs. The Palawan Peacock-pheasant, with its unique male plumage and distant range, represents a basal offshoot of the genus Polyplectron (Kimball et al. 2001). More
The Palawan peacock-pheasant (Polyplectron napoleonis), also known as Napoleon peacock-pheasant, is a medium-sized (up to 50cm long) bird in the family Phasianidae. It was long known as Polyplectron emphanum (Dickinson 2001). The male is the handsomest and most peacock-like member of genus Polyplectron. It has an erectile crest, white stripe over the eye, and highly iridescent metallic green and black plumage. The tail feathers are decorated with large blue-green ocelli, which may be spread fan-like in courtship display. More