Malayan Peacock-Pheasant
The Malayan Peacock-pheasant also known as Crested Peacock-pheasant or Malaysian Peacock-pheasant, is a medium-sized pheasant of the galliform family Phasianidae. The closely related Bornean Peacock-pheasant was formerly included here as a subspecies, but as understood today, P. malacense is monotypic.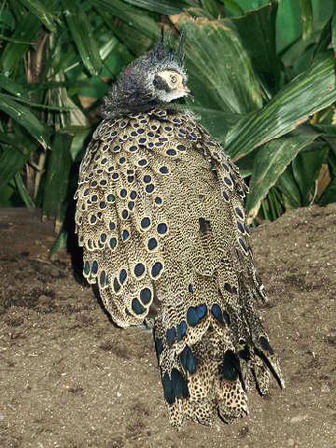 Picture of the Malayan Peacock-Pheasant has been licensed under a
GFDL
Original source
: Description: Malayan Peacock Pheasant - Source: own work - Location: Bronx Zoo, New York -
Author
: self, User:Stavenn
Permission
: GNU Free Documentation License
The Malayan Peacock-Pheasant is classified as Vulnerable (VU), considered to be facing a high risk of extinction in the wild.

The Malayan Peacock-pheasant (Polyplectron malacense) also known as Crested Peacock-pheasant or Malaysian Peacock-pheasant, is a medium-sized pheasant of the galliform family Phasianidae. The closely related Bornean Peacock-pheasant (P. schleiermacheri) was formerly included here as a subspecies, but as understood today, P. malacense is monotypic. More
shy and elusive bird, the Malayan Peacock-pheasant is distributed and endemic to lowland forests of Malay Peninsula. At one time, this species was widespread in Malaysia, Thailand and also reported from Myanmar, Singapore and Sumatra. It is now disappeared from most of its former range. The remaining population confined to central Malaysia. More
Malayan Peacock-pheasant Polyplectron malacense 2009 IUCN Red List Category (as evaluated by BirdLife International - the official Red List Authority for birds for IUCN): Vulnerable Justification This species qualifies as Vulnerable because it has undergone a rapid population decline and its small population is becoming increasingly fragmented with progressive erosion of its specialised lowland forest habitat. More
* Malayan Peacock-pheasant, Polyplectron malacense * Bornean Peacock-pheasant, Polyplectron schleiermacheri * Germain's Peacock-pheasant, Polyplectron germaini * Grey Peacock-pheasant, Polyplectron bicalcaratum * Hainan Peacock-pheasant, Polyplectron katsumatae * Split from P. bicalcaratum * Bronze-tailed Peacock-pheasant, Polyplectron chalcurum * Mountain Peacock-pheasant, Polyplectron inopinatum References - 1. More
Malayan Peacock-Pheasant Polyplectron malacense = Described by: Scopoli (1786) Alternate common name(s): Malay Peacock-Pheasant, Malaysian Peacock-Pheasant, Crested Peacock-Pheasant Old scientific name(s): None known by website authors Photographs Kuala Lumpur Bird Park, Kuala Lumpur, Malaysia - Mar, 2007 More
Malayan Peacock-pheasant (Polyplectron malacense) - Wiki Malayan Peacock-pheasant (Polyplectron malacense) - Wiki; Image ONLY Email : E-Card | Poster | Web Master Delete Edit Info Admin Description Malayan Peacock-pheasant (Polyplectron malacense) - Wiki Malayan Peacock-pheasant From Wikipedia, the free encyclopedia Malayan Peacock-pheasant (Polyplectron malacense) taken at Bronx Zoo, New York. Photo by http://en.wikipedia. More
The Malayan Peacock-pheasant, Polyplectron malacense also known as Crested Peacock-pheasant or Malaysian Peacock-pheasant is a medium-sized, up to 53cm long, spotted black, brownish pheasant with an elongated dark blue green crest, bare red facial skin, bluish-white iris and green ocelli on upperbody plumage and its tail of twenty two feathers. The female is smaller and duller than male. A shy and elusive bird, the Malayan Peacock-pheasant is distributed and endemic to lowland forests of Malay Peninsula. More
Stamps showing Malayan Peacock-Pheasant Polyplectron malacense Malayan Peacock-Pheasant Polyplectron malacense Malayan Peacock-Pheasant Polyplectron malacense Malayan Peacock-Pheasant Polyplectron malacense Malayan Peacock-Pheasant Polyplectron malacense Distribution map for Malayan Peacock-Pheasant, range 11.094 Malayan Peacock-Pheasant IOC v2.4: 350 Links will open countrypage in new window - Malaysia 11.03.1986 Protected wildlife of Malaysia p 13 More
Malayan Peacock-pheasant (Polyplectron malacense) by Nick Athanas. More