Bronze-tailed Peacock-Pheasant
The Bronze-tailed Peacock-pheasant, Polyplectron chalcurum is also known as the Sumatran Peacock-pheasant. It is an Indonesian bird.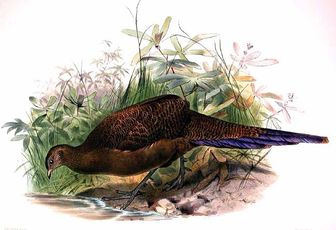 Picture of the Bronze-tailed Peacock-Pheasant has been licensed under a
GFDL
Original source
: Polyplectron chalcurum, Painting from Hume and Marshall, 1880, Gamebirds of India, Burmah, Ceylon.
Permission
: GNU Free Documentation License
The Bronze-tailed Peacock-Pheasant is classified as Least Concern. Does not qualify for a more at risk category. Widespread and abundant taxa are included in this category.

The Bronze-tailed Peacock-pheasant, Polyplectron chalcurum is also known as the Sumatran Peacock-pheasant. It is an Indonesian bird. Contents - * 1 Description * 2 Taxonomy and evolution * 3 Distribution and habitat * 4 Behavior * 5 Conservation * 6 References * 6. More
Bronze-tailed PheasantThe Bronze-tailed Peacock-pheasant, Polyplectron chalcurum also known as Sumatran Peacock-pheasant is a small, up to 22 inches (56cm) long, dark brown pheasant with dark grey legs, rather small head and long, narrow tail of sixteen feathers. The tail feathers are chestnut brown with metallic purplish bars near tips. Both sexes are similar. The male has longer tail, two spurs on legs and yellow iris while the unspurred female's is dark brown. More
Bronze-tailed Peacock-pheasant (Polyplectron chalcurum). More
Bronze-tailed Peacock-pheasant and Mountain Peacock-pheasant (Kimball et al. 2001). The molecular data suggests that its closest relative - though not with high confidence - is the Bronze-tailed Peacock-pheasant. This is unlikely to be strictly correct for two reasons. First, biogeography is equivocal towards the timing of divergence of the "brown" species, tentatively suggesting the Mountain Peacock-pheasant may be a more recent divergence from mainland stock. More
Bronze-tailed Peacock-pheasant Polyplectron chalcurum 2009 IUCN Red List Category (as evaluated by BirdLife International - the official Red List Authority for birds for IUCN): Least Concern Justification Although this species may have a restricted range, it is not believed to approach the thresholds for Vulnerable under the range size criterion (Extent of Occurrence 30% decline over ten years or three generations). More
The Bronze-tailed Peacock-pheasant, Polyplectron chalcurum is also known as the Sumatran Peacock-pheasant. It is an Indonesian bird. Description The Bronze-tailed Peacock-pheasant is a small, up to 56cm long, dark brown pheasant with dark grey legs, rather small head and long, narrow tail of sixteen feathers. The tail feathers are chestnut brown with metallic purplish bars near tips. Both sexes are similar. More
Bronze-tailed Peacock-pheasant (Polyplectron chalcurum), the Rothchild's Peacock-pheasant (Polyplectron inopinatum), the Grey Peacock-pheasant (Polyplectron bicalcaratum), the Bornean Peacock-pheasant (Polyplectron schleiermacheri), the Germain's Peacock-pheasant (Polyplectron germaini), and the Palawan Peacock-pheasant (Polyplectron emphanum). Today, gray peacock pheasants are reared extensively in captivity. In fly tying, both body and tail feathers from the Gray Peacock-pheasant and the Bornean Peacock-pheasant are the most popular, and are used extensively in artistic salmon flies. More