Bulwer's Pheasant
Bulwer's Pheasant is sexually dimorphic. Males have a total length of about 80 centimetres , and are black-plumaged with a maroon breast, crimson legs, a pure white tail of long, curved feathers, and bright blue facial skin with two wattles that conceal the sides of its head. Females have a total length of about 55 centimetres , and are an overall dull brown colour with red legs and blue facial skin.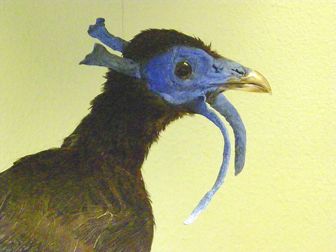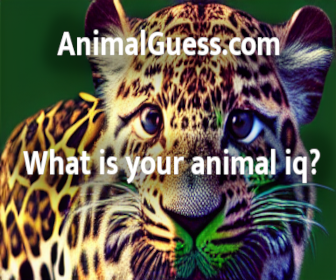 Picture of the Bulwer's Pheasant has been licensed under a Creative Commons
Attribution
.
Original source
: lophura bulweri (edited)
Author
: frank wouters from antwerpen, belgium , België , Belgique
The Bulwer's Pheasant is classified as Vulnerable (VU), considered to be facing a high risk of extinction in the wild.

Bulwer's Pheasant (Lophura bulweri) is also known as Bulwer's Wattled Pheasant, the Wattled Pheasant, or the White-tailed Wattled Pheasant. It is a Southeast Asian bird in the Phasianidae family; endemic to the forests of Borneo. It is currently listed as Vulnerable by the IUCN. More
of Bulwer's pheasants could help raise awareness of its conservation needs in Borneo, but the difficulty of captive breeding is a serious constraint (9). View information on this species at the UNEP World Conservation Monitoring Centre. Find out more - For more information on Bulwer's pheasant see: * BirdLife International. (2001) Threatened Birds of Asia: the BirdLife International Red Data Book. More
Due to logging and clearing for agriculture, the Bulwer's Pheasant is listed as Vulnerable on the IUCN Red List of Threatened Species. The male performs a remarkable mating display during which he enlarges his wattles, and raises and spreads his striking white tail (featured to the right). Even though this dance is specifically geared to attract females, males may also display for each other. The name commemorates the English naturalist James Bulwer. More
Bulwer's Pheasant: Zoo: The Pulse of the Planet daily radio program offers free legal online mp3 downloads, exploring the world of sound in nature, culture and science, with audio adventures, world music, extraordinary sound portraits, science diaries, and nature ring-tones; an amazing sonic experience. More
Download this MP3 on the topic of Bulwer's Pheasant: Love At The Zoo Bulwer's Pheasant: Love At The Zoo When it's mating season in the bird area of the Bronx Zoo, love is in the air. In fact, you can even hear it being played over the loudspeakers. - Transcript: music ambience: Bulwer's pheasant call When it's mating season in the bird area of the Bronx Zoo, love is in the air. More
favorite Bulwer's Pheasant posters, art prints and framed art at Printfinders.com, the Web's leading art retailer... Printfinders Add to Listadd to listclose x Set Price AlertPrice Drop Alertclose x Review this ProductWrite a reviewclose x Art Poster Print - Ring Necked Pheasant by Char...Art Poster Print - Ring Necked Pheasant by Charles Murphy Print Size: 18.75 x 23 inches. Image SIZE: 18.75 x 23 inches.Sale $25. More
Rowden, who has been conducting his Bulwer's pheasant studies in the Malaysian province of Sarawak since 2001, said the loss of forest there is less severe—at least the parks are protected. "But a lot of the areas outside of the protected areas are being harvested right up to the border," Rowden said. More