White eared pheasant
White Eared Pheasants are called Shagga by indigenous Himalayan peoples. Shagga means Snow Fowl. Shagga are very gregarious birds, living in large flocks which forage on alpine meadow close to or above the snowline throughout the year. White Eared pheasants tend to fly a great deal more than their close relatives the brown eared and blue eared pheasants. All three ecological species are obliged to hover or volplane over deep snow. They do this with the aid of their great wide tails. Eared pheasants move across deep snow by whirring their wings and fluttering close to the ground, and supporting their weight on their retrices, leave characteristic if somewhat other worldly appearing tracks. Eared pheasant flight is often described as poor by the hunter collectors of the 18th century who used dogs to beat the birds from the ground for shooting. Eared Pheasants do not waste their energy on flying when quadrupeds take after them because they have adapted many defensive escape behaviors that do not require flight.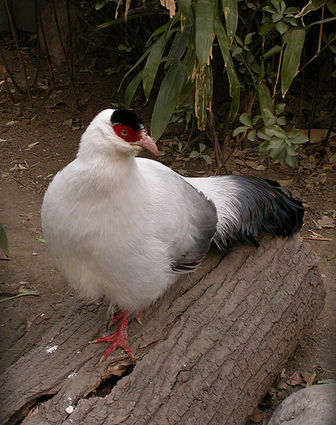 The White eared pheasant is classified as Near Threatened (NT), is close to qualifying for or is likely to qualify for a threatened category in the near future.

Wild White eared pheasants live in the Himalayan mountains and are extremely hardy. Because our White eared pheasants are hardy we have shelters for them that are open from the ground up to three feet and also have an open doorway. We have found that the birds are calmer when they have this means of escape. Our birds enjoy being out whatever the weather in fact they relish the rain and will play with any water available to them. More
White eared pheasants are fed a standard pheasant diet consisting of pellets mixed with wheat, fruit, and salad. Limestone or grit should be available all the time, especially in the case of bark-covered soil, together with fresh water. The food should be placed in the indoor housing or under a cover in order for it to be protected from rain. Before and during the breeding season the feed should be supplemented with vitamins and mineral powder. More
Close observation of White eared pheasants allowed us to ascertain that most have light yellow eyes! We expected to meet a population of the nominate form C. c. crossoptilon and according to shape and wing colour, they were this form. But birds did not show the typical orange eye colour, which surprised us. Originally we came here to fill some gaps in knowledge and now we faced more questions than before. More
White Eared Pheasant Crossoptilon crossoptilon White Eared Pheasant Photographer : More
Original File Name: White Eared Pheasant (Crossoptilon crossoptilon).jpg Resolution: 1484x1876 File Size: 369746 Bytes Upload Time: 2007:09:28 16:27:07 Author Name (E-mail): Unknown Subject White Eared Pheasant (Crossoptilon crossoptilon) - Wiki White Eared Pheasant (Crossoptilon crossoptilon) - Wiki; DISPLAY FULL IMAGE. More