Lady Amherst's Pheasant
These are native to south western China and Myanmar, but have been introduced elsewhere, and have established a self-supporting, but now declining, feral population in England, the stronghold of which is now in Bedfordshire. As of 2009 only three males remain at one site, known as Jackdaw Hill, near Millbrook in Bedfordshire.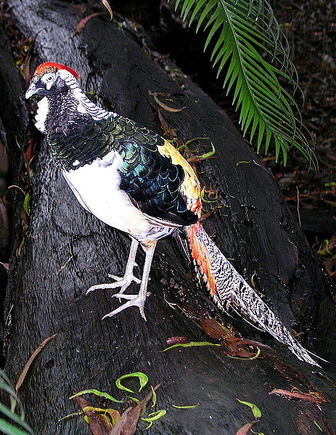 Picture of the Lady Amherst's Pheasant has been licensed under a
GFDL
Original source
: Own work
Author
: Heinz Albers, www.heinzalbers.org
Permission
: GNU Free Documentation License
The Lady Amherst's Pheasant is classified as Least Concern. Does not qualify for a more at risk category. Widespread and abundant taxa are included in this category.

The Lady Amherst's Pheasant, Chrysolophus amherstiae, is a bird of the order Galliformes and the family Phasianidae. These are native to south western China and Myanmar, but have been introduced elsewhere, and have established a self-supporting, but now declining, feral population in England, the stronghold of which is now in Bedfordshire. As of 2009 only three males remain at one site, known as Jackdaw Hill, near Millbrook in Bedfordshire. More
In the wild, Lady Amherst's Pheasants occurs in Tibet, Southwestern China, and northern Burma, but it has also been introduced in Britain, Hawaii and New Zealand. It is named after Sarah, Countess of Amherst (1762-1838). Her husband, William Pitt Amherst, Governor General of India, was responsible for sending the first birds to London in the early 1800's. They are highly secretive and rarely emerge into the open. More
The Lady Amherst's Pheasant is the nearest competitor, other than the Indian Peafowl, to the Golden Pheasant. A1though recorded in 1829, it was not until 1874 that they were first bred. Unfortunately, almost all early importations seem to have had more cock birds than hens, and many hybrids with the Golden were produced. As a result of this, and probably further hybridization due to carelessness, there are not as many pure Lady Amherst's Pheasants in captivity as might be wished. More
The Lady Amherst's pheasant is one of two species known as ruffed pheasants (the Golden pheasant is the other). They are endemic to China as well as Burma and Tibet. The cock Lady Amherst's Pheasant has a beautiful long tail and gorgeous contrasting colours which include dark metallic green and blue with red feathers on the head above a ruff of black and white. The belly and lower breast is white as is the tail which is heavily barred with black. More
png Lady Amherst's pheasant on Wikipedia.Wikipedia * Wikispecies-logo.svg Chrysolophus amherstiae on Wikispecies. Wikispecies: Chrysolophus amherstiae * Commons-logo.svg Chrysolophus amherstiae on Wikimedia Commons. Wikimedia Commons: Chrysolophus amherstiae Retrieved from "http://en.wiktionary. More
Lady Amherst's Pheasant - Information - Lady Amherst's Pheasant - Information DESCRIPTION 52 to 68 inches (132 to 173cm), with tail 34 to 46 inches (86 to 117cm). Blue-green mantle and scapulars, yellow back and orange rump. Central tail feathers white barred in black, wings shiny blue, neck ruff white with dark blue margins. Head dark green with red crest. Underparts white to black undertail coverts; legs and bill bluish grey, eyes yellow, face white. More
For the purposes of our bird news services, Lady Amherst's Pheasant is classed as Scarce: broadly speaking, species that are covered in British Birds' annual review of scarce species (and forms of similar rarity). More