White-rumped Pygmy Falcon
The White-rumped Falcon or White-rumped Pygmy-falcon is a species of bird of prey in the Falconidae family. It is found in Cambodia, Laos, Myanmar, Thailand, and Vietnam. It is sometimes placed in its own monotypic genus Neohierax.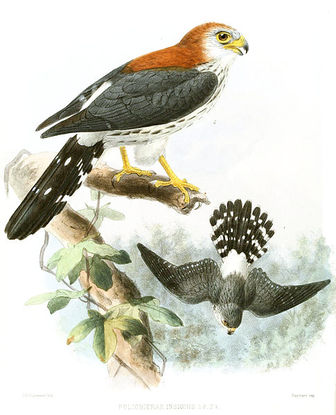 The White-rumped Pygmy Falcon is classified as Near Threatened (NT), is close to qualifying for or is likely to qualify for a threatened category in the near future.

* White-rumped Pygmy Falcon Polihierax insignis * African Pygmy Falcon Polihierax semitorquatus All Names * Scientific names * Polihierax Extras Make taxonomic Flickr tags for this taxon » Wikipedia taxobox » Tree Browser » Loading photos... More
Results for: white-rumped pygmy falconTranslations 1 - 30 of 982 English English Finnish Finnish white-rumped pygmy falcon aasiankääpiöhaukka, Polihierax insignis african pygmy falcon afrikankääpiöhaukka, Polihierax semitorquatus pygmy white-eye borneonrilli, Oculocincta squamifrons white-bellied pygmy tyrant perunkääpiötypäkkö, Myiornis albiventris white-rumped robin pikkupensassieppo, Peneothello bimaculata white-rumped shama huiluharakkatasku, Copsychus malabaricus white-rumped seedeater More
* White-rumped Pygmy Falcon, Polihierax insignis * Collared Falconet, Microhierax caerulescens * Black-thighed Falconet, Microhierax fringillarius * White-fronted Falconet, Microhierax latifrons * Philippine Falconet, Microhierax erythrogenys * Pied Falconet, Microhierax melanoleucus More