Chimango Caracara
It is found in Argentina, Brazil, Chile, Paraguay and Uruguay. It is a vagrant to the Falkland Islands. Its natural habitats are subtropical or tropical dry shrubland, subtropical or tropical high-altitude shrubland, temperate grassland, and heavily degraded former forest.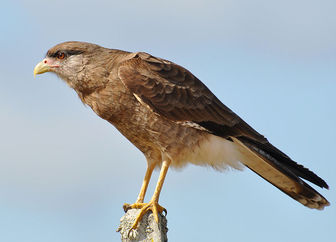 Picture of the Chimango Caracara has been licensed under a Creative Commons
Attribution-Share Alike
.
Original source
: Chimango (Milvago chimango chimango)Uploaded by Snowmanradio
Author
: Cláudio Dias Timm from Rio Grande do SulCamera location
The Chimango Caracara is classified as Least Concern. Does not qualify for a more at risk category. Widespread and abundant taxa are included in this category.

The Chimango Caracara also known as Tiuque (Milvago chimango) is a species of bird of prey in the Falconidae family. It is found in Argentina, Brazil, Chile, Paraguay and Uruguay. It is a vagrant to the Falkland Islands. Its natural habitats are subtropical or tropical dry shrubland, subtropical or tropical high-altitude shrubland, temperate grassland, and heavily degraded former forest. It eats mostly carrion, with some rotten fruit, lizards, insects, birds and mammals. More
The chimango caracara occurs throughout much of southern South America, with a range that includes large parts of Chile, Uruguay and Argentina, east and southeast Bolivia and Paraguay, the Falklands Islands, and extreme southeast Brazil (3) (4) (5). View a distribution map for this species at UNEP World Conservation Monitoring Centre. Habitat - Found in both forested and open habitats throughout its range, and is common around human settlements (4). More
The Chimango Caracara is found in the southern states of Brazil and the southern parts of South America. It was the most common Caracara near Mostardas. Seen flying above marshes, mobbed by swallows and lapwing, perching on posts with food, standing in road. The Chimango Caracara is mottled brown, with a stripe behind the eye, like the Yellow-headed Caracara but not as strong or long. Indeed the Chimango is darker in the head and body than the Yellow-Headed Caracara. More
describe the Chimango Caracara (Milvago chimango) fishing at an estuary in Chile, Pacific coast of South America. The caracara flew and glided close to water surface, hovering on occasions. After such a hovering, the bird plunged and attempted to snatch a prey with its talons. If successful, the caracara carried the fish in its talons and landed on an adjacent beach where the prey was torn apart and eaten. More
Chimango Caracara Show machine tags (0) Hide machine tags (0) Additional Information AttributionNoncommercialShare Alike Some rights reserved Anyone can see this photo * Taken in Dichato, Biobio Region (map) * Taken with a Canon EOS 350D Digital. More
The Chimango Caracara seems to be common in Argentina. It has a social crow-like behaviour. I often saw them picking at garbage bags. "Aves of Argentina and Uruguay" says they eat carrion. next (Chimango Caracara) last first previous (Brown Snake Eagle) Chimango Caracara Copyright and usage info: My photos are free to use for non-commercial purposes only, provided that you retain the birdphotos.com imprint or visibly display © http://www.birdphotos.com with the image. For Internet usage, a link to http://www.birdphotos.com is required. More
Haemosporina) in the Chimango Caracara (Milvago chimango) in Southern Chile Vol. 96(7): 1023-1024, October 2001 Donald J Forrester/+, Garry W Foster, Joan L Morrison* Department of Pathobiology, College of Veterinary Medicine, University of Florida, Gainesville, Florida 32611, USA *Department of Biology, Trinity College, Hartford, Connecticut, USA Two species of blood protozoans were identified from blood smears collected from 15 specimens of the Chimango caracara (Milvago chimango) on Isla Grande de Chilo More
* Chimango Caracara This bird was waiting I go away to take a peace of meat that I did not see. More
Observation of the Chimango Caracara (Milvago chimango) Feeding on Common Lesser Toads (Bufo fernandezae) Journal of Raptor Research: 38(2): June 2004: 190-191. The Chimango Caracara (Milvago chimango) is a member of Falconidae that occurs throughout southern South America: Argentina, Chile, Uruguay, Paraguay, and southern Brazil (Olrog 1995, Las Aves Argentinas, Editorial El Ateneo, Buenos Aires, Argentina). Various studies have described the Chimango Caracara as an opportunistic pred- ator and scavenger. More