Laggar Falcon
It resembles the Lanner Falcon but is darker overall, and has blackish trousers . Fledglings have an almost entirely dark underside, and first-year subadult birds still retain much dark on the belly.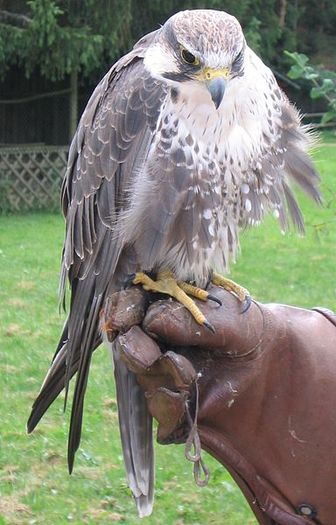 Picture of the Laggar Falcon has been licensed under a
GFDL
Original source
: Own work
Author
: FlominatorI, the copyright holder of this work, hereby publish it under the following licenses:Permission is granted to copy, distribute and/or modify this document under the terms of the GNU Free Documentation License, Version 1.2 or any later version published by the Free Software Foundation; with no Invariant Sections, no Front-Cover Texts, and no Back-Cover Texts. A copy of the license is included in the section entitled GNU Free Documentation License.www.gnu.org/copyleft/fdl.htmlGFDLGNU Free Documentation Licensetruetrue
Permission
: GNU Free Documentation License
The Laggar Falcon is classified as Near Threatened (NT), is close to qualifying for or is likely to qualify for a threatened category in the near future.

Deutsch: Luggerfalke · English: Laggar Falcon · Français : Faucon laggar · Italiano: Falco laggar · Magyar: Indiai sólyom · Domain: Eukaryota • Regnum: Animalia • Phylum: Chordata • Subphylum: Vertebrata • Classis: Aves • Parvclassis: Neognathae • Ordo: Falconiformes • Familia: Falconidae • Genus: Falco • Species: Falco jugger J.E. Gray, 1834 Luggerfalke.jpg Laggar Falcon from Thar desert, Rajasthan, India. Seen feeding on a Spiny-tailed Lizard (Uromastyx hardwickii) Resident falcon in India. More
The Laggar Falcon (Falco jugger) is a mid-sized bird of prey which occurs in the Indian subcontinent from extreme south-east Iran, south-east Afghanistan, Pakistan, through India, Nepal, Bhutan, Bangladesh and north-west Myanmar. It resembles the Lanner Falcon but is darker overall, and has blackish "trousers" (tibiotarsus feathers). Fledglings have an almost entirely dark underside, and first-year subadult birds still retain much dark on the belly. This species belongs to a close-knit complex of falcons known as hierofalcons. More
For the purposes of our bird news services, Laggar Falcon is classed as Ungraded: species that are unlikely to appear as wild birds in Britain or Ireland hide section Most recent photos of Laggar Falcon (1) Little Rann of Kutch, Gujarat, India Little Rann of Kutch, Gujarat, India01/02/2010 Little Rann of Kutch, Gujarat, India 01/02/2010 View all pictures of Laggar Falcon View all pictures of Laggar Falcon show section External Links (0) We currently have no More
Laggar Falcons used to be the most common falcons in the region, but numbers have declined markedly in recent times and today it is probably nowhere a common species anymore. The main threats are the intensification of pesticide use in the region and use as a decoy to trap large falcons. Copyright: Wikipedia. This article is licensed under the GNU Free Documentation License. It uses material from Wikipedia. More
Laggar Falcon (Falco jugger) is a scarce but widespread resident in India. More
Laggar Falcon - Muhammad Saad Nawaz Qaisrani (Pakistan)Laggar Falcon Photo copyright Muhammad Saad Nawaz Qaisrani (Pakistan) Saker Falcon - Photo copyright Lieuwe Djiksen Saker FalconPhoto copyright Lieuwe Djiksen Gyrfalcon - Photo copyright Don BaccusGyrfalconPhoto copyright Don Baccus Prairie Falcon - Photo copyright Bill Schmoker Prairie FalconPhoto copyright Bill Schmoker... Peregrine Falcon - Photo copyright Hannu HautalaPeregrine FalconPhoto copyright Hannu Hautala Cape Verde Peregrine Falcon Barbary Falcon ... More
The Laggar Falcon is an ashy brown falcon with brown-streaked white underparts. Narrow brown moustachial stripes run down from in front and below the eyes. - Delivered by to all international destinations within 3 to 5 days, fully insured. More
Laggar Falcon FC05 View Next Item » Review this item Review this item Click to send this page through emailShare this Page with a friend Send as e-card Click for Printer Friendly VersionPrinter Friendly Version Water Color on Old Urdu Paper with Manual Calligraphy on both sides 3.0" X 6.2" Price: $55. More
measured in feathers of laggar falcons, Falco biarmicus jugger, in Pakistan. The laggar falcon is resident or locally migrant throughout the Indian Subcontinent where it is a rare and declining species. Breast feathers from 57 live, recently trapped, adult and juvenile laggar falcons and from five dead birds were collected from Bahawalpur, Bahawalnagar, Mithi, Chachcro, Jacobabad and Karachi districts. More
the Laggar Falcon represents a lineage that arrived at its present range out of eastern Africa by way of the Arabian Peninsula which during that time had a more humid climate than today. Laggar Falcons used to be the most common falcons in the region, but numbers have declined markedly in recent times and today it is probably nowhere a common species anymore. More