Brown Falcon
The Brown Falcon, Falco berigora, is a member of the falcon genus found in the drier regions of Australia. Its specific name berigora is derived from an aboriginal name for the bird.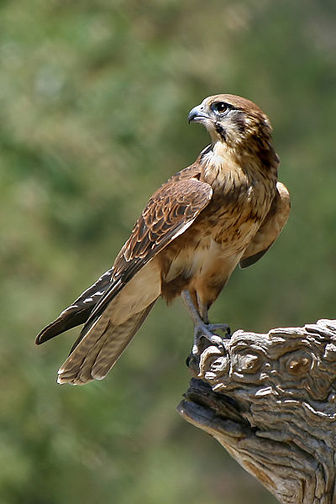 Picture of the Brown Falcon has been licensed under a
GFDL
Original source
: Own work
Author
: jjron
Permission
: GNU Free Documentation License
The Brown Falcon is classified as Least Concern. Does not qualify for a more at risk category. Widespread and abundant taxa are included in this category.

The Brown Falcon, Falco berigora, is a member of the falcon genus found in the drier regions of Australia. Its specific name berigora is derived from an aboriginal name for the bird. It differs from other falcons in that it has broader wings and longer legs. Even though it is as large as the largest falcon, it usually hunts smaller prey. The Brown Falcon usually nests in old nests abandoned by other birds. This species occupies a large area of inland Australia. More
* Why do brown falcons live in a tree? * What is the relationship between falcon and falconer? * What is a falconer? » More ADVERTISEMENT Answer these * How many babies do the Brown Falcon have? * Where can you find brown falcon website? * What eats brown falcons? * Does an brown falcon migrate? » More Mentioned More
Specimens of the dark-morphology version of Brown Falcons were spotted by us in September/October of 2006, in different locations 20-30 km south-west of Narrabri, New South Wales. Once seen close enough to identify them correctly, Brown Falcons appear to be quite common in inland NSW. Also spotted in July 2007 50 km south of Narrabri. A couple of dark morphology Brown Falcons was spotted in that same area in March 2009. More
Brown Falcons are small to medium-sized raptors (birds of prey). The female is larger than the male. The Brown Falcon has a range of plumage colours, from very dark brown to light brown above and off-white below. Generally, the upperparts are dark brown and the underparts are pale buff or cream. The sides of the head are brown with a characteristic tear-stripe below the eye. Birds from the tropical north are very dark, with a paler face and undertail, while those from central Australia are paler all over. More
Brown Falcon of Australia Brown Falcon (Falco berigora), brown morph Southeast Australia Credit & Copyright: Dr. Bruce G. Marcot Explanation: The Brown Falcon is a sharp-eyed, uncommon to rare nomad found in open woodlands, forest edges, farmlands, and roadsides, occasionally hovering and diving for small prey. More
Brown Falcon Size: 40-50cm Habitat: Found Australia wide inhabiting most types of land excluding closed forest. Feeds on reptiles, rodents, other birds, insects and carrion. Notes: Head brown paler markings under cheek, body brown with paler markings under chin and rump. Breeds Winter-Spring. For more information on Brown Falcon see references. Images have been uploaded in low resolution for storage efficiency, ( they do not reflect the true image quality). Original images are high quality photographic files. More
* Brown Falcon found at Shoreham, Vic, Australia Brown Falcon found at Shoreham... * Healesville Sanctuary - Brown falcon Healesville Sanctuary - Brown ... * Brown = BG Falcon Football Team Brown = BG Falcon Football Tea... * Greg Brown, Falcon Ridge Folk Festival Greg Brown, Falcon Ridge Folk ... More
The Brown Falcon, Falco berigora, is different from other falcons in that it has broader wings and longer legs. Even though it is as large as the largest falcon, it usually hunts smaller prey. The Brown Falcon usually nests in old nests abandoned by other birds. This species occupies a large area of Australia. The Brown Falcon is about 45 cm in length. Copyright: Wikipedia. This article is licensed under the GNU Free Documentation License. It uses material from Wikipedia. More
The Brown Falcon usually nests in old nests abandoned by other birds. This species occupies a large area of inland Australia. The Brown Falcon is about 45 cm in length. The Brown Falcon, Falco berigora, is a member of the falcon genus found in the drier regions of Australia. Its specific name berigora is derived from an aboriginal name for the bird. More
Brown Falcon, an accurate estimate of the costs to build your particular project is available on MeansCostWorks.com. More
contact | VOTE Brown Falcon Brown Falcon - 01-11-2007 A Brown Falcon (Falco berigora), perched on a power line structure near Griffith in NSW. EXIF: Canon EOS 30D : 1/250 sec : f/5.6 : 400 mm : ISO 200 Categories: Photoblogs.org - The Photoblogging Resource View My Profile coolphotoblogs.com Birding Top 500 Counter VFXY Photos Vazaar photo blogs, top photoblogs 3759639 visitors | 1000 photos | RSS 2. More