King Vulture
The King Vulture, Sarcoramphus papa, is a large bird found in Central and South America. It is a member of the New World vulture family Cathartidae. This vulture lives predominantly in tropical lowland forests stretching from southern Mexico to northern Argentina, though some believe that William Bartram's Painted Vulture of Florida may be of this species. It is the only surviving member of the genus Sarcoramphus, though fossil members are known.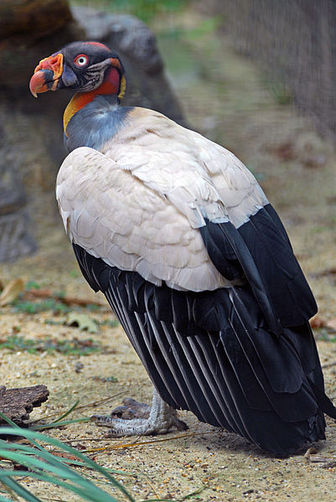 Picture of the King Vulture has been licensed under a Creative Commons
Attribution-Share Alike
.
Original source
: originally posted to Flickr as King Vulture
Author
: Eric KilbyPermission(Reusing this file)This image, which was originally posted to Flickr.com, was uploaded to Commons using Flickr upload bot on 19:53, 25 December 2009 (UTC) by Snowmanradio (talk). On that date it was licensed under the license below. This file is licensed under the Creative Commons Attribution-Share Alike 2.0 Generic license.You are free:to share – to copy, distribute and transmit the work
The King Vulture is classified as Least Concern. Does not qualify for a more at risk category. Widespread and abundant taxa are included in this category.

Like other vultures, the king vulture is a scavenger. These large birds glide on air currents, conserving energy while searching the forests or savanna below for the corpses of dead animals. Because of their unappetizing eating habits, they fill an ecological niche, and may help to prevent the spread of disease by disposing of rotting remains. King vultures have a very colorful look that distinguishes them from their vulture relatives. They are predominately white, with black tails and wing tips. More
The King Vulture, Sarcoramphus papa, is a large bird found in Central and South America. It is a member of the New World vulture family Cathartidae. This vulture lives predominantly in tropical lowland forests stretching from southern Mexico to northern Argentina, though some believe that William Bartram's Painted Vulture of Florida may be of this species. It is the only surviving member of the genus Sarcoramphus, though fossil members are known. More
King Vultures, which lack the ability to smell carrion, follow the Lesser Yellow-headed Vultures to carcasses, where the King Vulture tears open the skin of the dead animal. This allows the smaller Lesser Yellow-headed Vulture access to food, as it does not have a bill strong enough to tear the hide of larger animals. This is an example of mutual dependence between species. It is generally displaced from carcasses by both Turkey Vultures and King Vultures, due to their larger size. More
the King Vulture is rare and decreasing in numbers. Our first stop was in Orange Walk to ask the famous Belizean bird watching tour guides, The Novelo Brothers, where we might begin looking. Bubba enticed Gilberto, with a few cold beers, to talk to us about the King. He said that the King was called the King because all the other vultures could not eat from fresh carrion until the King had come down and helped himself to the eye balls of the dead. More
Size: The King Vulture measures 32 inches, with a wingspan of 4 to 5 feet. This is the largest of the new world vultures, excluding the condors. Voice: Diet/Feeding: The King Vulture finds its food with its incredibly keen sight and well-developed sense of smell. It also relies on other gatherings of vultures to alert it as to the presence of food. More
King Vultures have been known to live for up to 30 years in captivity. King Vultures were popular figures in the Mayan codices as well as in local folklore and medicine. Though currently listed as Least Concern by the IUCN, they are decreasing in number, due primarily to habitat loss. Contents * 1 Taxonomy and systematics * 1. More
King vulture portrait© Sylvain Cordier / Biosphoto Perched king vulture© Sylvain Cordier / Biosphoto King vulture portrait, comb erected© Lon E. Lauber / www.osfimages.com King vulture portrait with very full crop© Haroldo Palo Jr / www.nhpa.co.uk King vulture portrait© Mark Bowler / www.nhpa.co.uk King vulture in treetop with wings spread© Mark Jones / www.osfimages.com King vulture perched on a rock© M. Watson / www.ardea. More
The King Vulture also has a highly noticeable yellow fleshy crest on its orange and black bill; this caruncle does not fully form until the bird More
King Vulture - Fotopedia Juan Carlos Rios on Flickr Nominate for King Vulture in the encyclopedia? Relevant to King Vulture in the encyclopedia? Was in King Vulture in the encyclopedia Yes No Yes Yes No Nominate to enable voting on this photo for the King Vulture encyclopedia article You'll get 50 nominations tomorrow Cancel Submit Report NominateVote downVote upPhoto detailsFull windowPrevious More
The King Vulture was originally described by Carl Linnaeus in 1758 in the tenth edition of his Systema Naturae as Vultur papa. It was reassigned to the genus Sarcoramphus in 1805 by André Marie Constant Duméril. This genus is often misspelled as Sarcorhamphus. The generic name is derived from the Greek words sarco-/σαρκο- "flesh" and ramphos/ραμφος "crooked beak of bird of prey. More
However, the King vulture has a more powerful bill than other American vultures. It usually arrives on the scene well after other species of vulture. But when it does turn up for the feast the others give way to it, apprehensive of its hefty bill. Vultures rarely attack living animals, and then only when the animal is disabled or dying of disease or injury. More
King Vultures have been observed watching and then following other kinds of vultures in to a carcass. Only turkey vultures and lesser and greater yellow-headed vultures have a good sense of smell. The black and king vultures and the condors lack carcass-smelling ability completely. King vultures will soar high above the turkey vultures and yellow-heads, which stay generally near the tree canopy level. More
Description: The King Vulture is the largest of New World Vultures (other than condors). The average King Vulture measures 32 inches in length and has a wingspan of six and a half feet. The adult is unmistakable with a multi-colored, featherless head, bright orange or pink neck, and conspicuous white eyes. There is a fleshy, yellow wattle that hangs from the base of the bill. The base of the neck has a "ruff" of grayish feathers. More
King Vulture is one of the most beautiful and coloured raptors of the entire world. PROTECTION / THREATS / STATUS: King Vulture is rarely seen due to its behaviour, but this species in not threatened at this moment. It has wide range, but some declines occur due to habitat destruction and deforestation, and poaching. This species is protected by laws in some countries. Several legends mention the King Vulture in South America. More
The King Vulture or American King Vulture, is the most strikingly colored of the New World vultures. Physical Description The King Vulture is the largest New World vulture apart from the condors, at about 32 in in length. It weighs 7.2 lbs and has a wingspan of 6.6 ft. It has a yellow fleshy crest or wattle on its bill, and its bare skinned head is yellow and red. More
King Vulture for sale Name: William TwoRaven Aviary: Phone: 580-464-2750 E-mail: siainc@tds.net Description: King Vulture: Male, nine years olds, perfect feather, great free flight educational bird. Serious inquiries only.... King Vulture = The King Vulture, Sarcoramphus papa, is a large Central and South American bird in the New World vulture family Cathartidae. More
The king vulture has white eyes (ringed with red), broad wings, a short tail, black wings and tail (above), and an orange beak. The underside of the wings and chest are white. The head and neck are bare. SIZE: Approximately 67.5-80 cm (27-32 in); wingspan of 1.2-1.66 m (4-5.5 ft) WEIGHT: About 2.7-4.5 kg (6-10 lb. More
King Vulture Skull - The king vulture is native to Central and South American rainforests. Like other vultures, this species has a bald head. This adaptation is specifically for feeding on carrion in that it helps to prevent the build-up of bacteria and fouling of the feathers. The king vulture, thus named due to its large size, are not social and often only pair up during mating season. Little is known about the nesting habits of this species. More
The adult King Vulture is the most strikingly colored of the New World vultures. It is predominantly white, though its ruff, flight, and tail feathers range from gray to an opalescent black. The white plumage also has a slight rose-yellow tinge to it. It has a thick, strong bill that, whilst the most powerful among the New World vultures, is quite small compared to that of other large birds of prey. This bill has a hooked tip and a sharp cutting edge. More
King Vulture (Photograph Courtesy of Lisa Purcell Copyright More
King Vultures do not have feathers on their head to help stay clean by keeping most of the blood and body materials off of their body. They also sit out in the sun after eating and use the heat for the sun to help kill bacteria. Comments About the King Vultures of the Fort Worth Zoo: There is a breeding pair of king vultures at the Fort Worth Zoo. More
The King Vulture is truely the king of all vultures. The King Vulture the largest of all the vultures. Vultures can be found in all areas of the world and are some of the best scavengers in the animal kingdom. King Vultures can be found throughout Latin America from Southern Mexico to Southern Argentina. It prefers the lush, tropical lowlands. King Vultures have an incredible sense of sight and smell. This allows them to find their food from high in the sky. More
King Vulture - Definition = King Vulture King Vulture Scientific classification Kingdom: Animalia Phylum: Chordata Class: Aves Order: Accipitriformes Family: Cathartidae Genus: Sarcoramphus Species: papa Binomial name More
King Vultures were popular figures in the Mayan codices as well as in local folklore and medicine. Though currently listed as Least Concern by the IUCN, they are declining in number, due primarily to habitat loss. The King Vulture, Sarcoramphus papa, is a large Central and South American bird in the New World vulture family Cathartidae. More