Long-crested Eagle
A medium-sized bird , found in Africa south of the Sahara, except in the arid zones. In southern Africa it is a fairly common resident in the eastern areas. It inhabits woodlands, exotic plantations, forest edges and mainly lives off rodents and shrews.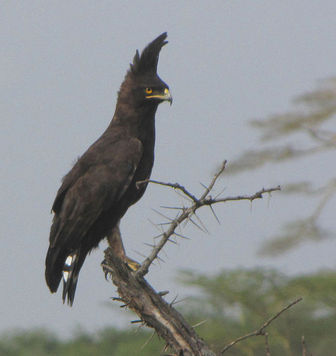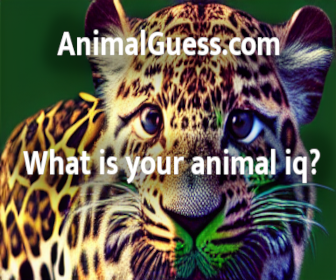 Picture of the Long-crested Eagle has been licensed under a
GFDL
Original source
: D. Gordon E. Robertson
Author
: D. Gordon E. Robertson
Permission
: GNU Free Documentation License
The Long-crested Eagle is classified as Least Concern. Does not qualify for a more at risk category. Widespread and abundant taxa are included in this category.

The Long-crested Eagle (Lophaetus occipitalis) is a bird of prey. Like all eagles, it is in the family Accipitridae. It is currently placed in a monotypic genus Lophaetus. A medium-sized bird (about 55 cm), found in Africa south of the Sahara, except in the arid zones. In southern Africa it is a fairly common resident in the eastern areas. It inhabits woodlands, exotic plantations, forest edges and mainly lives off rodents and shrews. More
Long-crested eagle sat on a pole, crest blowing in wind The remarkably long, feathered crest possessed by the aptly named long-crested eagle, is this unmistakeable bird of prey's most striking feature. It is a relatively small eagle with dark brown to black plumage, long, white feathered legs, and a well ... More
Long-crested eagle sat on a pole, crest blowing in wind Long-crested eagle sat on a pole, crest blowing in windPrint factsheet Facts - French: Aigle Huppé Kingdom Animalia Phylum Chordata Class Aves Order Falconiformes Family Accipitridae Genus More
Distribution of Long-crested eagle in southern Africa, based on statistical smoothing of the records from first SA Bird Atlas Project (© Animal Demography unit, University of Cape Town; smoothing by Birgit Erni and Francesca Little). Colours range from dark blue (most common) through to yellow (least common). See here for the latest distribution from the SABAP2. Predators and parasites Nestlings are prey of monkeys (Cercopithecus), while its eggs are eaten by genets (Genetta). More
The Long-crested Eagle (Lophaetus occipitalis) is a bird of prey. Widely distributed in Africa, it is a small dark eagle with a long lax crest. It lives in woodlands and forest edges and mainly eats rodents and shrews.Animals. Birds. Puzzle Postcard - E-mail this puzzle to a friend with your personal message and choice of puzzle cut. JigZoneShop - Traditional 'offline' jigsaw puzzles are not dead. More
Impossible to confuse with anything else, the Long-crested Eagle is a small, dark eagle with a long, lax crest. When perching the adult looks to be a uniform blackish-brown with brownish-white tarsal feathers. Even in flight it is unmistakable with a strongly barred tail and even more obvious, from both above and below, large white wing patches. Although it's preferred habitat is woodland it can often be seen at the roadside, usually perched on a convenient fence or telegraph pole. More
Long-crested Eagle - Lophaetus occipitalis Widely distributed in Africa south of 15°N except for e Somalia and the arid areas of the SW. Impossible to confuse with anything else, the Long-crested Eagle is a small, dark eagle with a long, lax crest. When perching the adult looks to be a uniform blackish-brown with brownish-white tarsal feathers. More