Lizard Buzzard
The Lizard Buzzard breeds in tropical Africa south of the Sahara. It is a bird of open woodland, which builds a stick nest in the fork of a tree or the crown of a palm tree. The clutch is one to three eggs.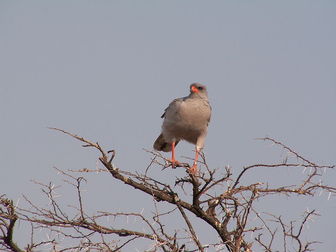 Picture of the Lizard Buzzard has been licensed under a Creative Commons
Attribution-Share Alike
.
Original source
: Own work
Author
: Winfried Bruenken (Amrum)Permission(Reusing this file)Attribution ShareAlike 2.5
The Lizard Buzzard is classified as Least Concern. Does not qualify for a more at risk category. Widespread and abundant taxa are included in this category.

Lizard Buzzard in Etoscha N.P., Namibia Conservation status Least Concern (IUCN 3.1) Scientific classification Kingdom: Animalia Phylum: Chordata Class: Aves Order: Accipitriformes Family: Accipitridae Genus: Kaupifalco Bonaparte, 1854 Species: K. More
The small and thickset lizard buzzard is typically seen perched upright and motionless on dead branches and telegraph poles, staring fixedly at the ground below (2) (4). Although from a distance this hawk can be readily confused with several sympatric goshawk species, up close, the grey, black and white colour patterning is highly distinctive (5). Most diagnostic is a vertical black streak over a patch of white on the throat that breaks up the primarily slate grey plumage of the upper-body (2) (4) (6). More
The lizard buzzard's distribution extends through most of Sub-Saharan Africa as far south as northeast South Africa, but it is most common in West Africa (4) (7). - Mature broadleaved woodland is the typical habitat of the lizard buzzard, but this species will occur in other areas with good tree cover, such as dense savannah, forest edges, gardens and the wooded margins of rivers (4). More
The Lizard Buzzard (Kaupifalco monogrammicus) is a bird of prey. It belongs to the family Accipitridae. Despite its name, it may be more closely related to the Accipiter hawks than the Buteo buzzards. Breeding / Distribution: The Lizard Buzzard breeds in tropical Africa south of the Sahara. It is a bird of open woodland, which builds a stick nest in the fork of a tree or the crown of a palm tree. The clutch is one to three eggs. More
Distribution of Lizard buzzard in southern Africa, based on statistical smoothing of the records from first SA Bird Atlas Project (© Animal Demography unit, University of Cape Town; smoothing by Birgit Erni and Francesca Little). Colours range from dark blue (most common) through to yellow (least common). See here for the latest distribution from the SABAP2. Movements and migrations Little known, but it is thought be largely resident and sedentary. More
The Lizard Buzzard is a Southern African bird that belongs to the Accipitridae bird family group which includes birds such as Raptors, Old Vultures, Osprey. The description for the Lizard Buzzard (Latin name Kaupifalco monogrammicus) can be found in the 7th Edition of the Roberts Birds of Southern Africa. The Kaupifalco monogrammicus can be quickly identified by its unique Roberts identification number of 154 and the detailed description of this bird is on page 507. More
The lizard buzzard (Kaupifalco monogrammicus) is an African bird of prey that looks similar to the common buzzard (Buteo buteo) or a small, light grey hawk. They are solitary birds, spending most of their times perching in high places like tree branches or telephone poles in order to scan the ground for potential prey and then diving rapidly after it. General Appearance - 1. More
Lizard Buzzard breeds Africa south of the Sahara. It is a bird of open woodland, which builds a stick nest in the fork of a tree or the crown of a tree. Normally one to three eggs are laid The Lizard Buzzard hunts mainly reptiles and large insects, but also small mammals and birds To take full advantage of Flickr, you should use a JavaScript-enabled browser and install the latest version of the Macromedia Flash Player. More
Lizard buzzards feet mostly on insects and also take lizards, snakes, frogs, small mammals and birds. BREEDING Nesting takes place between May and December. The nest consists of a compact platform of sticks in the fork of a tree and the bowl is lined with lichen, dry grass and leaves. There are usually two eggs per clutch which are white with a hint of blue or green and brown or red markings. More
Lizard Buzzard is a small African bird of prey. Adult male has grey upperparts, paler face and wing coverts, and pale grey rump. Primary feathers are tipped black, and upper wing is dark grey. DIET: Lizard Buzzard feeds mainly on small reptiles such as lizards, geckos and snakes. It also eats small mammals such as rabbits, mice and other rodents, and also small birds killed with its sharp claws. More
lizard buzzard kruger national park birds The Lizard Buzzard (Latin name Kaupifalco monogrammicus) is described in Roberts Birds of Southern Africa, 7th Edition. This bird has a unique Roberts number of 154 and you will find a full description of this bird on page 507 also a picture of the Lizard Buzzard on page 433. The Lizard Buzzard belongs to the family of birds classified as Accipitridae. The map of the Kruger you see on this page shows the areas (coloured orange) where this bird has been identified. More
The lizard buzzard is a common bird of prey in Africa. It resembles a hawk much more than a typical buzzard, and it spends much of its time gazing down at the ground for a potential meal from its perches up in tree branches and on telephone poles and wires. More
Lizard Buzzard (Kaupifalco monogrammicus) by Derek Solomon from Zambia XC39328 :: Lizard Buzzard (Kaupifalco monogrammicus) = Recording data Recordist Derek Solomon Date 12-05-05 Time 06:30 Country Zambia Location South Luangwa National Park Home Longitude E31.45'0" Latitude S13. More
The Lizard Buzzard breeds in tropical Africa south of the Sahara. It is a bird of open woodland, which builds a stick nest in the fork of a tree or the crown of a palm tree. The clutch is one to three eggs. The Lizard Buzzard (Kaupifalco monogrammicus) is a bird of prey. It belongs to the family Accipitridae. Despite its name, it may be more closely related to the Accipiter hawks than the Buteo buzzards. More
* Lizard Buzzard at Nkorho 05/17/082:35 * Ajouter à la file d'attente Ajoutée à la file d'attente Lizard Buzzard at Nkorho 05/17/0824 vuesmuttluver * Fainting Goats0:48 * Ajouter à la file d'attente Ajoutée à la file d'attente Fainting Goats2501353 vuesNationalGeographic * Opeth More