Black-winged Kite
The Black-winged Kite is a small diurnal bird of prey in the family Accipitridae best known for its habit of hovering over open grasslands. This Eurasian species was sometimes combined with the Australian Black-shouldered Kite . This kite is distinctively long-winged predominantly and the white, grey and black plumage and the red iris make it easy to identify. Although mainly seen on the plains, they are sometimes seen on grassy slopes of hills in the higher elevation regions of Asia.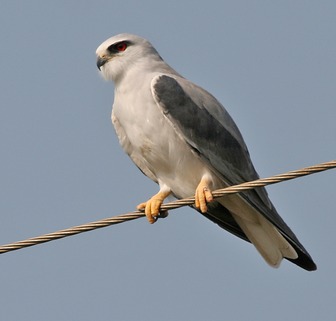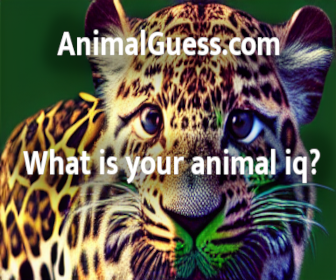 Picture of the Black-winged Kite has been licensed under a
GFDL
Original source
: J.M.Garg
Author
: J.M.Garg
Permission
: GNU Free Documentation License
The Black-winged Kite is classified as Least Concern. Does not qualify for a more at risk category. Widespread and abundant taxa are included in this category.

The Black-winged Kite (Elanus caeruleus) is a small diurnal bird of prey in the family Accipitridae best known for its habit of hovering over open grasslands. This Eurasian species was sometimes combined with the Australian Black-shouldered Kite (Elanus axillaris). This kite is distinctively long-winged predominantly and the white, grey and black plumage and the red iris make it easy to identify. Although mainly seen on the plains, they are sometimes seen on grassy slopes of hills in the higher elevation regions of Asia. More
The black-winged kite is a striking, falcon-like bird of prey with an incredibly extensive range (3) (4). This species has a pure white head and breast starkly contrasted by deep-set, ruby-red eyes surrounded by black patches (5) (6). The crown, back of the neck and upperparts are grey, with the exception of a black patch on the upper edges of the wings, from which this species derives its name (6). More
"Suddenly, a Black-winged Kite (Elanus caeruleus) came out of nowhere and started mobbing the harrier (left bottom). The harrier dived for cover, into the tall grass. After a few seconds, the kite flew into a clump of trees. "The Black-winged Kite is our only resident raptor that specialises on hunting over grasslands. They do so by hovering over a particular area for a few seconds, before flying a short distance to repeat the hovering watch again. More
Adult black-winged kite with chicks in nest© Jorge Sierra Antinolo / www.osfimages.com Black-winged kite feeding chick in nest© Jorge Sierra Antinolo / www.osfimages.com Juvenile black-winged kite in nest© Jorge Sierra Antinolo / www.osfimages.com Immature black-winged kite perched on tree© David Hosking / www.flpa-images.co.uk Black-winged kite juvenile calling for food© David Tipling / www.osfimages.com Black-winged kite, showing diagnostic black wing markings© Jose B. More
regarded as distinct, and the name Black-winged Kite is used for E. caeruleus. Modern references to the Black-shouldered Kite should therefore unambiguously mean the Australian species, E. axillaris. The Australian Black-shouldered Kite was formerly called E. notatus, but that name was not clearly applied specifically to this species. A taxonomic proposal based on DNA studies has recommended classifying Elanus kites as a separate family (Elanidae). More
The Black-winged Kite (Elanus caeruleus) is a small bird of prey in the family Accipitridae which also includes many other diurnal raptors such as eagles, buzzards and harriers. This species was formerly referred to as the Black-shouldered Kite, but this name is now used for the Australian species, Elanus axillaris, at one time (along with the American White-tailed Kite E. leucurus) treated as a subspecies of E. caeruleus. More
The Black-winged kite is a bird of prey with an average body length of 33cm. They are white from head to belly, have pale gray back feathers, and possess red eye rings. Their distinctive black wings and square-shaped tails make them stand out in comparison with other birds. Behavior: Black-winged kites prey primarily on rodents and insects. More
Black-winged Kites are commonly seen in the rural parts of Singapore. These sleek small birds of prey are the only raptors in Singapore that can be seen hovering. Black-winged Kites prefer live prey and hunt small rodents and birds (rails and young bitterns, occasionally mynas). They also eat some reptiles (lizards) and large insects. Where food is scarce, they may eat carrion. Like other raptors, Black-winged Kites have excellent eyesight, and powerful bills and claws. More
Black-Winged Kite (Elanus caeruleus) On favourite perch. January. Extremadura, Spain. Black-Shouldered-Kite_0106_2117.jpg Copyright More
Black-winged kites fly with their wings held in a V-shaped position. Habitat: Black-winged kites are a winter visitor to Taiwan and partial migrant to the Kinmen area. More
Keywords: Stock Photo Picture Africa African Safari African Wildlife Animals Bird Watching Birds Birdwatching Black-shouldered Kite Black-winged Kite Dark Continent EAC East Africa East African Community Eastern Africa Elanus caeruleus Endless Plain Fauna Nature Outdoors Safari Serengeti National Park Style Sub-Saharan Africa Tanzania Tanzanian Safari United Republic of Tanzania Vertical Wildlife Caption: Black-winged Kite (Elanus caeruleus) = Keywords: Africa African Safari African Wildlife Animals Bird Watching Birds Birdwatching Black-shouldered Kite Black-winged Kite Dark Continent EAC East Africa East African Community Eastern Africa Elanus caeruleus Endless Plain Fauna Nature Outdoors Safari Serengeti National Park More
The Black-winged Kite comes out to hunt in the evening and has the habit of hovering in the air in one place, flapping its wings, searching for its prey which consists of mice, lizards, locusts etc. Both sexes look alike, but females are a little larger. More