Black-shouldered Kite
The Black-shouldered Kite was first described by ornithologist John Latham in 1802. Its specific name is derived from the Latin axilla shoulder. The name Black-shouldered Kite was formerly used for a Eurasian and African species, Elanus caeruleus, and the Australian bird and the North American species, the White-tailed Kite Elanus leucurus, were treated as subspecies of this. The three Elanus species have comparable plumage patterns and sizes, however, they are now regarded as distinct, and the name Black-winged Kite is used for E. caeruleus. Modern references to the Black-shouldered Kite should therefore unambiguously mean the Australian species, E. axillaris.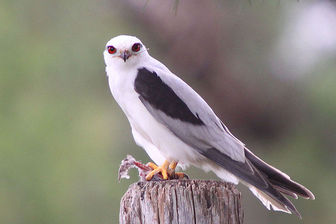 Picture of the Black-shouldered Kite has been licensed under a
GFDL
Original source
: Own work
Author
: Mdk572
Permission
: GNU Free Documentation License
The Black-shouldered Kite is classified as Least Concern. Does not qualify for a more at risk category. Widespread and abundant taxa are included in this category.

Black-shouldered Kite is a small raptor found in open habitat throughout Australia and should not be confused with similar species found in Eurasia and North America, which have in the past also been called Black-shouldered Kites. Measuring 35–38 cm (13.8–15 in) in length with a wingspan of 80–95 cm (31.5–37.4 in), the adult Black-shouldered Kite is a small and graceful, predominantly pale grey and white, raptor with black shoulders and red eyes. More
Black-shouldered Kite at nest. Black-shouldered Kite at nest. Photo: Purnell Collection © Australian Museum Nest of Black-shouldered Kite. Nest of Black-shouldered Kite. Photo: SG Lane Collection © Ausralian Museum Distribution map of Elanus axillaris Distribution map of Elanus axillaris Map © Birds Australia Birdata Did you know? Male Black-shouldered Kites feed females in mid-air during courtship. More
The Black-shouldered Kite (Elanus axillaris) is a common small raptor found in open habitat throughout Australia. It is easily recognised: a small white raptor with black-tipped wings, usually seen hovering over crops or grassland. It can be mistaken for an oversized Silver Gull — both have long, slim wings with darker tips — but only on first glance. If the hovering raptor is small and tan or brown coloured, then it will be a Nankeen Kestrel. More
The Black-shouldered Kite (Elanus axillaris) is a small raptor found in open habitat throughout Australia. Like all the elanid kites, it is a specialist predator of rodents. The name "Black-shouldered Kite" was formerly used for a European and African species, Elanus caeruleus, and the Australian bird (and also a North American species, the White-tailed Kite Elanus leucurus) were treated as subspecies of this. However the three species are now regarded as distinct, and the name Black-winged Kite is used for E. More
Black-shouldered Kite ( Elanus axillaris ) Black-shouldered Kite Photo by Julian Robinson Black-shouldered Kite Photo by John Gordon Black-shouldered Kite Photo by Julian Robinson Black-shouldered Kite juvenile Photo by Roger Curnow Black-shouldered Kite juvenile Photo by Roger Curnow Black-shouldered Kite Photo by Stuart Harris Black-shouldered Kite juvenile Photo by Roger Curnow More
black-shouldered kites and brownish-orange in immature birds. Quick Facts Name: Elanus axillaris Habitat: Although found in timbered country, they are mainly birds of the grasslands. Size: Length: 35 to 38 cm Wingspan: Between 80 and 95 cm. Diet Description: Insects, rodents and small birds. Socialisation: Able to hunt by hovering on upturned wings about 50 meters above the ground. More
The Black-shouldered Kite (Elanus axillaris) is a small raptor found in open habitat throughout Australia. Like all the elanid kites, it is a specialist predator of rodents. More
Black-shouldered Kites are amongst the most common raptors in the area of Narrabri, New South Wales. They often have favouite perches where they sit regularly looking for prey. Seen by us regularly in various locations. More
Black-Shouldered Kites are around 35 to 38 cm in length and have a wingspan of between 80 and 95 cm. Adults are a very pale grey with a white head and white underparts. The leading edge of the inner wing is black. When perched, this gives them their prominent black "shoulders". Although reported from almost all parts of Australia, they are most common in the relatively fertile south-east and south-west corners of the mainland, and in south-east Queensland.They are also common throughout Southern Africa. More
Black-shouldered Kites live almost exclusively on mice. They take other suitably-sized creatures when available, including grasshoppers, rats, small reptiles, birds, and even (very rarely) rabbits, but mice and other mouse-sized mammals account for over 90% of their diet. Their influence on mouse populations is probably significant: adults take two or three mice a day each if they can, and on one occasion a male was observed bringing no less than 14 mice to a nest of well-advanced fledglings within an hour. More
Black-shouldered Kite is a small raptor found in open habitat throughout Australia and should not be confused with the Black-winged Kite, which is also called Black-shouldered Kite. Like all the elanid kites, it is a specialist predator of rodents. More
The Black-shouldered Kite is found throughout Australia and is common in coastal areas but scarce in semi-arid and arid regions. The Black-shouldered Kite hovers in mid air when hunting for food, and eats mice, lizards, insects, etc. It can be seen alone or in pairs and even family groups. It breeds mainly in spring, but any time when food is abundant, such as during mouse plagues. More
Black-shouldered Kite at Bushy Park Wetlands We are pleased to report that the Black-shouldered Kite Elanus axillaris has been chosen on the Brand Image for Bushy Park Wetlands. The friends group would like to thank David, Rachael & Jack for taking up our suggestions to improve the wing markings on the draft presented to us for comments. The image below, shows the distinctive markings on the wings of the Black-shouldered Kite. More
Black-shouldered Kites are small birds of prey that live in woodlands, grasslands, paddocks and city parks over most of Australia. They are pale grey in colour with a white head and black shoulder patch. They have red eyes, sharp, hooked beaks and feet with three toes facing forwards and one toe facing backwards. Black-shouldered Kites call with a hoarse wheezing sound. More
* Black-shouldered Kites at play Like most raptors, Black-shouldered Kite (Elanus caeruleus) loves to... * Resident Black-winged Kite defending its territory "On January 11th, 2009, while observing birds on Pulau... Related posts brought to you by Yet Another Related Posts Plugin. Email Post Categories: Feeding strategy, Feeding-invertebrates, Feeding-vertebrates, Raptors 1 Comment Pingback by A Bird A Day - 12. More
juvenile Black-shouldered Kite that was feasting on a rat. There were three juvenile Black-shouldered Kites perching on a tree, one of which had a rat firmly clutched in its left foot. A House Crow spotted an opportunity of a free meal and flew down to perch some distance from the kite. Interrupted from its meal, the kite looked up and suspiciously eyed the crow. More
Black-shouldered kite perches on a sign in the Atherton Tablelands, Queensland, Australia Prev Prev 097-black-shouldered-kite: Black-shouldered kite perches on a sign in the Atherton Tablelands, Queensland, Australia Next Next - Print Size Style Price Order 097-black-shouldered-kite.jpg Now! 5x7 Print Only $9. More
the boat spotted a black-shouldered kite surfing on a wind current up above. The raptor hung motionless in the Public screening of documentary on saving Ormond Beach - Feb 4, 2009 Ventura County Reporter,Other species of note include the burrowing owl, osprey, Cooper's and Swainson's hawks, black-shouldered kite, clapper rail, purple martin, Since You Asked: What's in a name? - Feb 21, 2008 Mail Tribune,...mind the oldsquaw becoming the long-tailed duck. More
Description: The Black-shouldered Kite Elanus axillaris is a medium to large whitish bird. Adult 35 cm, with 90 cm wing span. Top of wing is pale grey with black on shoulder and around eyes, wing quills are dark grey. Below wing is white with a small black patch at bend of wing. The bill is black, the eyes red, the feet yellow. Immature birds are mottled brown above with a rufous head & breast, dark wings and light underparts. More