Black Harrier
When perched, this bird appears all black. However, in flight a white rump and flight feathers become visible. Its morphology is comparable to that of other harriers, with a slim body, narrow wings and a long tail. Male and female plumages are similar. Immatures have buff under-parts and a heavily spotted breast.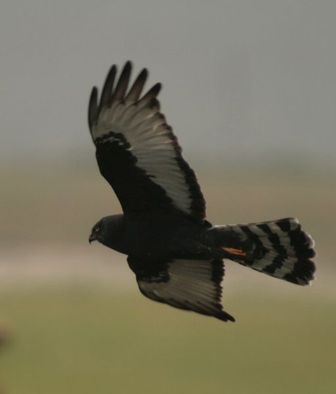 Picture of the Black Harrier has been licensed under a
GFDL
Original source
: Jackie During
Author
: Jackie During
Permission
: GNU Free Documentation License
The Black Harrier is classified as Vulnerable (VU), considered to be facing a high risk of extinction in the wild.

The Black Harrier, Circus maurus, is a medium-sized (up to 53cm long) African harrier of South Africa, Botswana and Namibia. When perched, this bird appears all black. However, in flight a white rump and flight feathers become visible. Its morphology is comparable to that of other harriers, with a slim body, narrow wings and a long tail. Male and female plumages are similar. Immatures have buff under-parts and a heavily spotted breast. Like other harriers it nests on the ground in tall vegetation. More
Adult black harriers have black plumage with bold white stripes across the tail, a white rump, and conspicuous white wing panels (2) (5). Females are larger than males, and juveniles can be distinguished by their dark brown plumage, which is heavily mottled and streaked (2) (5). The genus name of the black harrier, Circus, refers to the male's circling, acrobatic flight display, undertaken to impress a female during courtship (6). More
The black harrier breeds in the fynbos habitat of the Cape Floral Kingdom and adjacent karooid scrub and grasslands. Outside breeding season it moves north to drier grassland, scrub and steppe (2). - This aerial hunter feeds primarily on rodents, small birds and the occasional reptile (7), but also eats eggs, insects and, very occasionally, carrion (2). More
Photo Wanted The Black Harrier, Circus maurus, is endemic to South Africa, Botswana and Namibia. The greatest number of breeding pairs can be found in the Western Cape province, South Africa. In this area loose colonies aggregate around coastal wetlands. Breeding in Namibia is suspected but not confirmed. The Black Harrier population has declined in recent years to less than 1000 birds and it is now classified as vulnerable, despite still having a wide breeding range. More
Black harrier adult, Klipbokkop Mountain Lodge, South Africa. Black harrier adult with rodent, West Coast National Park, South Africa. Circus maurus (Black harrier) Circus maurus (Black harrier) Black harrier adult, Stompneusbaai, South Africa. Black harrier juvenile, West Coast National Park, South Africa. More
Black Harrier photograph courtesy of Keith Offord. © Birding Africa 1997-2009 info@birdingafrica.com 4 Crassula Way, Pinelands 7405, Cape Town, South Africa. More
The Black Harrier deflexed / reflexed longbow is available in bow lengths from 64" to 70". Limbs are crafted from our T40 bow laminates with Maple and Black Walnut cores. The result is a limb of exceptionally low mass and offers the best all round performance. The Black Harrier is especially fast and with negligible hand shock. The highest performance longbow. The bow has a decidedly deflexed geometry. More
Female Black Harrier at the nest in South Africa's Western Cape:females like this were captured and fitted with a satellite transmitters to follow their routes northwards. South Africa's Black Harrier (Circus maurus) is a rare near-endemic that has been the subject of a long-term project based at the FitzPatrick Institute in Cape Town. Students and staff have focused mainly on breeding and foraging ecology. More
Curtis O, Jenkins A, Simmons R 2001 The Black Harrier - work in progress. Africa: Birds & Birding 6: 30-36. Curtis OE, Simmons RE, Jenkins AR 2004 Black Harrier Circus maurus of the Fynbos Biome, South Africa: a threatened specialist or an adaptable survivor? Bird Conservation International 14:233-245. De Kock AC, Simmons R 1988 Chlorinated hydrocarbon residues in African Marsh Harrier eggs and concurrent reproductive trends. Ostrich 59:180-181 Jarvis A, Robertson AJ, Brown CJ, Simmons RE 2001. Namibian Avifaunal Database. More
In the 1930s the Black Harrier was a common resident in the Stanford area, often seen hovering over the shortish fynbos where it bred. Then the rooikrans (Acacia cyclops) and other aliens started invading the area, and by the 1950s there were no Black Harriers left. "They will only breed in fynbos that's less than a metre high," explains Mr Nico Myburgh (79) of Onrus, doyen of South African bird photographers and a man who has been studying this particular bird virtually all his life. More