Black-chested Snake-Eagle
The main identification character of this bird is its dark brown head and chest, to which it owes its name. In flight the dark head contrasts with the underparts and underwings, which are white apart from dark barring on the flight feathers and tail. The upperparts are dark brown, and the eye is yellow.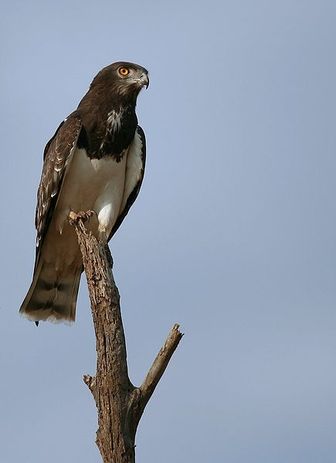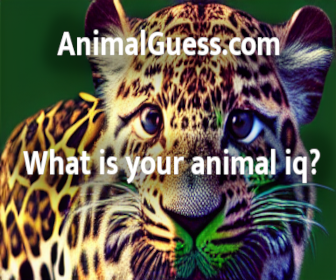 Picture of the Black-chested Snake-Eagle has been licensed under a
GFDL
Original source
: Own work
Author
: Gaurav PanditCamera location
Permission
: GNU Free Documentation License
The Black-chested Snake-Eagle is classified as Least Concern. Does not qualify for a more at risk category. Widespread and abundant taxa are included in this category.

The Black-chested Snake-eagle (Circaetus pectoralis) is a large African bird of prey of the Accipitridae family. It resembles other snake-eagles and was once believed to be conspecific with the Short-toed Eagle and Beaudouin's Snake-eagle. The main identification character of this bird is its dark brown head and chest, to which it owes its name. In flight the dark head contrasts with the underparts and underwings, which are white apart from dark barring on the flight feathers and tail. More
Distribution of Black-chested snake-eagle in southern Africa, based on statistical smoothing of the records from first SA Bird Atlas Project (© Animal Demography unit, University of Cape Town; smoothing by Birgit Erni and Francesca Little). Colours range from dark blue (most common) through to yellow (least common). See here for the latest distribution from the SABAP2. Movements and migrations Mainly nomadic, although it may regularly into Namibia and the Northern Cape in summer. More
Black-chested Snake-Eagle Circaetus pectoralis = * Home Expand Log in Menu item Register Menu item Log out Menu item Change login details Menu item Why register? Expand UK & Ireland Menu item Birding sites More
Black-chested Snake-Eagle - Circaetus pectoralis Circaète à poitrine noire = Circaète à poitrine noire Comment : They live from desert to savannhas ans woodlands. They feed mainly on snakes and lizards, but also small mammals, frogs, and sometimes bats and birds. Ils vivent depuis le désert jusqu'aux savanes et aux forêts. Ils se nourrissent surtout de serpents et de lézards, mais aussi de petits mammifères, de grenouilles, et parfois de chauve-souris et d'oiseaux. More
The Black-chested Snake-eagle (Circaetus pectoralis) is a large African bird of prey of the Accipitridae family. It resembles other Snake-eagles and was once believed to be conspecific with the Short-toed Eagle and Beaudouin's Snake-eagle. More