White-eyed Buzzard
The White-eyed Buzzard is a medium sized hawk which is unrelated to the true buzzards of the genus Buteo that is found in South Asia and adjoining regions. At close range adults can be readily identified by their small size relative to other raptors in the region and the distinctive white iris. The throat is white and a contrasting mesial stripe is visible both in flight and at perch. They do not have typical carpal patches found in true buzzards but the wing lining appears dark. They are seen perched for long durations but soar in thermals and are vociferous in the breeding season. They feed mainly on insects and small vertebrates.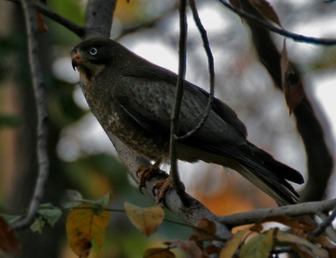 Picture of the White-eyed Buzzard has been licensed under a
GFDL
Original source
: J.M.Garg
Author
: J.M.Garg
Permission
: GNU Free Documentation License
The White-eyed Buzzard is classified as Least Concern. Does not qualify for a more at risk category. Widespread and abundant taxa are included in this category.

The White-eyed Buzzard (Butastur teesa) is a medium sized hawk which is unrelated to the true buzzards of the genus Buteo that is found in South Asia and adjoining regions. At close range adults can be readily identified by their small size relative to other raptors in the region and the distinctive white iris. The throat is white and a contrasting mesial stripe is visible both in flight and at perch. More
Images Close up of a white-eyed buzzard Close up of a white-eyed buzzard Species related by - * Family group * Habitat * Conservation status * * View image slideshow * Link to this image * Email to a friend * * MyARKive More
Images previous White-eyed buzzard imageRear view of a white-eyed buzzard in a tree © Neil Bowman / www.flpa-images.co. More
White-eyed Buzzard Eagle Butastur teesa copyright Clement Francis M; 2006 White-eyed Buzzard Eagle Butastur teesa (Juvenile) copyright Niraj Vijay kumar Mistry; 2005; Ahmedabad White-eyed Buzzard Eagle Butastur teesa copyright Vijay Cavale White-eyed Buzzard Eagle Butastur teesa copyright Sujan Chatterjee COPYRIGHT: delhibird - The Northern India Bird Network. All rights reserved. More
For the purposes of our bird news services, White-eyed Buzzard is classed as Ungraded: species that are unlikely to appear as wild birds in Britain or Ireland hide section Most recent photos of White-eyed Buzzard (2) Kutch, Gujarat, India Kutch, Gujarat, India02/10/2009 Kutch, Gujarat, India 02/10/2009 Bandhavgarh Tiger Reserve, Madhya Pradesh, India Bandhavgarh Tiger Reserve, Madhya Pradesh, India23/03/2005 Bandhavgarh Tiger Reserve, Madhya Pradesh, India 23/03/2005 View all pictures of White-eyed Buzzard View all pictures More
The White-eyed Buzzard is found in dry, open country, thin woodland, and also in areas of cultivation. Most of the bird's hunting is carried out from a perch, with a drop to the ground to catch some large insect or lizard, although it may occasionally resort to walking purposefully across the ground in search of prey. More
The White-eyed Buzzard is a widespread resident of the Indian forests and is found in dry open country. The Wildlife Sanctuaries in Central India are some of the best places to photograph this species. We had our best sighting of this raptor in the Pench Wildlife Sanctuary. Below is a collection of images from some close sightings that we had, one of which was in gorgeous golden evening sunlight. All images were taken with the D300 with the 300mm f2. More
Yes indeed it is a White-eyed Buzzard, this time it was a typo :) Western Marsh Harrier is just one up on the list. More
White-eyed Buzzard (Butastur teesa) is a scarce summer breeding (some resident) visitor in Haryana. This bird is found in dry open and wooded areas. More