Lesser Spotted Eagle
This is a medium-sized eagle, about 60 cm in length and with a wingspan of 150 cm. Its head and wing coverts are pale brown and contrast with the generally dark plumage. The head and bill are small for an eagle. There is usually a white patch on the upperwings, and even adults retain a clear-marked white V on the rump; the wing markings are absent and the white V is not well-defined in the Greater Spotted Eagle.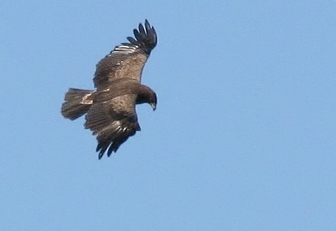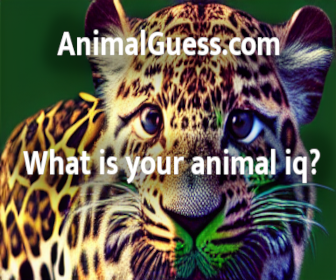 Picture of the Lesser Spotted Eagle has been licensed under a
GFDL
Original source
: Own work
Author
: Artur Mikołajewski
Permission
: GNU Free Documentation License
The Lesser Spotted Eagle is classified as Least Concern. Does not qualify for a more at risk category. Widespread and abundant taxa are included in this category.

The Lesser Spotted Eagle (Aquila pomarina) is a large Eastern European bird of prey. Like all typical eagles, it belongs to the family Accipitridae. The typical eagles are often united with the buteos, sea eagles and other more heavy-set Accipitridae, but more recently it appears as if they are less distinct from the more slender accipitrine hawks than believed. More
different Lesser Spotted Eagle which were seen from Buskett (Malta) during... galearay — 7 août 2009 — This video contains several scenes of different Lesser Spotted Eagle which were seen from Buskett (Malta) during Autumn 2008 raptor migration. 2008 was a very good year for Lesser Spotted Eagles for Malta, as a total of 11 birds were seen from Buskett, including a flock of 5 birds. More
Migration and Wintering of Lesser Spotted Eagle : a study by means of Satellite Telemetry Migration, wintering and breeding of a Lesser Spotted Eagle from Slovakia tracked by satellite - Sky-blue wingtags with black number (for adult birds) and white wingtags with black number. Yellow wingtags with black number (for adult birds) and red wingtags with white number. Dr. More
eastern subspecies of the Lesser Spotted Eagle but has proven quite distinct and readily separable by morphological, behavioral, ecological and DNA sequence data. The Indian lineage seems to have diverged around the middle Pliocene, perhaps some 3.6 million years ago, from the common ancestor of the Lesser and Greater Spotted Eagles. More
* Lesser Spotted Eagle Webcam - Estonia - Fight for the food or a starveling eaglet5:00 * Ajouter à la file d'attente Ajoutée à la file d'attente Lesser Spotted Eagle Webcam - Estonia - Fight ... More
The lesser spotted eagle population in Estonia is in a comparatively good state at the moment; on the Estonian mainland there are about 500-600 nesting pairs. Most often the lesser spotted eagle can be seen in southern and eastern Estonia, since Estonia is at the north-western limit of the range of this species. On the islands no nests have been confirmed. The range of the lesser spotted eagle isn't large, it breeds only in central and eastern Europe and winters in southern Africa. More
The lesser spotted eagle is an uncommon palearctic migrant which may be seen throughout the country, usually alone, occasionally in flocks. These images were made in Queen Elisabeth NP (upper left) and the Semliki Forest (Uganda) in January 2010, courtesy of Karine Van der Vurst. The Semliki Forst images are all of the same bird. More
Currently the Lesser Spotted eagle is either placed in the Genus Lophaetus or Aquila. Hybridization with the Greater Spotted Eagle does occur . The Indian Spotted Eagle Aquila hastata from the Indian Subcontinent is no longer treated as a subspecies but now as a full species. More
The Lesser Spotted Eagle (Aquila pomarina) is a medium-sized bird of prey belonging to the family Accipitridae (like all eagles). It is about 60 cm in length and has a wingspan of 150cm. There are two known populations. The birds that breed in central and eastern Europe winter in Africa. Additionally, there is a resident Indian race, which is sometimes considered a separate species (Aquila hastate). More
Lesser spotted eagle pair with chick at nest© WILDLIFE/T.Beuster / StillPictures.com Lesser spotted eagle feeding chick in nest© WILDLIFE/T.Beuster / StillPictures.com Juvenile lesser spotted eagle perched in tree© Dietmar Nill / naturepl.com Lesser spotted eagle perched in tree© Clem Haagner / www.ardea.com Lesser spotted eagle standing on prey© Dietmar Nill / naturepl.com Lesser spotted eagle standing on prey© Dietmar Nill / naturepl. More
Lesser Spotted Eagle determination Similar species Accipitridae Black Kite | Black Vulture | Black-Shouldered Kite | Bonellis Eagle | Booted Eagle | Buzzard | Egyptian Vulture | Golden Eagle | Greater Spotted Eagle | Griffon | Honey-Buzzard | Imperial Eagle | Lammergeier | Lappet-faced Vulture | Lesser Spotted Eagle | Levant Sparrowhawk | Long-Legged Buzzard | More
The lesser spotted eagle is a medium-sized bird of prey with dark brown plumage, broad wings and a small bill (2) (4). While there can be significant variation between the brown plumage tones exhibited by different individuals, the head, neck and upperwing coverts are generally paler than the body, and the flight feathers are usually particularly dark. In most specimens, but especially noticeable in younger adults, there is also a white patch on the upperwings that can be seen during flight (4) (5). More
The Lesser Spotted Eagle is not easy to spot because an average hunting ground comprises 2700 ha! The Eagle prefers wet areas for hunting. Fallow fields, meadows, and grain fields are also used to a certain extend. A part of the hunting activity is done on foot. The population is fluctuating rather much. Preferred landscapes must be undisturbed by roads or settlements and should also include large tracts of forest. More
LESSER SPOTTED EAGLE 1 - sub-adult north at NE corner of Kalloni Saltpans @ 1410 (Bob Buckler, Wingspan). Madaros - GREAT SPOTTED CUCKOO 1 (Roger Lawrence, Colin Bushell, Ornitholodays). CITRINE WAGTAIL - 2 Faneromeni (Merv Jones). Kalloni Saltpans (inc. More
productivity of the Lesser Spotted Eagle is positively associated ... Birders Battle Hunters Over Maltese Falcons, Slayings - Jul 2, 2009 BloombergBy Blanche Gatt. July 2 (Bloomberg) - As evening fell at Mizieb reserve on the Mediterranean island of Malta, a dozen black kites migrating to Europe from ... Article: Park hosts rare visitor.(News) - Evening Gazette (Middlesbrou... - Jan 17, 2008 Pay-Per-View - Evening Gazette - HighBeam ResearchArticle: Sex ratio of Lesser Spotted Eagle Aquila pomarina ... More
has the highest density of nesting lesser spotted eagles in the world. According to ornithologists about 20 percent of world's and about 24 percent of Europe's lesser spotted eagle population is nesting here in Latvia. In the beginning of the 21st century the size of the population was about 5000 pairs. More
The Lesser Spotted Eagle is the most numerous eagle in both Europe and Estonia. Väike-konnakotkas Aquila pomarina Lesser Spotted Eagle Of all our eagles, the Lesser Spotted Eagle is the only one who has adjusted to the human cultural environment, but he still requires uncut forests for nesting and mowed meadows for food. More
The Lesser Spotted Eagle belongs to the family of Accipitridae and is the smallest of Germanys More
Navigation: Home / Lesser Spotted Eagle Census in the Carpathian Region of Romania Lesser Spotted Eagle Census in the Carpathian Region of Romania - Background • 1994 – The Romanian breeding population was estimated by the Romanian Ornithological Society/BirdLife Romania at 100-200 pairs (Weber at all. More
Lesser spotted eagle shot in Malta as illegal bird hunt continues = 29/09/2009 14:30:37 In addition to the Lesse Spotted Eagle, two further Honey buzzards, both dead, were handed in to the Birdlife raptor camp on Malta. Credit Birdlife Malta Rare Eagle Shot Down at Hagar Qim September 2009. BirdLife Malta's Raptor Camp teams have witnessed the shooting of yet another protected species, this time a Lesser Spotted Eagle. More
For the purposes of our bird news services, Lesser Spotted Eagle is classed as Mega: species which have not yet occurred in the British Isles or are exceedingly rare, or are otherwise highly desirable. More
Lesser Spotted Eagle in Ukrainian Carpathians. Therefore, the project of the Ukrainian Society for the Protection of Birds presents an interesting opportunity to do a survey and estimate the number of the Lesser Spotted Eagle, as well as other birds of prey in Ukrainian Carpathians through the financial support of the WWF Austria. More
Results for: lesser spotted eagleTranslations 1 - 30 of 39 English English Croatian Croatian lesser spotted eagle orao kliktaš lesser spotted eagle žabar spotted eagle orao klokotaš lesser spotted woodpecker mali djetao lesser slabiji lesser niži lesser manji lesser More
At least 4 (5?) Lesser Spotted Eagles have been recorded in this area since late august ! And at least 3 birds are still ther, due to the abundance of roddents. Definitively a good place for them ! Lesser Spotted Eagle - Lesser Spotted Eagle, Eastern France, D�partement du Doubs Sept 18th 2003 © Jean-Philippe PAUL see below Lesser Spotted Eagle - Lesser Spotted Eagle, Aquila pomarina, France, near Bulle 22.09. More